At CES 2023 Ring announced a range of new products, features and experiences for homeowners and integrators. Supporting its CES announcements Amazon's Ring brand published an About Amazon CES blog post that summarizes the news and showcases the company's vision for ambient intelligence inside and outside of the home. Highlights include:
Ring Car Cam
Ring Car Cam extends the power of Ring's technology from the home to the car, creating a brand-new category for Ring. Ring Car Cam is controlled by the Ring App and unique in that its dual-facing camera records both when the car is in motion and when it's turned off, giving users a sense of presence whether their car is parked at home, at the grocery store, or on the road. When their car is parked, Car Cam's smart sensors are on guard to detect events inside and around your vehicle.
If an event, such as a break in, is detected, the Cam will start recording and send a real-time alert to your Ring App, where users can watch what is happening live or talk directly with anyone in the car. Car Cam also has a feature called Traffic Stop. Simply say, "Alexa, record" and the Cam will record several minutes of what's happening, despite the car being parked. Car Cam will retail for $249.99, but is available for $199.99 for a limited time during pre-order. Pre-order starts today.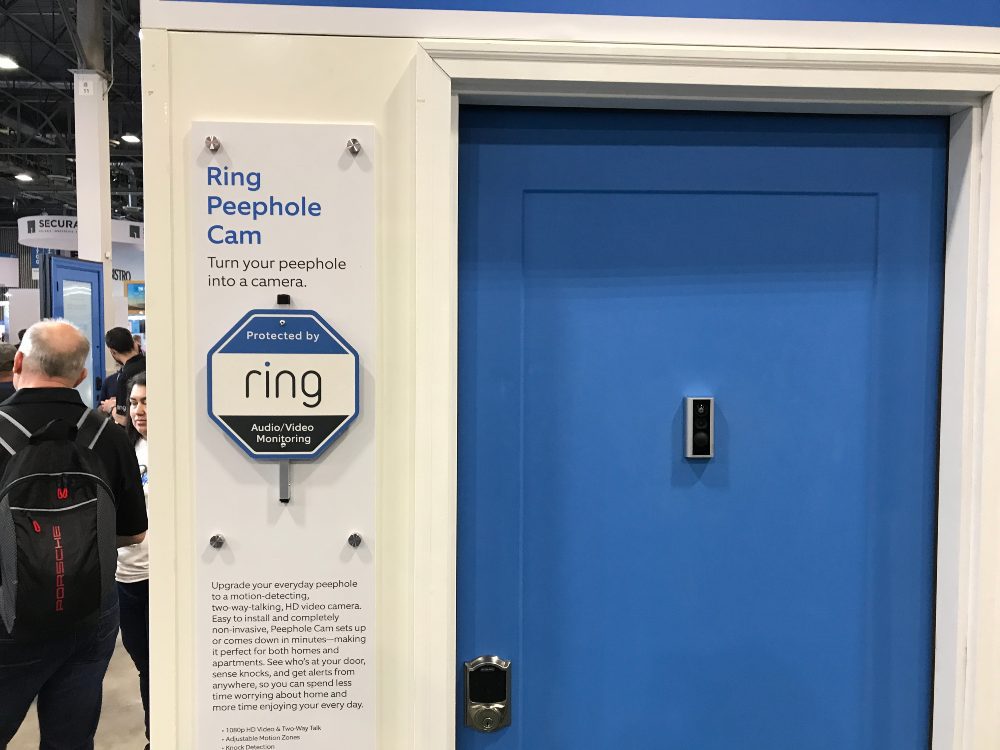 Ring Peephole Cam
Ring Peephole Cam includes all the video doorbell people expect from a modern smart home device, but is installed over the existing peephole in a door. The Ring Peephole Cam features a 1080p HD camera, night vision, Two-Way Talk, and Knock and Motion Detection. Setup is quick and seamless and installation takes minutes, without any permanent modifications, which is helpful for renters. Ring Peephole Cam is available now in the U.S. on Ring.com and Amazon.com at a new price of $129.99.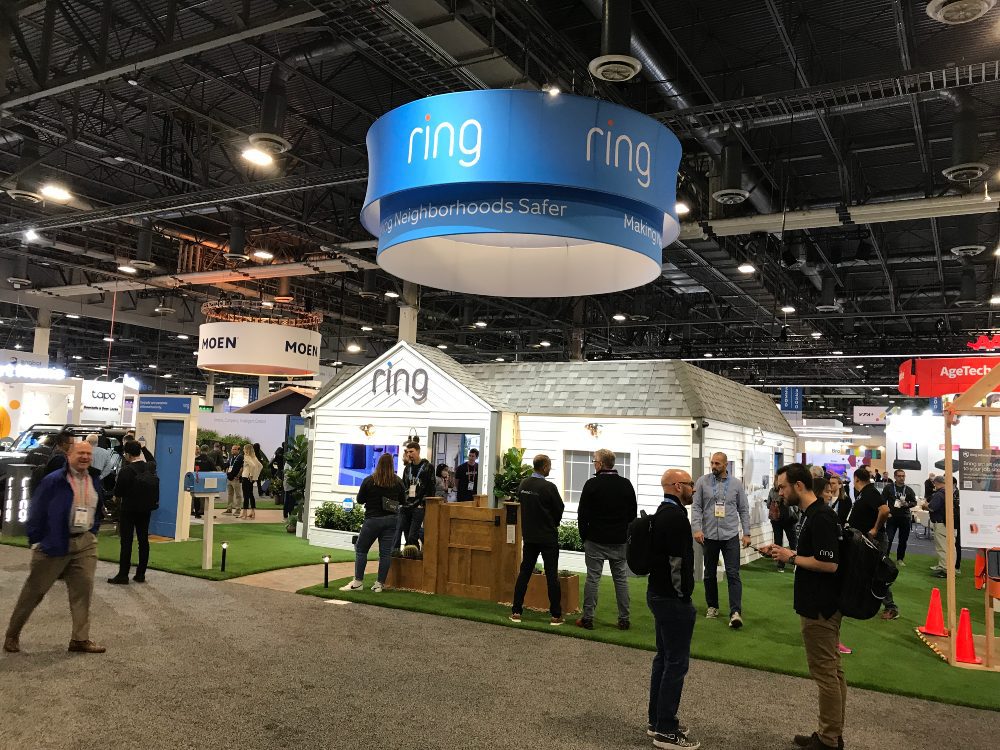 Alexa for EV Charging
With the news of exaggerated distance claims and cold-weather performance in question for Tesla the news of Alexa-neabled Electric Vehicle (EV) charging features could potentially be important for EV owners. Ring has announced at CES 2023 that starting later this year, EV drivers in the U.S. can ask Alexa to help them find and pay for public charging spots through a simple voice request such as, "Alexa, find an EV charging station near me."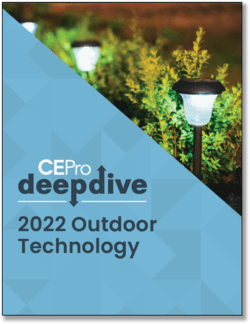 The 2023 CE Pro Outdoor Technology Deep Dive reveals unique set of impediments, including explaining pricing and interacting with outdoor-centric trades.
Get your copy now to take a "deep dive" into the trends and challenges of outdoor technology.
Download the report now!
The Alexa EV charging experience connects customers to real-time station availability for over 150,000 public charging stations in the U.S., powered by EVgo, one of the nation's largest fast-charging networks, and by other operators. EVgo will also be the first EV charging operator to offer voice-initiated payments for charging. Customers with Alexa-enabled vehicles and automotive accessories like Echo Auto will be able to ask Alexa to find the closest EVgo charging station and, once they arrive, initiate and pay for their charge, just by saying, "Alexa, pay for my charge."
Amazon and Panasonic Automotive Multi-Assistant Integration
Amazon and Panasonic Automotive have jointly collaborated to update Panasonic Automotive's SkipGen in-vehicle infotainment system to provide customers simultaneous access to Alexa or "Hey Siri" in Apple CarPlay. According to Ring, this option increases customer value by providing simultaneous access to Siri and Alexa with their corresponding capabilities on a single system. Panasonic Automotive's SkipGen creates a customer friendly experience for in-vehicle voice requests through the company's deep experience integrating Apple CarPlay with their offerings paired with Amazon's technologies across wake word detection, speech region detection, multiple voice assistant arbitration, and the Alexa Auto SDK.
Amazon and Josh.ai Multi-Assistant Integration
Josh.ai, a home intelligence system designed to manage and control integrated devices through its app and proprietary natural language processing, will be demonstrating a new multi-assistant integration for Josh.ai devices, allowing Alexa to be used simultaneously alongside Josh.ai's voice assistant. Ring explains that by simply by using the corresponding wake word Josh.ai's purpose-built assistant controls the smart home and its connected devices, and customers can use Alexa simultaneously for a variety of voice requests, including the ability to manage day-to-day tasks, and the ability to seek entertainment such as checking for the latest sports scores and managing shopping lists.
Hey Disney!
At CES, Amazon is publicly demoing Hey Disney!'s capabilities, showcasing to attendees the possibilities of this voice assistant. Hey Disney! recently began appearing in limited hotel rooms at Disney's Polynesian Village Resort. Now, the companies have announced that Hey Disney! will soon be available in the coming months for customers in the U.S. to purchase in the Alexa Skills Store or with an Amazon Kids+ subscription.
---
10 Alexa Fund Portfolio Companies Showcasing New and Existing Solutions at CES 2023
In addition to the newly announced products and system updates, Ring points out at CES 2023 that some of its partners will also be highlighting their latest developments:
Labrador Test Demonstration of Retriever and Echo Show 10:
Alexa Fund-backed company Labrador has announced a proof-of-concept featuring Amazon's Echo Show 10, which will be installed on top of the Labrador Retriever assistive robot. The assistive robot is designed to empower people to live more independently by carrying everyday items and bringing things within reach.
Orbital Systems Circular Shower System with Alexa Routine
Alexa Fund-backed company Orbital Systems creates home appliances that not only save water and energy in the background, but also enhances the customer experience. Orbital Systems will demo its "my shower" experience powered by an Alexa Routine. These routines are a string of code that allows customers to carry out specific tasks. Orbital's shower routines control immersive music, water temperature, flow settings, and even bathroom lighting with customized pre-sets and simple voice commands.
---
More Announcements From Ring at CES 2023
Sidewalk
Amazon Sidewalk, the secure, long-range network designed to provide low-cost, ubiquitous connectivity for billions of smart devices, will open to developers during the first half of this year. (Update: Sidewalk has officially opened for development.)
Ring states that it will be offering developers and device makers a self-service model to independently and rapidly create new Sidewalk-enabled devices.
Amazon and Ring will also unveil four new third-party Sidewalk-enabled devices designed to help customers realize everyday benefits around the home including a new natural gas alarm from New Cosmos, that leverages Sidewalk to provide customers with timely information about potential gas leaks in their home, as well as several new residential Sidewalk-enabled devices from Browan, including a motion detector, door and window sensors, a water leak detector, and CO2 detector, each utilizing Sidewalk to send alerts when needed.
Ring also notes that Deviceroy's Aria smart modem will use Sidewalk to connect solar inverters to the internet helping customers automatically coordinate real-time energy availability with efficient appliances, and Meshify will demonstrate its new Sidewalk-enabled leak and freeze detection devices to help customers avert potentially catastrophic property damage.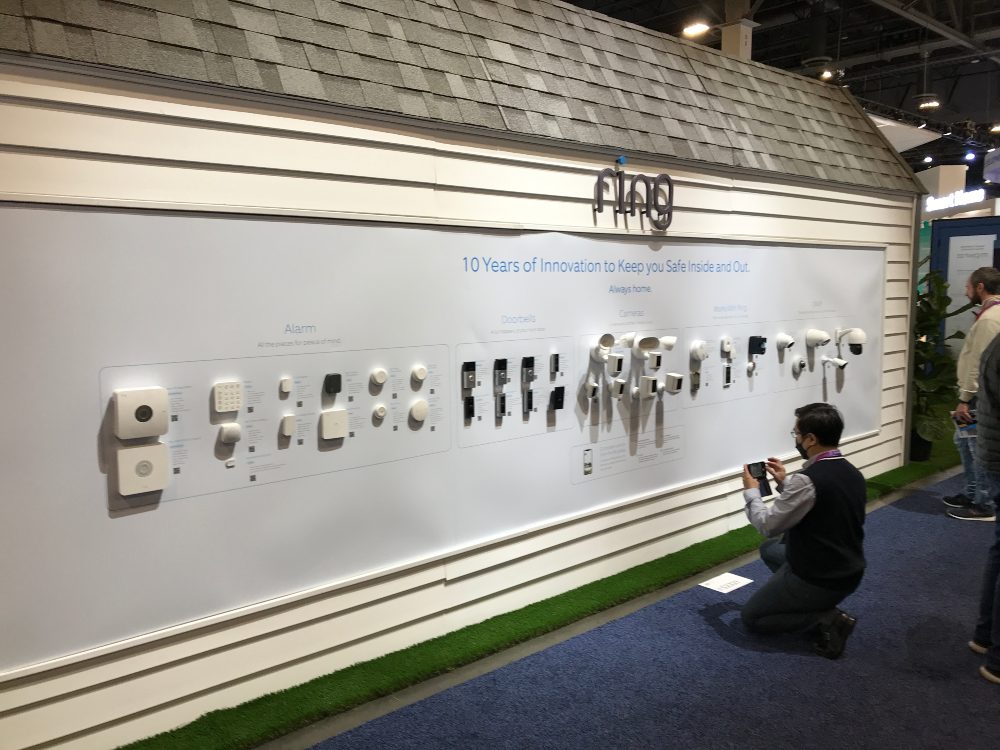 Matter
Ring stresses that it is continuing its journey to make the smart home more interoperable. Beginning this spring, the company will expand its Matter support to iOS, Thread, and additional device types like thermostats, blinds, and sensors, and remaining Echo and eero devices. In addition, Ring is releasing the first Alexa Ambient Home Dev Kit (AAHDK) APIs for developer preview later this month at CES 2023.
This includes an API for Group Sync, Device Sync, and Credential Locker (CLAPI). These cloud-based features are designed to be flexible, allowing developers to maximize their development effort and reach more households and users regardless of their mobile OS or connectivity protocol used to connect devices to Alexa.
More news from Ring: Amazon Details Why It Is Good for Integrators' Businesses
This article was last updated 04.10.23.
If you enjoyed this article and want to receive more valuable industry content like this, click here to sign up for our digital newsletters!