Amazon has officially opened Amazon Sidewalk for professional development of connected devices using its network across the United States. Coinciding with this announcement Amazon has released a coverage map showcasing the full extent of its wireless coverage.
Originally, developed as a solution to handle a loss of connectivity between Ring doorbells placed outside of the home and Wi-Fi networks, Amazon Sidewalk is a long-range shared community network that operates using three prominent wireless radio technologies: Bluetooth Low Energy (BLE), LoRa and frequency shift keying at 900MHz.
Using these frequencies, Amazon Sidewalk can create a local network using home internet and a "Sidewalk gateway"—which at the time of writing consists of Echo Show 10, Echo, Echo Dot smart speakers as well as wired Ring spotlight and floodlight cameras.
It is noted while attached to the sidewalk network, connected devices pull slightly from the local internet bandwidth.
In the scope of the current smart home, Amazon Sidewalk functions similarly to Z-Wave's long range offerings as well as Thread, which both operate under the premise of extending wireless connectivity well beyond the walls of a home using a broad-reaching, local network.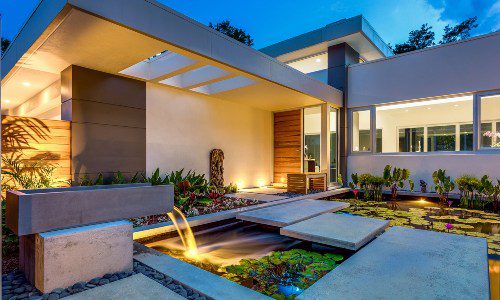 Landscape and architectural lighting create a magical and elegant ambiance for homeowners. The outdoor lighting industry has always been a phenomenal one and continues to grow in popularity. Now is the ideal time to learn more about this rapidly growing and highly profitable industry. Join our panel of esteemed lighting experts that will dive into why it's time for integrators to rethink their role in the outdoor lighting industry.
Register Now! 
In residential application, the core purpose of Amazon Sidewalk is to provide offline connectivity for certain devices, such as Ring cameras and Level smart locks. Amazon itself states the core strengths of the network is delivering connectivity to devices where a Wi-Fi connection may be difficult to achieve.
For roughly two years, Sidewalk was only usable via Amazon devices, however, with the release of the development kit, Amazon aims to open its wireless network for use within the broader smart home ecosystem.
In addition, Amazon has also made available a professional-grade bridge, called Sidewalk Bridge Pro, for use in heavy-duty, commercial networking or high-demand residential applications.
In speaking with the Verge in early 2022, Amazon states the Sidewalk Bridge Pro is designed to deliver the Sidewalk wireless network to much larger, public spaces such as parks, office complexes and universities.
The bridge has also been used in extreme remote use cases, such connecting air quality monitors to the internet in the middle of a remote wilderness.
Lending itself to high-demand applications, the Sidewalk Bridge Pro is also weatherproof with a range of five miles to any Sidewalk network. It is also cable of being connected to the network via Wi-Fi, Ethernet (PoE) or cellular networking.
Pricing for the Sidewalk Bridge Pro is currently unavailable.
Anyone who is interested in either developing for or looking to begin setting up devices using the Sidewalk network can request a free test kit from Amazon to gauge the presence and strength of Amazon Sidewalk networks in the given area.
If you enjoyed this article and want to receive more valuable industry content like this, click here to sign up for our digital newsletters!