Over the past several years, Amazon (Nasdaq: AMZN) has made some key strides in the custom electronics market driven by its Ring and eero brands. But beyond those two brands, Amazon is bringing a broader ecosystem of product and business solutions to integrators. The company's Amazon for Business portal and the broad deployment of Alexa Skills that allows smart home gear to add voice control are just two examples.
At CEDIA Expo 2022 in Dallas on the Smart Stage, Andrew Vloyanetes, General Manager at Ring, and Graeme Lee-Wingate, vice president of marketing at eero, offered some fresh updates on various solutions aimed at the custom installation market.
Vloyanetes discussed how Ring is moving well beyond just being known for its No. 1 market position in video doorbells to its broader Ring X line for professional installation.
He also discussed the importance of the announcement back in that Ring supports ONVIF standard which allows third-party video surveillance cameras to be integrated into the Ring app.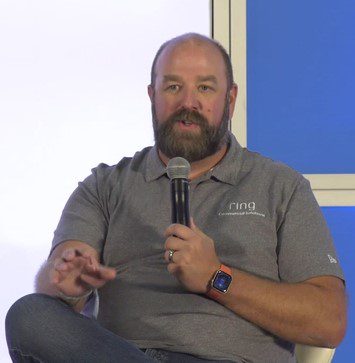 Finally from Ring, Vloyanetes reviewed the company's new Virtual Security Guard subscription service that gives customers the benefits of onsite security through third-party professional monitoring of their Ring cameras.
Virtual Security Guard launched using monitoring company Rapid Response.
The new Amazon service can also include the new Astro robot that uses advanced navigation technology to find its way around and can be used to check on specific rooms, people, or things.
Plus, Astro can send alerts if it detects an unrecognized person or certain sounds. The new service is subscription-based and Amazon is working on a share for integrators from the recurring monthly revenue (RMR).
Lee-Wingate from ereo noted that the company has been part of Amazon now for 3.5 years and in that time has seen its portfolio grow a lot, driven around the primary goal of helping customers be more connected in their homes.
eero recently announced a slate of new solutions that debuted at CEDIA Expo, including Eero PoE 6 and the Eero PoE Gateway, which are both Wi-Fi 6-based products for professional installation.
The company also announced the embedding of eero's TrueMesh technology in Echo Dot and Echo Dot with Clock.
Lastly, the company's new eero for Pro Installers service, integrators gain access to a new set of software tools designed to help quickly set up a customer's W-Fi network and manage issues remotely through the app.
This five-year license provides access to premium eero Insight features in the app, including network health monitoring and remote network management.
It also includes the ability to easily transfer networks from installers to customers—and it is included with eero PoE 6 or eero PoE Gateway when purchased through authorized dealers.
post