Home Theater Special Report: Exclusive Research
The resurgence of home theaters represents quite a comeback for a category that was once thought going the way of the dodo bird. Consumers were no longer spending money on travel and dining out during the pandemic, so they used these funds for home theater.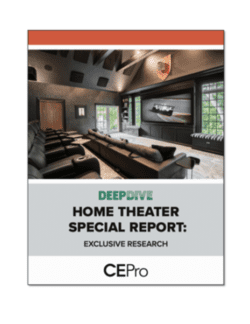 Home theater had a big comeback spurred by the demand surge during the pandemic.
You could certainly argue that from both a mental and emotional well-being standpoint, the ability of integrators to install home theaters/entertainment systems for their house-bound clients was more valuable than the deployment of home networks for clients' Work From Home and Learn From Home necessities.
Perhaps for the first time ever, the desire for a home theater was not merely a luxury amenity sought after only by the wealthy and the elite, but a fundamental imperative that helped consumers maintain some semblance of sanity in an insane situation.
Download our 2021 Home Theater Special Report to learn more.