ProSource, a national buying group, has announced the winners of most innovative and unique products honored by Residential Systems, TWICE, and What Hi-Fi?.
The products were nominated by the manufacturers and a team of judges was employed to read through the entries and rate the products on several criteria, including their value, impact, and how unique it was to the market. The judges included: Chairperson, Geoff Meads (Presto), Ben Goff (Cinema Lusso), Owen Maddock (CinemaWorks), Angus Murray (New Wave AV), and Michael Sherman (Henri).
ProSource Award Winners at CEDIA Expo 2022
Best Integrated Home
Level III: Pleasant Lake, Admit One Home Systems
Level IV: Stanley Park, Admit One Home Systems
Subcategories
Excellence in Documentation: Stanley Park, Admit One Home Systems
Excellence in Rack Building and Design: Stanley Park, Admit One Home Systems
Global Winner
Best Integrated Home: Stanley Park, Admit One Home Systems
"What a year right? Says Kristin Reinitz, General Manager + Co-Owner of Admit One. "We are humbled to have received so many awards this year & completely taken aback to learn that we have a global winner. Our team spends a lot of extra time perfecting our racks & documentation, so these feel even more special to bring home. Pressure is on for next year!"
Congratulations to ETC Palm Beach out of West Palm Beach, Florida for winning in the following
category: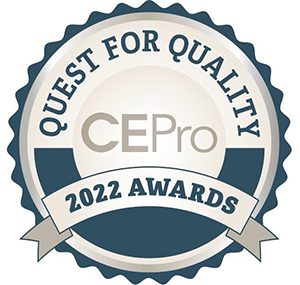 CE Pro urges integrators to recognize their suppliers that go above and beyond to deliver premium support and service. Cast your vote today to recognize the services (not the products) from your favorite manufacturers and distributors.
Cast your vote today!
• Excellence in Lighting: Riverfront Resort Paradise, ETC Palm Beach, LLC
The Riverfront Resort Paradise home started with some drinks, a late afternoon boat ride, and a stunning empty lot perched on the water! The owner, who was also the builder wanted to create a showpiece that would deliver on the promise of what a SMART home can do as well as deliver on a design and installation that would differentiate it from others.
The intake process took months as we educated the client on some unique features such as Circadian Lighting and Color Changing KETRA fixtures, to working out how a Theater could act as a casual TV room, Golf Simulator, and movie Palace! All of this with a design aesthetic that was comfortable and practical for a man with a growing family and a new business.
"Truly a team effort!", Paul Biava, the owner of ETC Palm Beach said. "We brought 11 people to CEDIA so we could share this event as a team and allow our frontline to experience this great EXPO. Winning was just the icing on the cake. I wish I could have brought everyone from the company because, without all of them, this just doesn't happen."