Key Digital
KD-EX18G HDMI Extender Kit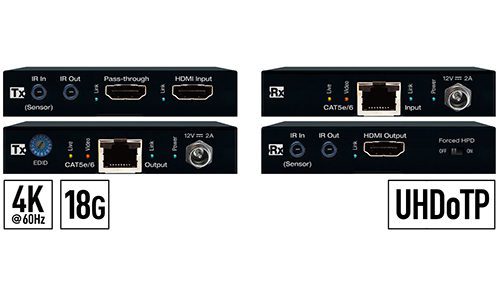 Key Digital has been at the forefront of HDMI technologies for a long-time and its new KD-EX18G HDMI Extender Kit once again puts the company at the forefront of HDMI transmission technologies.
The KD-EX18G HDMI Extension Kit utilizes Key Digital's proprietary Ultra High Definition over Twisted Pair (UHDDoTP) HDMI extension technology.
According to the company, through the use of its proprietary HDMI extension technology, the solution provides professional integrators with a cost-effective means of distributing HDMI signals.
Key Digital states the HDMI Extension Kit provides options such as 4K to 1080p down conversion, HDMI pass through, power over CAT, two-way IR, Forced Hot Plug, and handshake control.
The small-footprint kit supports full 18Gbps throughput to deliver 4,096 x 2,160 (4K) at 60Hz, 4:4:4 chroma sub-sampling, and HDCP 2.2 copyright protection.
In addition, the N.Y.-based manufacturer points out the KD-EX18G HDMI Extension Kit delivers signal transmission capabilities as far as 164 feet when sending 4K video to 1080p displays without having to down convert image resolution.
On the audio side of the AV equation, the kit supports audio formats such as Dolby TrueHD and DTS-HD, and it carries IR signals to provide control options.
More news from Key Digital: Key Digital KD-Pro8x8D all-in-one professional HDBaseT/HDMI matrix switcher
Product Info:
Product Name:
KD-EX18G HDMI Extension Kit
Manufacturer:
Key Digital