Structured Wiring Needs to Be on Your Radar as a Builder or Installer
From appliances to lights to blinds to thermostats, smart home devices are finding their way into every nook and cranny in the modern household. In many ways, these devices are making our homes more efficient and user-friendly than ever before. But they're also clogging up bandwidth on home internet networks and slowing everything down.
Today's home typically has a full house of connected devices vying for network attention, including smart TVs, gaming consoles, laptops, tablets, smartphones, and smartwatches. Factor in the rapidly growing consumer adoption of smart home devices, which each suck up even more bandwidth, and the problem is only going to get worse.
If you're a homebuilder, smart home specialist, a broadband integrator or telecom installer, it's critically important you plan for the future needs of tomorrow's smart homes.
The future is paved with structured wiring
The biggest piece of the future-proofing puzzle lies in structured wiring—bundles of cable that connect different rooms and areas within a home. A common structured wiring plan consists of coaxial cables, several fiber optic cables, and lots of Ethernet cables (Cat5e, Cat6, etc).
Structured wiring can be run to every room in a home and terminated with a variety of specialized wall plates and ports for easy plug and play connection to the home network. This will allow homeowners in the future to connect more of their devices directly to high-bandwidth cabling, such as fiber. It will also alleviate the pressure on hardworking Wi-Fi networks, which can become overwhelmed with signal noise.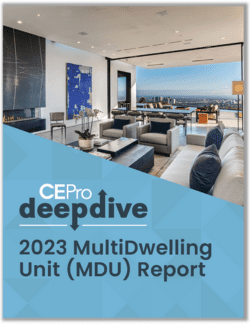 Discover why MultiDwelling Units (MDUs) have major appeal for custom integrators and what they're doing to address this market.
It goes without saying that structured wiring is easiest to plan and install during construction, when walls are open. Taking the time and care to integrate cabling in house plans can have a tangible impact on the home's appreciation and resale value. It can also save the future owners from taking on an expensive (and likely inevitable) retrofit to add structured wiring later on.
Structured wiring and the wireless home
One of the biggest benefits of distributing structured wiring throughout the home is the burden it takes off the wireless network. Part of that is because more devices can be connected directly but can also strengthen Wi-Fi connections as well.
With more speedy and higher bandwidth cabling available, homeowners can take advantage of whole home mesh Wi-Fi systems. A mesh Wi-Fi system includes wireless satellite nodes that can be plugged directly into a structured wiring Ethernet port in the wall. Once plugged into the wired network, these nodes extend the range of the Wi-Fi router's full wireless signal, and help the network manage the onslaught of signals it receives.
Building a faster and more efficient future
It's ironic: The future of connected smart homes lies in something as old school as structured wiring. Those who fail to take these trends into account could soon be scrambling to pivot and catch-up to companies that establish themselves as leaders in smart home future proofing.
For more information on structured wiring, download this E-Book on The Smart Home Installer's Guide to Structured Wiring for Audio & Video.
If you enjoyed this article and want to receive more valuable industry content like this, click here to sign up for our digital newsletters!