Control4 Settles with Lutron on RF Lighting Control Patents
Control4 agrees to pay royalties on past and future sales of certain RF lighting-control products that allegedly infringe on Lutron patents
Julie Jacobson
·
February 3, 2009
Lutron is slowly working its way through major RF lighting control vendors – suing them for patent infringement and ultimately settling.
The latest casualty is Control4, which settled today in a battle that began in May 2006. Lutron had claimed that Control4 infringed several patents covering inventions in the area of RF communications.
As part of the settlement, Control4 has signed a license agreement with Lutron, and agreed to pay royalties on past and future sales of certain RF lighting-control products that allegedly infringe on Lutron patents.
Lutron has a number of lighting-control patents over which the company has sued (or threatened to sue) several manufacturers.
The one that seems to be mentioned most often in regards to RF patent infringement is:
No. 5,982,103 - Compact radio frequency transmitting and receiving antenna and control device employing same - Filed January 26, 1998, issued November 9, 1999.
View: All patents with "radio" in the title and "Lutron" in the text. (Note these are not all Lutron patents.)
Lutron's RF patents include:
CORRECTION: This list originally included a mesh-networking patent that in fact did not belong to Lutron but to SmartLabs. I apologize for the error. -JJ
Several other manufacturers, including Vantage Controls, Inc., Leviton Manufacturing Company, Inc., and Cooper Wiring Devices, Inc. have also executed license agreements with Lutron for RF-related patents.
There do not appear to be other related lawsuits pending in Federal District Courts at this time.
More details to come if the attorneys care to discuss. …
---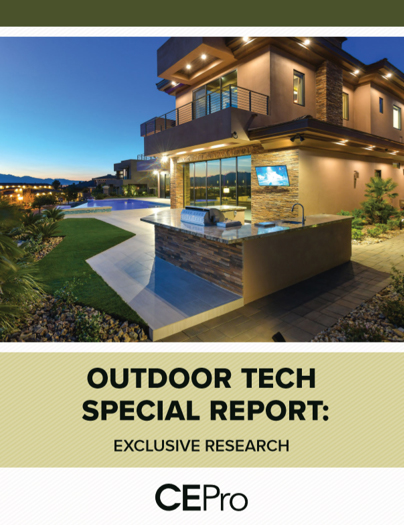 Find Out Why 63% of Integrators Expect Outdoor Business to Grow - CE Pro Download
The outdoor technology market is growing – both the demand from customers and the array of products available. According to our recent CE Pro survey, integrators are taking advantage of this opportunity to grow their businesses. Get your copy of the survey today.
---
About the Author
---
Julie Jacobson is founding editor of CE Pro, the leading media brand for the home-technology channel. She has covered the smart-home industry since 1994, long before there was much of an Internet, let alone an Internet of things. Currently she studies, speaks, writes and rabble-rouses in the areas of home automation, security, networked A/V, wellness-related technology, biophilic design, and the business of home technology. Julie majored in Economics at the University of Michigan, spent a year abroad at Cambridge University, and earned an MBA from the University of Texas at Austin. She is a recipient of the annual CTA TechHome Leadership Award, and a CEDIA Fellows honoree. A washed-up Ultimate Frisbee player, Julie currently resides in San Antonio, Texas and sometimes St. Paul, Minn. Follow on Twitter: @juliejacobson Email Julie at julie.jacobson@emeraldexpo.com
Follow Julie on social media:
Twitter · LinkedIn · Google+
Julie also participates in these groups:
LinkedIn · Google+