Introducing the Class of 2021: CE Pro 100
Welcome to the 22nd year of the CE Pro 100 rankings. Each year our editors analyze the most successful custom electronics installers based on a variety of criteria. 2020 was a year like no other and our results reflect this environment.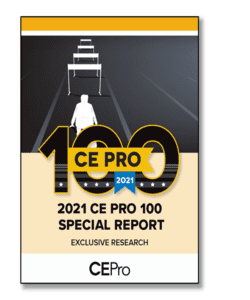 Residential integrators faced sizable challenges in 2020 but the CE Pro 100 continues to rise above. The median CE Pro 100 integration firm's revenues fell just 2.4% in 2020 despite pandemic shutdowns. That slight drop is actually a huge victory when you consider many CE Pro 100 companies were shut down for a minimum of six to seven weeks, and in some cases 10 to 12 weeks.
Taking a close look at the members of the 2021 class of CE Pro 100 companies provides important insights into how these businesses managed to stay so strong. Our 2021 CE Pro 100 Special Report takes a look at special groupings such as:
Industry Veterans
Old-School Aces
Retail Giants
Volume Experts – Residential
Volume Experts – Commercial
Big Job Gurus
Productivity Kings
Get your copy of the 2021 CE Pro 100 today to see how your company and your competitors rank this year.