One of the industry's largest buying groups—HTSA—recently completed its first in-person event in quite some time this past March.
HTSA's Spring 2022 Conference in Fort Lauderdale, Fla., was the buying group's first event since 2019 and the overall consensus was that everyone was happy to gather, and the educational sessions focused on topics that were relevant to the industry as it transitions back into some level of pre-COVID 19 normalcy. 
Gauging just how some of the integrators in attendance were going to handle that transition back into "normalcy," CE Pro asked Jim Sanfamio of Sarasota, Fla.-based Wicked Smart Home, and Glenn Murdzia and Michael Glen of Aspen, Colo.-based Paragon, Aspen, Colo., what their business outlooks were as the world enters a "new normal."
Watch the video above to learn more about how these integrators will navigate a renewed industry.
Glen notes that Paragon is doing well right now, while Sanfamio adds the company is eyeing some of the market's emerging opportunities to keep its current economic momentum going beyond 2022.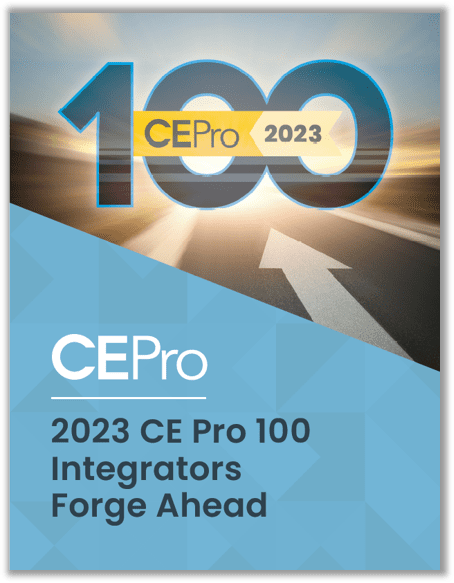 Which companies in the custom integration market made CE Pro's 24th annual CE Pro 100 list?
"Business is good. We are seeing a lot of excitement about people upgrading their existing homes; we are seeing a lot of new builds in our market as well where people want to take advantage of the latest technology, and certainly it's been exciting to be a part of. I think everyone is glad to be out of masks and back in person," says Glen.
"We are going to build on an area that we certainly saw an awakening to and that was how much the networks that we are putting into homes now and in the multiple dwelling residences, how strong those networks have to be because a lot of people aren't going to go back to the office," Sanfamio remarks.
More news from the HTSA Conference: Former Sony Exec Outlines Content Management Opportunities
If you enjoyed this article and want to receive more valuable industry content like this, click here to sign up for our digital newsletters!