What to Expect for Wages & Salaries in 2021
Last month's CE Pro State of the Industry report showed overall growth in the custom integration industry. Our editors then looked into whether wages and salaries enjoyed the same bump.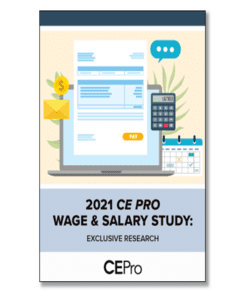 For the past several years, the annual CE Pro Wage & Salary Study has revealed consistent and sometimes inflated wage and salary increases, but not in 2020. If there's one thing that can immediately halt the rise in wages and salaries in the custom integration industry … it's a pandemic.
Our new "2021 Wage & Salary Report" profiles the impact of COVID-19 on income. It provides detailed information about:
Average salary by job title/role
Average payroll changes in 2020
Specific details about pay for company owners as well as sales positions
Most common employee benefits
Salaries by geographic region
Download your copy of the report today to gain insight into whether you are paying/being paid the right amount.