Kaleidescape, a manufacturer of digital home theater entertainment systems, and Trinnov Audio, a designer and manufacturer of audio processors for private cinemas, have announced a collaboration to deliver, "heightened sensory experience[s] to customers." 
The launch of this partnership includes a specially selected movie package promotion for new Trinnov and Kaleidescape customers.  With the purchase of a Trinnov Altitude16 or Altitude32 Processor and a Kaleidescape Terra + Strato C, customers receive a Trinnov-curated package of 4K Dolby Atmos and DTS:X mastered titles offered at no additional charge on the Kaleidescape system. This promotion is available from September 1, 2021, through December 31, 2022. 
"Combining Kaleidescape's lossless quality movie soundtracks with Trinnov's Altitude 3D audio processing optimizes the performance of any private cinema, to deliver an experience so real, you become part of the story," says Tayloe Stansbury, CEO, Kaleidescape.
"It is only fitting that this collaboration between Trinnov and Kaleidescape includes a generous package of titles that truly showcase a private cinema's capabilities with the most immersive image and sound experience possible."
According to the companies, mastering soundtracks from original source files—many of which have been produced professionally in Trinnov-equipped studios and post-production facilities—and played via Kaleidescape components, which are designed to present movies at full reference, with lossless quality audio will deliver the experience filmmakers intended.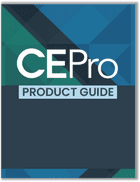 CE Pro's 2022 Product Guide showcases some of the latest and innovative solutions from manufacturers serving the custom electronics industry in a cross-section of categories.
Download the guide now!
"As two of the private cinema gold standard luxury brands, Trinnov and Kaleidescape share a common value through a deep commitment to delivering the highest levels of performance available," explains Arnaud Laborie, CEO, Trinnov Audio.
"Both companies' products have stood the test of time and will continue to delight their owners through software upgrades that will keep their systems at the cutting edge of sound and picture quality."
Trinnov Audio points out that its Altitude32 processor is capable of up to 32 discretely rendered immersive audio channels for private theater. The company boasts that five years after its introduction, it remains the only unit that can do so. Trinnov goes on to say that its lower-cost Altitude16 can render 16 discrete channels. Both models utilize Trinnov's exclusive, patented technologies, including its loudspeaker/room Optimizer and 2D/3D loudspeaker Remapping.
Kaleidescape adds that its systems are designed to play 4K HDR movies with a video bitrate four times higher, while reproducing lossless quality audio at up to 10 times higher than any streaming device. The results of these high bitrates, the company emphasizes, is "a profound difference in sound clarity and detail when playing through a Trinnov Altitude processor."
At the upcoming CEDIA Expo 2021 show in Indianapolis this Sept. 1-3, Kaleidescape will display its new Strato C and Terra players and servers in booth number 3604.