Audinate
AVIO Dante Digital Audio Network Adapters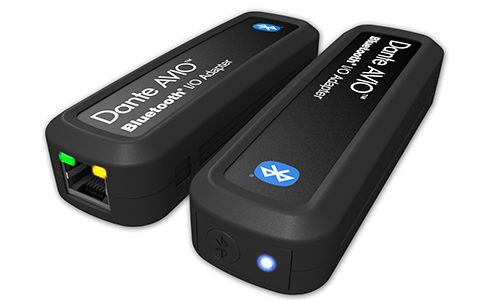 Audinate has added two new models to its AVIO Dante Digital Audio series of adapters.
The newest product additions from Audinate offer integrators USB-C and Bluetooth to provide a choice of cost effective connectivity options for components that lack digital audio capabilities.
Dante AVIO devices are available in one- or two-channel analog input or output configurations, as well as AES3/EBU, USB and now Bluetooth.
The Dante AVIO USB-C adapter allows products with USB-C ports to deliver and receive two channels of audio with a Dante digital audio network. The AVIO adapter can be powered by the connected device or via PoE. The adapter also works with USB-C and USB-A adapters, and it also offers power pass-through for mobile devices to allow smart products to charge while they are connected to the Dante network.
Audinate says the AVIO Bluetooth adapter also provides wireless connectivity to Dante networks, and it can be used for the playback of content on smart devices on large audio systems.
Once the Bluetooth adapter is configured users can use Bluetooth to switch from local smart device audio, to conferencing systems to share what's being discussed during meeting sessions.
More Dante digital audio news: AudioControl CM Amplifiers Incorporate Dante Digital Audio
Product Info:
Product Name:
AVIO
Manufacturer:
Audinate