Hey custom installation people… it's time for an alarm bell to be rung, fireworks to go off, and cages to be rattled. Our industry was built on great audio, video and home theater, and has slowly devolved into a bunch of technology solutions that are as exciting and emotionally moving as a turkey sandwich.
Let me tell you what happened. In the 1980s and 1990s, everyone in our industry was high on great music and movies and all the tech that reproduced those movies and music in an amazing way. There were tons of beards and ponytails and passion for great AV.
Then control came along… and consumed us. We shifted our focus from high-performing music and video to creating James Bond homes with control of every subsystem in the home. Our focus and our budgets shifted to the new shiny toy. For the most part, home control is not too sexy. It's convenient, it's practical, it's challenging, but at the end of the day it's functional… not emotionally moving.
In meetings with clients, we would take their budget and keep on shifting more and more of it over to control and away from high-performance AV. We were nerding out on connecting things with RS-232 more than we were nerding out on Fifth Element demos.
But now we are in a different time. Control costs are coming down from all the usual suspects and the complexity (labor) to install these systems is getting lower. So our revenues are dropping from control and now we are shifting focus as an industry to lighting and shades. There is lots of competition in that category from guys who have been selling lighting and shades longer than us.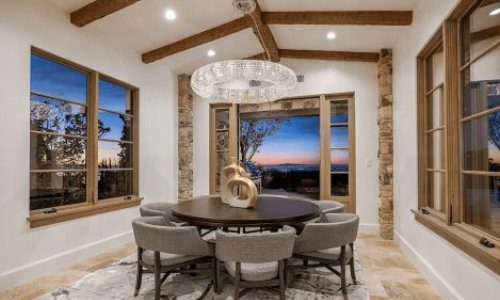 As a custom integrator, lighting is in demand. Effective communication, education and showcasing the value proposition of LED light fixtures in conjunction with integrative control systems are the keys to overcoming challenges and closing sales in this specialized market. Join us as we discuss the future of digital lighting and control with David Warfel from Light Can Help You and Patrick Laidlaw and Mark Moody from AiSPIRE.
Register Now! 
I think we still pursue those avenues, but we are all missing the bigger opportunity… let's get back to great AV and movies. Let's get back to our roots. Let's get back to selling stuff that electricians, window covering companies, and IT people are no good at selling, installing, or designing. Let's sell some kick-ass home theaters!
4 Key Elements to Quality Home Theaters
Now to why your home theaters suck. And boy… do they. I walk into too many home theaters that have the following gear:
A projector by a company that also sells inkjet printers or telephone systems
A too-small 16.9 screen that is not acoustically transparent
An Apple TV or Roku
A non-4K cable or satellite box
7.2 or 5.1 In-ceiling speakers by a company that specializes in distributed audio products
A sad 10-inch sub sitting in the corner of the room
This is an acceptable theater solution for your clients who have visual or hearing impairments, are over the age of 95, or under the age of 9. For everyone else this is not a home theater experience, this is a nice place to watch Jeopardy.
I am not going to be immersed in a film with this technology experience. If you don't understand why this sucks you need to go to CEDIA Expo and take a class with Sam Cavitt or somebody that really can explain what makes a great home theater and why, but I will give you the basic requirements of a quality home cinema system.
1. Screen Size: The Bigger, the Better
Your screen needs to be BIG and IMMERSIVE. It's way better if it is a scope screen (2:35) and it's way better if it is IMAX level IMMERSIVE. Got a 15 ft wide room? Why not a 15-foot wide screen? Your clients will thank you for making it bigger than they thought it should be.
2. Projectors: Minimum 30 Footlamberts
Your clients expect LED levels of brightness. They are all spoiled with their 4K TVs. You need a shitload of horsepower (aka lumens) for a big screen. Figure out the projector you need to get a minimum of 30 footlamberts on the screen. It will be expensive, but it will be amazing.
3. Audio: Don't Use Multiroom Audio Speakers in Home Theaters
First a note on the screen and how it relates to audio… Dialogue needs to come from the screen! This is how it works in the movies. Not the ceiling directed at the floor, not under the screen directed at your shins, not above the screen directed at your projector. Get the speakers behind an acoustically transparent screen directed at your ears!
Now to the audio system, first sell your clients an Atmos system and get the right amount of speakers in the home theater room. This is the standard. This room needs to be markedly better and different than that in-ceiling 5.1 you put in the client's master bedroom. We need SPL! We need great amps, speakers, and a terrific room EQ system.
Ideally, we have acoustically designed the room to really make this room great, but I will table that for another article. When thinking home theater audio, think separates, not receivers. Think real speakers and lots of subs to pressurize that room. You should be looking at brands like Meridian, Wisdom, JBL Synthesis, AudioControl, Steinway Lyngdorf, and Meyer Sound. There are many other great brands, but play at this level. Do not use a distributed audio speaker for a theater!
4. Source Gear: Streaming Is Not 'Good Enough'
OK people, get over your theory that streaming video is "good enough." In order to get a 4K movie from the Netflix or Amazon Prime servers to your home requires an enormous amount of compression to shoot it over the current pipe and into your home. The amount of data loss is staggering. The audio information on a Blu-ray or Kaleidescape movie is 28x greater than a streamed movie. So in order to get reference audio and video on your client's home theater you have two options for source gear.
The first choice is a Kaleidescape Movie Player. This amazing device should be the only source you should allow your clients to watch movies on. I challenge you to do an A/B test between an Amazon Prime movie and a downloaded 4K movie with Atmos on a Kaleidescape.
After experiencing the difference, you will smash that Apple TV with the heaviest thing in your toolbelt. The difference is so great it will make you angry. You will feel like a failure for selling your clients crap for the past 10 years. Your clients should have reference level video and sound and fortunately Kaleidescape delivers the goods.
The second option is the good old-fashioned optical disc. This is cheap and easy. The only downside is that your client looks at you like you are an idiot when you suggest this. They all look at disc players as antiquated and you look like someone trying to sell them a Blackberry. Only sell this to the penny pinchers.
Why You Should Care about Great Home Theater
Why is great audio and video important to our business, Eric? Why should we care about great home theater?
The answer is simple: Movies and music elicit emotional reactions out of your clients. Done correctly, AV technology can make someone's home magical and fun. This is what your clients will talk about with their friends. This is what makes them happy and coming back to spend more. This is what makes for great family experiences. This is what gets you referrals and more business.
Read Next: How Sound Affects Your Home Theater Customers' Emotions
Re-focus on getting your clients excited about quality and do not succumb to the "good enough" philosophy. If any one of your clients got a demo of my example "typical" hot garbage theater and then watched the same content in my "suggested" awesome reference theater, not a single one would say… "Oh, that cheap theater is good enough." They would all ask, "How can I get that better home theater?"
Most CI clients can afford quality, it's up to you to escape your comfort zone of the "easy sale" and give them what they deserve. In other words, don't suck.
---
Eric Thies is a principal of HTA-Certified DSI Luxury Technology, a high-end integration firm in Los Angeles. He also is a member of the Guild and a board member of Azione Unlimited. Send your hate mail to eric.thies@dsilt.com
If you enjoyed this article and want to receive more valuable industry content like this, click here to sign up for our digital newsletters!