CEDIA Scoop: UL to Launch 4K HDMI Cable Certification Program
Underwriters Laboratory (UL) goes beyond "safety" testing, launches certification program at CEDIA to validate performance of 4K cables.
Robert Archer
·
October 2, 2015
Underwriters Laboratory (UL), best known for testing and authenticating products for the safety of consumers, is stepping out of its comfort zone to certify the performance of HDMI cables labeled as 4K.

Launching at CEDIA Expo 2015 this month, the new 4K HDMI cable certification program not only validates the safety of these products, it verifies the performance claims made by manufacturers.

UL is quite aware of other private HDMI-testing initiatives in the market, but the organization -- which became a for-profit corporation in 2012 -- says it will go further by policing the products it certifies through practices that include randomly purchasing products to ensure they meet performance standards, and verifying products that carry the UL 4K seal.

"On top of safety, we offer manufacturers a performance certification program," says Lf Lai, UL vice president and general manager, wire & cable.

Lai explains that manufacturers can send prototype cables to UL to verify compliance to UL 4K specifications for 10.2Gbps and 18Gbps cables.

"If the sample passes our tests," he says, "the manufacturer gets authorization to produce the product. When manufacturers start producing the cables, inspectors will visit their factory to verify compliance of the authorized product."

Later on in the process, UL will purchase sample products from retailers and dealers to confirm compliance.

"By doing all of this it gives more confidence to dealers and consumers that the products they use comply to UL 4K specifications," Lai says.
While the public recognizes UL as a 'safety certification' label today, UL VP Lf Lai believes there is value to all parties if the UL mark is extended to 'performance' specs.
While the public recognizes UL as a "safety certification" label today, Lai believes there is value to all parties if the UL mark is extended to "performance" specs, especially when it comes to something as delicate as an HDMI cable.

Some products labeled "18Gbps" are simply incapable of passing signals at higher bit rates as required for features like HDR.

The certification program is "important for the CEDIA industry," says Lai. "All installers should be familiar with UL and our programs. The market really needs these standards so installers can buy cables and have peace of mind. [With older technologies] it's not as big of a challenge, but for 18Gbps there are big problems. Nowadays TVs are OK—they don't need more than [existing bandwidths]. At some point they will need better cable, and existing cables won't work. Even some of the most popular brands won't work. Potentially there could be big problems."

Another aspect of the UL certification program is the policing of the organization's 4K logo. To help dealers and consumers differentiate authentic UL-certified 4K cables, UL is employing a holographic logo design that it says will be difficult for counterfeiters to replicate, and easy for dealers and consumers to identify.

Lai acknowledges when discussing UL's 4K cable certification program that a lot of work needs to be done to ensure installers and consumers get exactly what is promised to them.

"The market really needs the education," he says. "We also need an ongoing set of features. We are trying to address the technical confusion in the market and the ongoing compliance of cable. Through the UL 4K program we are addressing both issues at the same time."

UL will be exhibiting at the 2015 CEDIA Expo in booth number 1104. On Friday Oct. 16, the organization will be holding a training session from 2:30 p.m. to 4 p.m. called, "Performance Verification Program for High Speed Cables—The Best Way To Differentiate Your High Speed Digital Video Interface Cables In Marketplace."
CE Pro @ CEDIA Expo 2015: News, Products, Technology, Opinions, More
---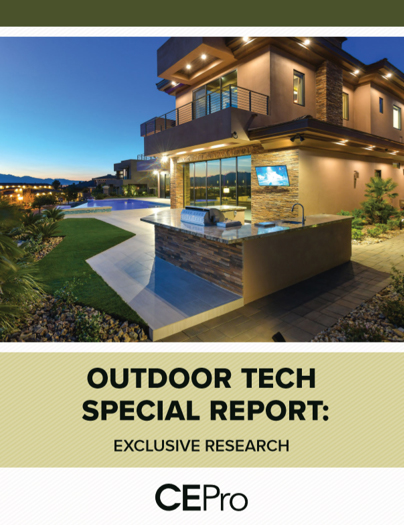 Find Out Why 63% of Integrators Expect Outdoor Business to Grow - CE Pro Download
The outdoor technology market is growing – both the demand from customers and the array of products available. According to our recent CE Pro survey, integrators are taking advantage of this opportunity to grow their businesses. Get your copy of the survey today.
---
About the Author
---
Bob is an audio enthusiast who has written about consumer electronics for various publications within Massachusetts before joining the staff of CE Pro in 2000. Bob is THX Level I certified, and he's also taken classes from the Imaging Science Foundation (ISF) and Home Acoustics Alliance (HAA). Bob also serves as the technology editor for CE Pro's sister publication Commercial Integrator. In addition, he's studied guitar and music theory at Sarrin Music Studios in Wakefield, Mass., and he also studies Kyokushin karate at 5 Dragons in Haverhill, Mass. Have a suggestion or a topic you want to read more about? Email Robert at robert.archer@emeraldexpo.com
Follow Robert on social media:
Twitter
Robert also participates in these groups:
LinkedIn · Google+
HDMI
Power vs. Data Rate: Is There a Compromise?
Interview: Vanco President Discusses A/V-over-IP Adoption, HDMI 2.1, More
Metra Gigabit Accelerator Helps Upgrade HDMI Cables to Support 8K
Why Distributors Are Digging Deeper Into HDMI Education
4 'Bohemian Rhapsody' Scenes Perfect For Dolby Atmos Demos
View more on HDMI
Take Our Latest Quiz
How Well Do You Understand Ethernet Cables and Connectors?
Bose