Brian Hill, owner of Next Step Audio and Video in Concord, Calif., likes to follow the age-old mantra that "luck is when preparation meets opportunity," and that certainly was the case in this resimercial project.
Because he often talks about the work Next Step Audio and Video performs, Hill capitalized on an opportunity that came his way when a business owner recalled conversations about video installations and wanted him to bid on Athens Administrators' executive conference room project … which, in turn, led to further opportunity.
The conference room design and installation was pretty straightforward, Hill says. Two 75-inch displays from Samsung were selected to install, while a Denon AVR-X3600H was specified for audio.
Built-in HEOS for background music in the room fit the customer's needs, Hill says, and Klipsch PRO-24-RW-LCR-WH wall and A2V A2V1C65PF in-ceiling speakers rounded out the AV system.
A Logitech Harmony Pro 2400 provides control. Next Step installed the components on a Middle Atlantic CWR-18-26PD, wall-mounted, 18U rack — employing the wall mount to keep floor space clear for storage.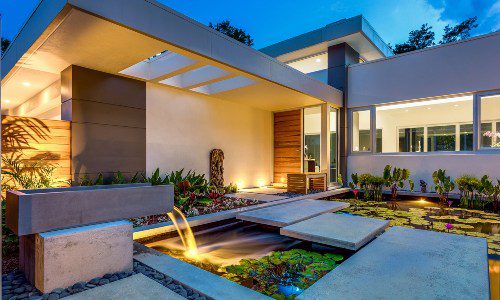 Landscape and architectural lighting create a magical and elegant ambiance for homeowners. The outdoor lighting industry has always been a phenomenal one and continues to grow in popularity. Now is the ideal time to learn more about this rapidly growing and highly profitable industry. Join our panel of esteemed lighting experts that will dive into why it's time for integrators to rethink their role in the outdoor lighting industry.
Register Now! 
Initial Resimercial Results Yield Opportunity to Outfit Larger Space
To help bring everything together, the aesthetic was developed by Concord, Calif.-based Be. Workplace Design. "The result was stunning," Hill says of the design collaboration. "The book-matched marble conference table and white countertops on the side give the room a majestic feel."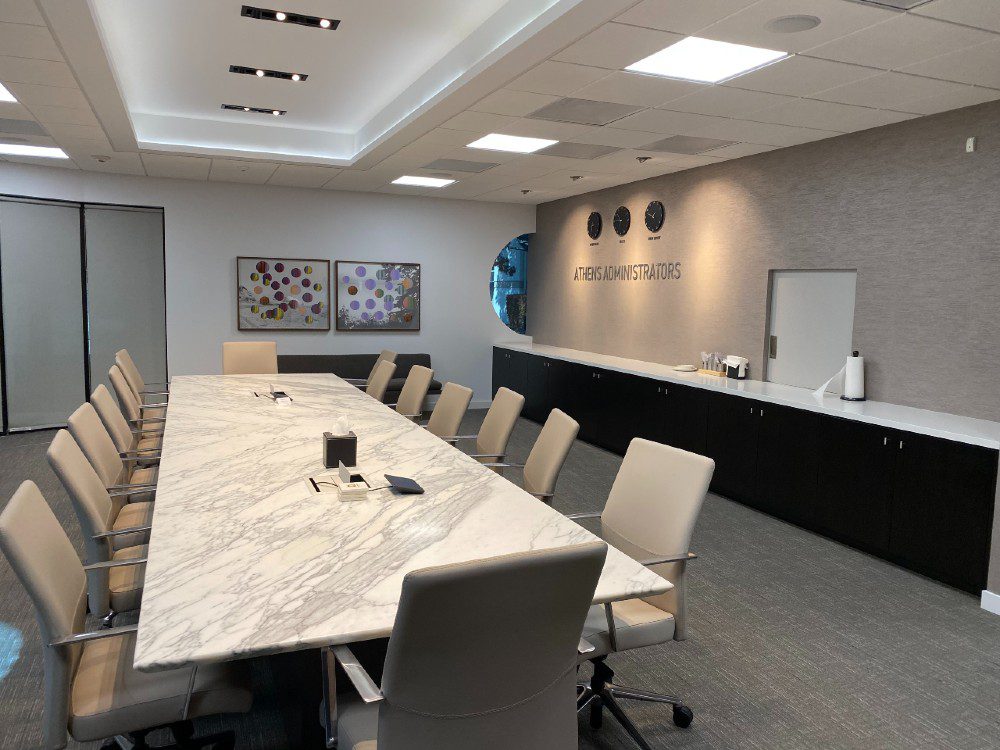 Once the executive conference room was complete, Next Step was asked to bid on a design/build of Athens' large venue meeting space.
The customer's initial idea was for a projection screen, but Next Step recommended a 3×3 video wall using Samsung UM55H-E Matrix screens. This design also called for two 75-inch Samsung screens on either side to be used for presentations, and Athens loved the recommendations, Hill recalls.
For sound the integrator tapped into Klipsch's in-house design team and delivered a system with two, massive KI-365-SMA-II front speakers, eight IC-650T-WH ceiling speakers and an additional SP-150W, 15-inch subwoofer for the back of the room.
A Denon AVR-8500H was employed and as in the executive conference room, HEOS can be used for background music.
Just Add Power transmitters and receivers were the choice for the video matrix controls. An RTI XP-8v processor running through a Luxul AMS-2624P, 24 port, managed switch, controlled by a couple of iPads were deployed for user controls, Hill explains.
Next Step Audio & Video Overcomes Mics, Remote Control Challenges
For this resimercial job, Next Step Audio and Video overcame some challenges too.
"One unique piece of this puzzle was incorporating microphones into the system. We used a Yamaha QL1, digital sound board for professional quality sound mixing and Shure GLXD14R/WL185-Z2 wireless lapel and GLXD24R/SM58-Z2 hand-held mics for getting the sound to the mixing board," Hill explains.
The board output is wired into the Denon AVR. When not used for large meetings, the room can work as a theater by streaming movie or video content onto the video wall.
Meanwhile, a remotely located, control room to run the production also proved challenging, but to make it easier on the person running the soundboard and computers, Next Step installed two Hikvision cameras, and a 4TB NVR with the video output going to a screen above the board.
"These video feeds, along with the video feeds from the Zoom camera, help keep the person controlling the show on top on everything in the auditorium," Hill says. "The last screen above the sound board is for a workstation computer so the person controlling the show could multi-task / research / stream on the fly."
Take a look at more from this project by scrolling through the slideshow.
If you enjoyed this article and want to receive more valuable industry content like this, click here to sign up for our digital newsletters!