2021 Resimercial Deep Dive Report
Our recent Resimercial Deep Dive report shows that integrators expect a 9% increase in revenue from commercial projects over the next five years.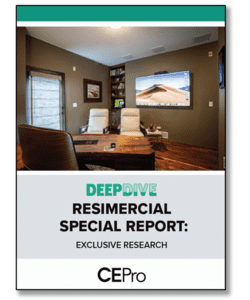 While 2020 was rough for integrators to be focused on growing their pure commercial business, the Work From Home/Learn From Home trend was a beacon of light in an otherwise bleak year.
The results of our 2021 Resimercial Deep Dive report show that integrators installed a median of six home office projects last year at a median price point of $8,106 each.
Taking a closer look at resimercial projects in 2020 as well as plans for this year, this report provides insight info:
Average number of home office installations and prices
Types of equipment installed
Volume and pricing of commercial projects
Trends by commercial vertical segments
Download your copy today to learn about new potential revenue sources for your integration business in 2021.