Resideo Technologies (NYSE: REZI) announces it has acquired privately held Arrow Wire & Cable.
Based in Chino, Calif., Arrow was founded in 1989 and is a leading regional distributor of data communications, connectivity and security products.
With three strategically positioned warehouse stocking locations, Arrow serves customers across the West Coast and will be part of Resideo's ADI Global Distribution business, according to the company.
"ADI is a critical component to Resideo's long-term growth. As such, we are strategically investing in the business organically while simultaneously pursuing tuck-in acquisitions. This two-pronged approach helps broaden our market reach and accelerate our growth," says Jay Geldmacher, president and CEO of Resideo. "The acquisition of Arrow aligns with ADI's strategic growth plan of expansion into adjacent categories, marking the fourth acquisition for our distribution business since 2020 and second in data communications."
Resideo says Arrow strengthens ADI's portfolio in the data communications category with an assortment of copper and fiber cabling and connectivity, connectors, racking solutions, network equipment and more. Additionally, the acquisition increases ADI's geographic footprint with added warehouse and distribution operations to better enable ADI to meet the needs of customers.
"ADI is committed to providing our customers with the products, support and services they need, and we are always looking for ways to help them grow," says Rob Aarnes, president of ADI Global Distribution. "We identified data communications as a growth category for ADI and our customers. Arrow complements our offering and builds upon our Norfolk Wire & Electronics acquisition and organic investment to further define and grow our position in the data communications market."
Terms of the transaction were not disclosed.
At the beginning of the month, Resideo entered into a definitive agreement to acquire First Alert, a provider of home safety products, from Newell Brands for $593 million in an all cash transaction.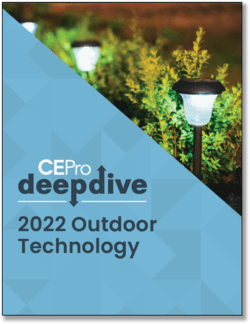 The 2023 CE Pro Outdoor Technology Deep Dive reveals unique set of impediments, including explaining pricing and interacting with outdoor-centric trades.
Get your copy now to take a "deep dive" into the trends and challenges of outdoor technology.
Download the report now!
---
This article originally appeared on our sister publication Security Sales & Integration's website.