Discover the 2021 CE Pro 100 Brand Analysis Leaders
The CE Pro 100 Brand Analysis shows how suppliers adapted throughout 2020 to not only keep the industry afloat but thrive amid the pandemic.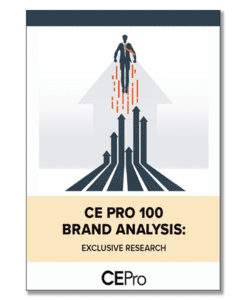 While the pandemic forced businesses to adapt, many integrators in the custom industry found ways to thrive in 2020. Our annual CE Pro 100 Brand Analysis report shows how these changes may have impacted the brands they rely on most.
The suppliers highlighted in our report faced a rocky 2020, but the leading brands remain familiar for the same reasons integrators succeed — they strengthen, adapt, pivot and find other ways to stay ahead. Our Brand Analysis leaders come from a variety of product areas, including:
Audio
Video
Networking/Connectivity
Control & Automation
Home Enhancements
Security
Dealer Support
We also highlight specific Bullet Brands which have made notable gains in their respective areas. Download your copy of the CE Pro 100 Brand Analysis to see if your favorite technology providers made the grade.