Within a relatively short period of time Roku through its popular streaming media operating system (OS), has risen up to become a popular TV manufacturer, and building upon its product line, the company has announced its new Select, Plus and OLED Reference products.
Roku states that its latest televisions are its first to be designed and made in-house, which it says helps it deliver best-in-class products.
"Over the past 20 years, Roku has been instrumental in what is now the mainstream way to enjoy a great television series, a classic movie, or live sports," says Mustafa Ozgen, president, devices, Roku.
"Our goal is to continue to create an even better TV experience for everyone. These Roku-branded TVs will not only complement the current lineup of partner-branded Roku TV models, but also allow us to enable future smart TV innovations. The streaming revolution has only just begun."
The company says the Roku Select and Plus Series of TVs, as well as a new Roku TV Soundbar will be available in the U.S. sometime during the spring 2023, and it will offer TV screen sizes for these products ranging from 24 inches to 75 inches. Roku states the HD TV products will come with voice remotes, while all Plus Series models will come with Roku Voice Remote Pros.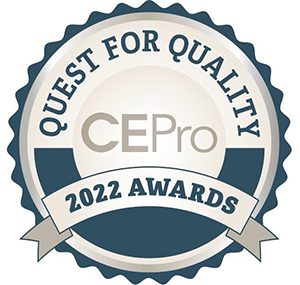 CE Pro urges integrators to recognize their suppliers that go above and beyond to deliver premium support and service. Cast your vote today to recognize the services (not the products) from your favorite manufacturers and distributors.
Cast your vote today!
Additionally, all Roku-branded televisions will come more audio capabilities when using the new Roku TV Soundbar to make home theater easy and wire-free.
Roku OLED Reference TV Models Designed to Deliver Performance
Stepping up from the Select and Plus Series of televisions, the company has also introduced its Reference OLED TVs, which the company says are available to all Roku TV partners.
According to the global electronics company, the OLED Reference models are engineered to produce high levels of picture quality that include "inky black levels, outstanding contrast, highly saturated colors, smooth motion, and superior viewing angles."
"This new OLED Roku TV reference design enables our brand partners to deliver the premium TV experience that OLED brings, including dark black levels, superb contrast and superior viewing angles, along with all the features that Roku users love," notes Tom McFarland, vice president, Business Development, Roku TV.
"In addition to beautiful picture quality and our simple and easy-to-use operating system, the Roku TV program enables many of the top TV brands to offer consumers a wide variety of models and sizes to choose from."
More news from CE Pro: 23 Wireless Audio Solutions that Rock the House