Automated shades and screens are a great way to help create comfortable outdoor living spaces. Draper specializes in manufacturing both to meet the needs of today's customers, and Clint Childress, director of residential markets for the Spiceland, Ind., company, shared insights about solutions, trends and other considerations for integrators working on ever-growing outdoor living spaces.
"Draper has long been involved in products for the outdoors and that exterior market. We've had regular exterior sunshade systems for a while, manual shade systems, crank operated, motorized," comments Childress, who has been spearheading Draper's increased targeted focus on the residential market.
"We came out with the FlexShade ZIP system a number of years ago for helping to enclose outdoor patios and spaces like that, to bring that weather protection in," he adds.
The Draper FlexShade ZIP, for instance, keeps glares, bugs and even the rain away thanks to a gapless side channel system.
This works well in already covered spaces, but what about patios where the structure above is open? That's where the FlexShade Tension ZIP comes in, Childress notes. This integrator-friendly system puts Draper ZIP technology to work at any angle to create the perfect outdoor living space, he explains.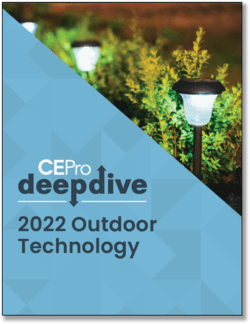 The 2023 CE Pro Outdoor Technology Deep Dive reveals unique set of impediments, including explaining pricing and interacting with outdoor-centric trades.
Get your copy now to take a "deep dive" into the trends and challenges of outdoor technology.
Download the report now!
The same ZIP feature captures the fabric's edge for secure light control. It can be installed at any angle because the fabric panel is kept under tension by cords in the side channels. Installers can use it to control sun glare on existing pergolas and patio rooftops to make customers' outdoor space their favorite place to be. It can also be installed outside of angled windows as an alternative to interior or skylight shades for solar control inside.
"One of the newer items is the Tension ZIP – so we've taken that same technology that locks in that fabric and applies tension to it, and now we can put that on at any angle," Childress explains.
"We don't just have to do a vertical drop, we can do it on windows that might be sloped on the outside of the house, or we could put it on top of a pergola system and bring some more versatility to the shading solutions that one can provide for the exterior of the house, for the great outdoors if you will."
The Draper FlexShade Tension ZIP is available up to 16 feet wide and 20 feet long, depending on the width and the fabric. Six hardware colors are available, in addition to optional custom colors. Draper can even print custom fabric colors and patterns.
The Tension ZIP is powered by a Somfy RTS motor for a variety of smart control options and is UL Listed as a complete unit.
Meanwhile, customers will also spend more time outdoors if they have more entertainment there, and Draper can assist too with outdoor-rated screens for big-screen fun.
Watch the video above to hear much more from Childress about the latest application trends Draper dealers are reporting, installation considerations and other factors involving outdoor motorized shades and screen systems.