ProSource, the national buying group serving the AV and integration industry, hosted its annual Spring Meeting, held this week at the La Cantera Resort and Spa in San Antonio, during which it honored members and vendors with awards and filled a busy slate of learning and networking opportunities.
The 2022 event hosted PRO members for the first three days, with Power members arriving mid-week for the remainder of the invitation-only event. The meeting format offered active product demonstration rooms and the opportunity for members to meet with key decision-makers from ProSource vendor partners in scheduled one-on-one meetings.
The Power member agenda featured a packed roster of keynote speakers, roundtable education, business collaboration meetings, and peer-to-peer interactive workshops, networking events, and entertainment.
The ProSource Spring Meeting program also included the State of the Business address and a celebration for the 2021 winners of the annual PRO and Power Members of the Year Awards and Vendor of the Year Awards.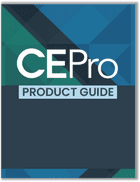 CE Pro's 2022 Product Guide showcases some of the latest and innovative solutions from manufacturers serving the custom electronics industry in a cross-section of categories.
Download the guide now!
The 2021 PRO Level Member of the Year is:
Bjorn's Audio Video – Bjorn Dybdahl, President; Kris Dybdahl, Vice President
The 2021 Power Level Member of the Year is:
Argenta Solutions – Brad Larkin, President; Justin Rollins, Vice President; Will Alley, Vice President
The 2021 Vendor of the Year honorees are:
"On behalf of our entire team at Sony, we are proud and honored to receive the 2021 ProSource Vendor of the Year award," says Jeff Goldstein, head of sales, Custom Installation Channel at Sony Electronics. "It is a great feeling to once again be recognized by ProSource for our strong partnership and mutual commitment to success."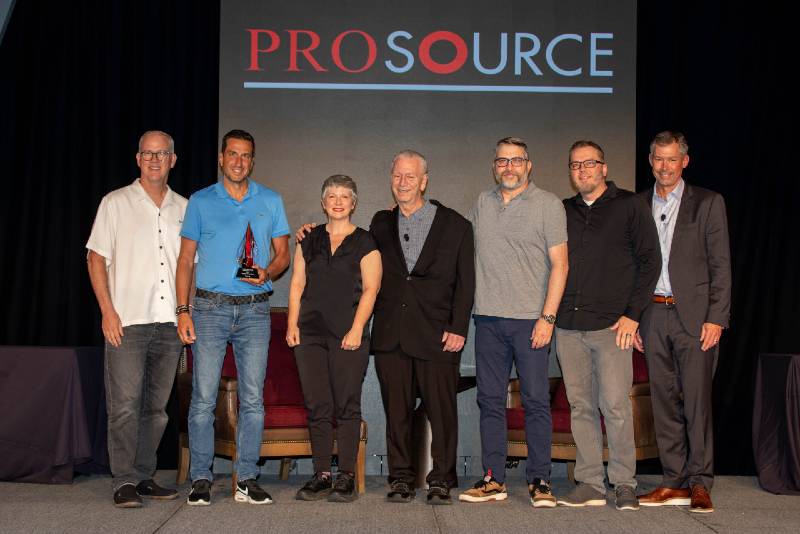 Jim Pearse, president of ProSource, adds, "Our vendor partnerships are at the core of our mission to deliver value to the ProSource membership. We value the relationship between ProSource and all of our vendor partners. It means a great deal to the organization's success for our members to have access to the best-of-the-best products across the board."
ProSource Launches HR Playbook, Tackles Business Operations Practices
ProSource continues to expand on services that support members' businesses. Based on their feedback, the ProSource HR Playbook launched, offering dynamic recruiting tools that will support how the group navigates the difficult labor environment. ProSource is focused on providing turnkey solutions to market job opportunities, ensure successful onboarding, and manage turnover, the buying group notes. The HR Playbook session presenters included Brad Pilot, director of sales, CareerPlug and Venessa Vasilakeris, director of training and customer service, McQuaig.
Educational content at the ProSource Spring Meeting continued with "Future Proofing Your Business," featuring Marc Fisher, president, Origin Acoustics and Brent Sonnek-Schmelz, senior board advisor and general counsel, Origin Acoustics. The session was designed to help members take control of unforeseeable obstacles by being prepared with a succession plan for anticipating problematic issues, such as death, divorce, retirement, financing, partner disagreements, and market conditions.
A roundtable workshop, "Hiring and Retaining Rock Stars: How to Hire Employees for the Right Positions and Utilize Their Abilities Best to Retain Them" was led by Dante Walston, CEO, IntegrateU and Henry Clifford, founder and CEO, Livewire.
In this interactive session, participants gleaned great ideas to implement in their businesses around hiring and retaining ideal "rock star" employees.
Wrapping up the slate of content, ProSource engaged a peer-to-peer "Solve my Problem" open mic session, moderated by Sherry Dantonio,senior director, Education and Member Recruitment at ProSource.
Meanwhile, the keynote address, "Economic Outlook: How Will Inflation, Supply Chain Disruptions, and Labor Shortages Resolve?" was presented by Charles Dougherty, vice president, Economist, Wells Fargo Corporate and Investment Banking, who covers the U.S. economy with a focus on commercial real estate, housing, construction, and regional sectors.
In addition, ProSource again welcomed attendees for a special evening featuring the annual charity fundraiser for the Make-A-Wish Foundation at San Antonio GHI.
"A good deal of the focus at the Spring Meeting is on attracting, training, and retaining the best people to create a winning team. And it is always a pleasure to celebrate our Vendor of Year honorees. We appreciate the relationships ProSource has with all of our vendor partners," says Dave Workman, CEO of ProSource.
The buying group members also got a chance to connect with Pearse, who was tabbed as incoming president of ProSource two months ago, during the event.
"The Spring Meeting is a great opportunity for me to meet and get to know the members and vendors in one-on-one conversations and participate in all of the sessions on timely topics presented by so many inspiring speakers and panellists," says Pearse. "The ProSource team is to be congratulated for organizing such a stimulating and engaging program representing yet another great value provided by the organization."