Alex Tagliani Smart Home: Why Am I Doing This?
Famous Indycar driver Alex Tagliani talks about why he chose to be involved 'from the ground up' on constructing his new 4,500-square-foot smart home.
December 4, 2015
You wouldn't think that famous IndyCar Series driver Alex Tagliani is afraid of anything, especially since he races cars at 200 MPH.
But Tagliani tells CE Pro's Jason Knott that the prospects of being involved in the construction of his new 4,500-square-foot smart home outside of Montreal is a bit daunting for him, even though he has previously constructed homes in the past.
This, however, is his dream home for his family -- Alex, his famous wife supermodel Bronte Tagliani and their new baby daughter. He wants the home to turn out exactly how he is envisioning it so he talks about how important it is to learn throughout the process to avoid and construction errors that can cost time and money.
This video is Part 2 in a series of videos in which Tagliani will be documenting the planning and construction process of the home.
Tagliani's racecar is already sponsored by B&W Group among others. He spent time with CE Pro at CEDIA Expo 2015 and is working closely with his two integrators—Greg Simmons of CE Pro 100 company Eagle Sentry in Las Vegas and Joseph Kade of Homesync in Montreal—to outfit the home with the best equipment for the job. So far, he has selected various equipment from Epson, Integra, AudioQuest, Screen Innovations, Bowers & Wilkins and iRoom Inc. for the project.
Watch Tagliani tackle the other aspects of the design and build:
Part 1: Alex Tagliani Starts Smart Home Construction
Part 2: Why Is Alex Tagliani Building a Smart Home?
Part 3: Alex Tagliani: Why I Came to CEDIA Expo
Part 4: Alex Selects Epson Projector, Sl Slate Screen, AudioQuest Cables
Part 5: Alex Gets Schooled on Wiring
Part 6: Alex Learns the Details of Surround Sound
Part 7: Done! What Alex Tagliani Likes About His New Smart Home
---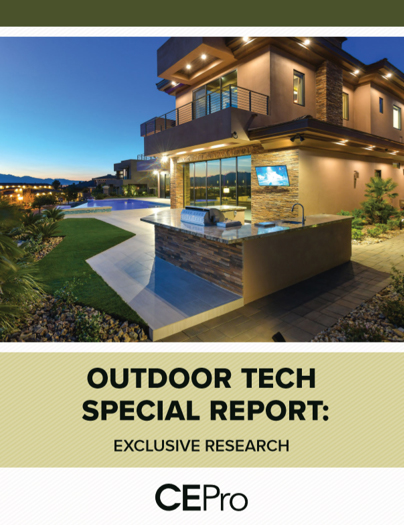 Find Out Why 63% of Integrators Expect Outdoor Business to Grow - CE Pro Download
The outdoor technology market is growing – both the demand from customers and the array of products available. According to our recent CE Pro survey, integrators are taking advantage of this opportunity to grow their businesses. Get your copy of the survey today.
---
Control & Automation
Product Briefs: AudioResearch, Kwikset; Play-Fi, AirPlay2; Lenbrook Joins D-Tools i3
Control4, SnapAV CEO Interviews: Analyzing the Home Automation Merger
10 #SoCustom Solutions to Inspire Your BEST Project Awards Entries
Amazon Alexa Guard Sound-Detection Turns Echo into Smart Security System
Intuitive Interface Is Key to Lighting, Energy Storage/Management Systems
View more on Control & Automation
Take Our Latest Quiz
How Well Do You Understand Ethernet Cables and Connectors?
Bose