Last year, the Home Technology Specialists of America (HTSA) announced its new initiative to guide its members into the lighting fixture category. One year later, the 84-member buying group is certainly well on its way to labeling the program as a success.
HTSA reports that by the end of 2018 it will have trained 55 members as certified Lighting Specialists who have specified nearly $1 million in fixtures since the onset of the program.
The Lighting Specialist certification is a designation issued by the American Lighting Association (ALA). The program, which is normally an intensive 3.5-day course, has been condensed into a one-day program for HTSA's purposes with trainings held throughout the years.
The course is based on an 845-page manual that encompasses every aspect of the residential lighting industry.
There is a final exam that must be passed with an 80 percent or higher grade to achieve the designation. Lighting Specialists must recertify every two year.
"HTSA's mission is to bring professional lighting design, specification and sales of high-quality lighting fixtures as a new business category for its members who serve the high-end residential marketplace," says Tom Doherty, HTSA's director of new technology initiatives, speaking at the HTSA Fall Conference in Dallas.
"HTSA member companies will be empowered to engage their clients, architects, interior designers, and builders by demonstrating expertise with lighting technology through education, demonstration and offerings its client's professional lighting design services," he continued.
"We believe there is great synergy between our memberships. By working together, we can provide exceptional training programs and significant connected home growth opportunities."
— Eric Jacobson, American Lighting Association
"I am extremely proud of the way that HTSA members have rallied their teams around lighting education – acquiring the ALA training materials, participating in sanctioned classes, and studying for untold hours to build their knowledge and skills in lighting design, fixtures, and services," says Jon Robbins, HTSA executive director.
"HTSA continues to build its share of the high-performance lighting market. We anticipate an exponential leap in revenues as we continue the membership's transformation into becoming the leading providers of lighting and A/V home automation solutions in their local markets," says Robbins.
"We are pleased to welcome HTSA members into the ALA," says Eric Jacobson, president and CEO of the American Lighting Association.
"Their related experience with some of the core electronic and electrical aspects of residential systems design is impressive – as is their obvious professionalism. We look forward to continuing to work with HTSA as more of their members seek certification.
"We believe there is great synergy between our memberships. By working together, we can provide exceptional training programs and significant connected home growth opportunities," Jacobson continues.
Related: HTSA Touts Home Wellness as Next Big Thing in Lighting, IAQ, Acoustics, Home Automation
Doherty adds, "The main change with lighting fixtures is that it changes the narrative with your clients and differentiates you. Also, it gets you on the job earlier with builders."
HTSA has set up vendor relationships in the lighting fixture category with DMF, Lighting, Pure Edge Lighting, and Coastal Source.
Several members, including Gramophone in Maryland, have devoted a section of their showroom dubbed a Lighting Lab to demo fixtures.
The Lighting Lab includes a "hidden" mock dining room area behind curtain that is revealed to showcase various lighting schemes, including illuminating artwork on the wall.
Justin Castellano of Lightology spoke to the gathered HTSA members to discuss the four types of lighting layers:
Ambient
Task
Accent
Decorative
He also detailed the various beam spreads and filters available in the decorative lighting category to help highlight art in a room, which is likely to be a common application for HTSA members dealing with affluent clientele.
Castellano says the general rule of thumb for accenting art on a wall is to illuminate it from a 30-degree angle from above.
He also advised HTSA Lighting Specialists use their newfound skills to "graze" a wall, especially one that is textured with brick or some other material, with a wall wash that will help make the artwork "pop" from the wall surface.
Energy, Wellness Next Key HTSA Initiatives
Doherty identified energy management and wellness as two new focuses of HTSA. The energy category is a potential big concern for integrators.
According to architect Nathan Kipnis of Nathan Kipnis Architecture, in 2005 "plug-in loads" accounted for 26 percent of home energy usage.
Plug-in loads are defined as devices that are simply plugged into to an outlet. Space heating, cooling, refrigeration, water heating, and lighting are the other home electricity draws.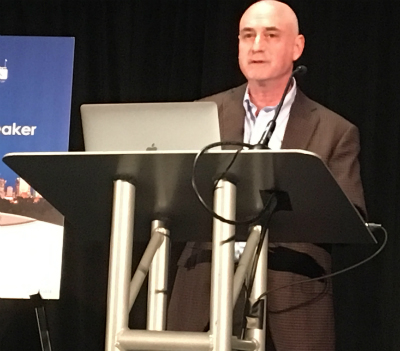 But advancements in lighting (LED), water heating and other areas have effectively reduced the amount of power needed.
Meanwhile, plug-in loads now account for 54 percent of power used in a home and Kipnis says that trend has put the A/V industry squarely in the "bullseye" of the net zero energy initiatives in housing that are calling for all homes built by 2030 to be net zero energy homes.
Surprisingly, home security systems with surveillance cameras are now the No. 1 power draw in a home, using a mind-blowing 4,380 kWh per year.
"That is the equivalent amount of power needed to charge a Tesla S 85 automobile for a year," says Kipnis.
Whole-house audio systems (3,066 kWh/year) are also huge energy hogs, according to data from the U.S. DOE presented by Kipnis at the event.
HTSA members were advised to now present jointly the home network and the need for power management in an initial sales outreach to clients.
"Just as we moved the need for a robust home network upfront in the sales conversation, now you should discuss networking in conjunction with power up front," advised Joe Piccirilli of Rosewater Energy Group.
Rosewater is one of the key vendors in the category working with HTSA, along with SurgeX, Panamax and Furman.
Other sessions at the event focused on voice control by Alex Capacelatro of Josh.ai, and an overview of market conditions by Stephen Baker of NPD Group.
If you enjoyed this article and want to receive more valuable industry content like this, click here to sign up for our digital newsletters!