2020 Wage & Salary Study Reveals Dramatic Rise
The latest data from the 2020 CE Pro Wage & Salary Study shows a dramatic upturn in labor costs as integrators inflate wages to attract and maintain quality employees. The escalations are a clear signal that the industry is facing a labor shortage of monumental proportions.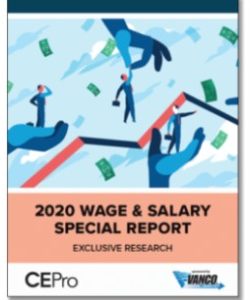 The annual CE Pro Wage & Salary Survey shows that integrators are fighting to keep quality employees in a tough labor market – causing a double digit increase in salaries and wages. This year's findings have prompted our editors to declare the labor shortage in the industry a "crisis".
This year's study shines a light on critical data that is an integral part of running an integration business, including:
• Break outs by job type from company owners to entry-level positions
• Average profitability numbers
• Sales staff pay levels and commission rates
• Employee benefits commonly offered
• And much more
Download your copy today to gain insight into what your peers are earning or what your competitors are paying their staff.
Sponsored by: