2020 Multiroom Audio Deep Dive Survey
Find out exactly what technologies integrators are installing in their multiroom audio projects, how much they are earning per project, top criteria for selecting technologies, and much more.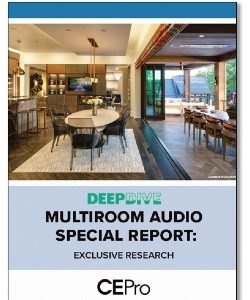 Customer demand for multiroom audio solutions continues to be very strong in 2020. After all, a good music system helps make quarantine more enjoyable. Our 2020 Multiroom Audio survey provides insights into a number of important trends, including:
Pricing trends per install and per zone
Average profit margin for integrators
Changes in demand for the number of zones
Number of multiroom projects per integrator
The report also provides expert tips on selecting the most appropriate technologies for your project, how to address budget tiers, audio-over-IP and much more. Download your copy today to gain insight into what other integrators are currently experiencing in the multiroom audio market.