Is It Illegal to Install a 'Hidden' Smart Speaker?
Certain state laws prohibit audio recording in covert applications, so can you disguise an Amazon Echo or Google Home?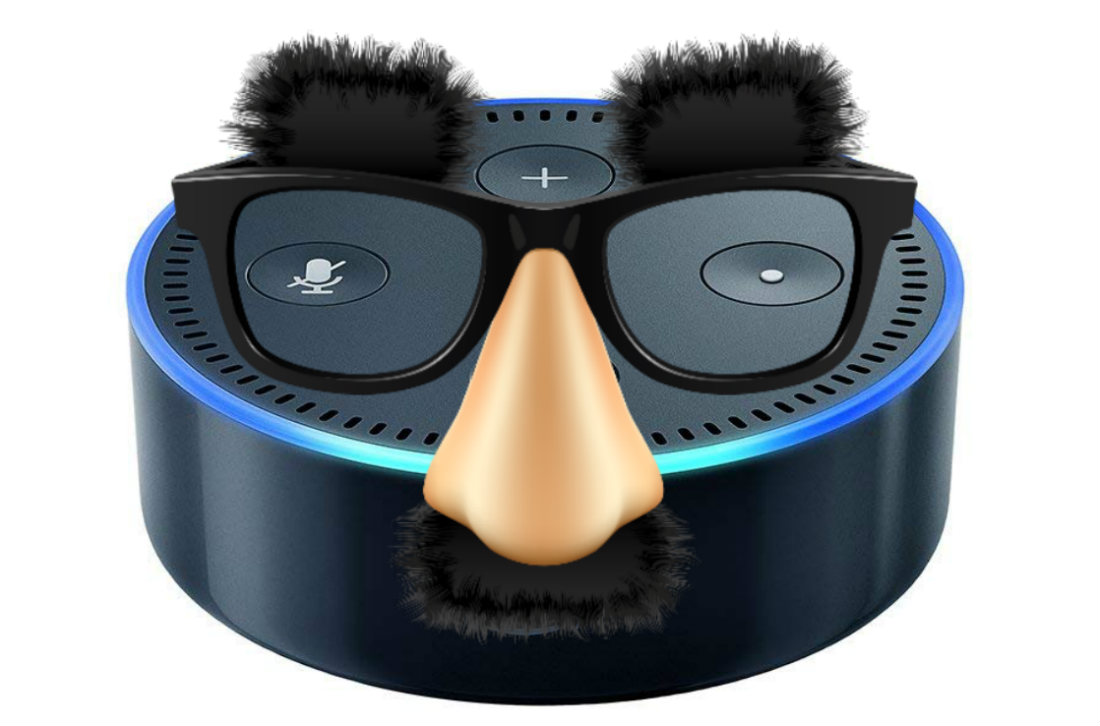 Jason Knott
·
December 18, 2018
Integrators are likely installing multiple smart speakers on every project, with Google and Amazon listening to every word. But are you breaking the law when you install a smart speaker? Perhaps… especially if the smart speaker is hidden or designed to look like something other than a smart speaker. Unless you are careful, you just might be headed to the hoosegow.
There certainly can be some ethical gray areas that integrators confront when they are asked to install covert surveillance systems for customers. For example, is it OK to install hidden cameras in a strip club dressing room in an attempt to curb theft? (The answer is yes.)
"Audio, and to a lesser extent video, interception by listening and recording is sometimes confusing."
— Ken Kirschenbaum
But audio recording has always been the grayest of all gray areas. And the issue is even more important today with the proliferation of smart speakers like the Amazon Echo, Google Home and others filled with multiple microphones.
The federal wiretap law 11 USC 2511 prohibits audio interception, listening or recording, unless at least one party has consented to the interception. However, some states have "all party laws" that are essentially similar to the federal law but require all parties, not just one party, to approve of the audio recording.
"If anyone has a statute that prohibits audio in a covert camera we'd all like to hear about it," comments legal expert Ken Kirschenbaum of Kirschenbaum & Kirschenbaum and regular columnist for CE Pro's sister publication Security Sales & Integration.
Related: Is It OK to Install Surveillance Cameras in Strip Club Dressing Room?
"Audio, and to a lesser extent video, interception by listening and recording is sometimes confusing because I think there are issues raised when the audio is concealed in a device that doesn't really work as one would expect.
"[The] best example is a smoke detector that's really a video or audio device. It would be potentially dangerous to have fake smoke detectors in place and I believe there are statutes that prohibit fake smoke detectors. It is essentially similar to the one party state laws [as opposed to the all party state laws]," he notes.
Integrators are often asked to "break the rules" in an installation. Most times, it is a request to break a rule of physics, like being asked to run a passive HDMI cable 50 feet and have the signal transmit perfectly… it ain't gonna happen.
But in the case of audio recording for covert surveillance, the bottom line is to not disguise the unit as something else. That opens up liability. It is clearly best to check with your individual state laws.
---
Save $100 When You Enter the CEPro BEST Product Awards Before May 24
Every year our editors recognize the most advanced products in the professional installation market. Wouldn't you like to tell your customers that your products are among this exclusive group? Enter the CEPro BEST Product Awards and give your sales team something to shout about. Early bird pricing ends May 24.
---
About the Author
---
Jason Knott is Chief Content Officer for Emerald Expositions Connected Brands. Jason has covered low-voltage electronics as an editor since 1990, serving as editor and publisher of Security Sales & Integration. He joined CE Pro in 2000 and serves as Editor-in-Chief of that brand. He served as chairman of the Security Industry Association's Education Committee from 2000-2004 and sat on the board of that association from 1998-2002. He is also a former board member of the Alarm Industry Research and Educational Foundation. He has been a member of the CEDIA Business Working Group since 2010. Jason graduated from the University of Southern California. Have a suggestion or a topic you want to read more about? Email Jason at jason.knott@emeraldexpo.com
Follow Jason on social media:

Jason also participates in these groups:
LinkedIn · Google+
Speakers
Meridian Adds 11 Manufacturer Rep Firms
Product Briefs: Doorbird, Snom; Guardian Protection Services Changes Name; AudioResearch
Triad Distributed Audio Series Designed for Multi-Room Audio
Experts Offer 5 Tips to Improve Your Audio Demos
McIntosh Unveils $5,000 Digital-Ready, Future-Proof Preamplifier
View more on Speakers
Take Our Latest Quiz
How Well Do You Understand Ethernet Cables and Connectors?
Bose