Although industry legend Sam Runco sold the projector and display company that bore his name more than 14 years ago, his charisma still can command an audience. And that force of personality was on display at the Azione Unlimited buying group's "Nikhedonia in Nashville" fall meeting as Runco relayed his rags-to-riches story in the industry.
Using a smattering of his trademark sense of humor, Runco told the rapt audience about his career that started as a pool hustler on the streets of San Francisco, migrated to a business built with the help of "porno stores," was sidetracked by a stint in federal prison, and culminated in being one of the founding members of CEDIA and an icon of the industry.
Now in his early seventies, looking healthy and fit (having recently lost 27 pounds he tells me) and wearing his trademark black head to toe, Runco put the crowd at ease immediately noting that his speech would not include a Powerpoint.
"'Power point' in Italian is an icepick," he joked. Later, in reference to his connections with the local mafia in San Francisco, Runco referred to himself as the "first wise guy nerd."
Runco says he built his company, Runco International, on "fun and relationships." For more than a decade, Runco International's projectors and high-end displays were the leading products the CE Pro 100 Brand Analysis Study.
Runco was a pool hustler in the 1970s when he realized he needed to develop a career. His exploits include inventing a subcutaneous transponder for cows that led to the federal government prosecuting him for what was then deemed to be an illegal activity. Runco stopped that business, but learned the lesson later in life to not give up so easily.
"That was my first run-in with the feds. If I had invented that later in life, I would not have stopped it. And I would be right," he recalls.
"The more money I made, the more drugs I did."

— Sam Runco
He was soon drawn to the video business after seeing a demo that was so compelling he "knocked off the couch." He sought out that maker of that lens and matched with a Mitsubishi projector to create a high-quality video projection system on a Kodak Ektalight screen. By 1974, Runco had applied for a patent for a pullout drawer in which the projector shot into a mirror that then reflected the images up on a screen. In 1976, Runco was awarded that patent and his business was starting to take off.
In this updated Wage & Salary Report, you'll find out results for salaried occupational categories broken down by 14 regions of the U.S. & Canada. Uncover valuable information about where your company stacks up when it comes to paying your important people by
downloading your free copy today!
Later, Runco approached a strip club in San Francisco with the idea of putting one of his units in the window of the club.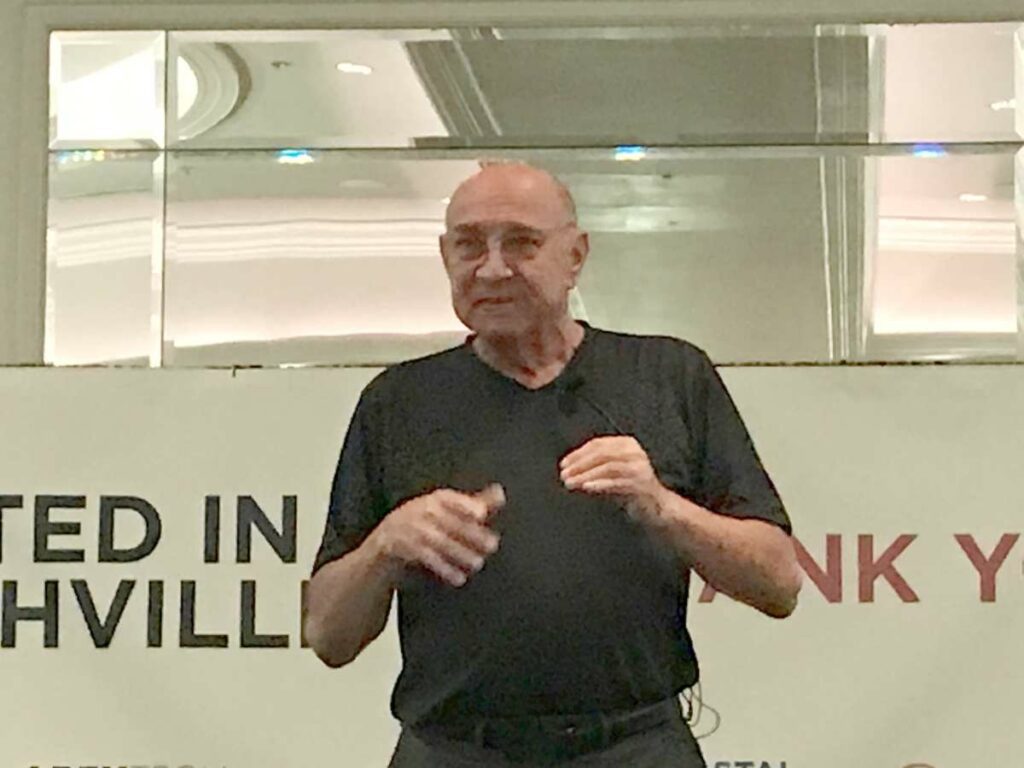 "The owner bought two of them because they always broke," he chuckled. At that time, Runco was building, selling and installing every unit himself.
"I installed 700 TVs by myself," he recalls
Soon, he had his projection TVs throughout the strip clubs in the Bay Area. That success led to Straw Hat Pizza chain wanting the units in all 112 of their locations in the U.S. Runco had also successfully convinced several local bars to install TVs. In 1981, there was a big boxing match between Tommy Hearns and Sugar Ray Leonard. A local bar owner in San Leandro, Calif., where Runco had installed a unit in asked if he would install a 15-foot TV in the parking lot for the big fight, which was being shown only on pay-per-view. Runco installed the unit and the FBI clamped down on him.
"They busted me and it was all over the newspapers with an article in USA Today," he recalls. Since his name was on the TV, it led to a great number of phone calls and Runco estimates he sold hundreds of TVs from that publicity, including five to Pete Rose. In 1984, Sam and Lori trademarked the term "home theater" and the business took off even more when Dolby introduced surround sound, which enhanced the viewing experience.
But the success led to risky behavior.
"The more money I made, the more drugs I did," says Runco. In the late 1980s, Runco was convicted and sent to prison for cocaine violations. During his 2-and-a-half years in prison, his wife Lori ran the company, with Sam guiding her from inside his prison cell. When he was released in 1990 he dove headlong into the business and never looked back.
Runco brought his inventions to the first CEDIA Expo in Amelia Island, Fla., in 1990. He remembers there was a panel discussion of display manufacturers and he was not invited to participate, but he walked up on the stage anyway. When the moderator said there was no time left for him to speak, Runco insisted and explained that his $15,000 Runco TVs and projectors, unlike the other manufacturers, required custom installation and could not be DIY.
"Soon I had dealers in my suite asking me if I could raise the price. So I raised the price," he recalls.
"I was nominated for an Emmy nine times… that is more than Susan Lucci."

— Sam Runco
"Only four years after being released from prison, I was accepting the CEDIA Lifetime Achievement award. That's pretty good," he quips.
Among his many achievements was the first line doubler technology, for which he was nominated for an Emmy.
"I was nominated for an Emmy nine times… that is more than Susan Lucci," he jokes. Soon, Runco International had a strong following among custom integrators, fostered by the company's camaraderie which included annual trips to Mexico for its top dealers.
"For many years, people kept telling me that I was 'ahead of my time.' I don't want to be ahead of my time, I want to be on time. You need to make sure there is a market for your product," he says.
In May of 2007, Runco sold his company to Planar. Not long after, the recession hit. His timing was perfect. Runco calls it luck, but also notes that he saw 35% drops in sales in Florida and then 50% drops in sales in Nevada, and knew the housing market was in trouble, which led him to contact his investment banker to sell the company.
For the past decade and a half, Sam and Lori have enjoyed their retirement, but Sam admits it is "painful" for him every year when CEDIA Expo and CES occur because he misses the industry and the people so much.
For the attendees at Azione's conference, many of whom do not even know who Sam Runco is, it was a riveting story of success through failure. For industry veterans in the crowd, it was a walk down memory lane. The crowd acknowledged Runco with a standing ovation.