If this theater looks familiar to you, it's probably because you've seen it featured in the pages of Electronic House.
The Erskine Group's theaters are always sights to behold, making for great editorial. So why feature this one twice? Well, the house in Lucas, Texas, deemed by attorney Kris Barber and his wife as their "forever home" may be just that, but as technology has progressed, the homeowner desired some upgrades to make the theater ready for the long haul.
The homeowner first got the idea to upgrade upon hearing about Dolby Atmos object-based surround sound. This format frees sound from traditional surround sound "channels" to create a more realistic movie experience.
In Dolby Atmos, any sound can exist as an independent audio object, free from channel restrictions. The result is more precise surround sound that can happen three-dimensionally in the room, including overhead sounds like an airplane flying by.
Seeking this next stage in movie magic for his home theater, Barber contacted Erskine Group owner Dennis Erskine with a bad case of 'upgrade-itis'. He wanted to upgrade to Dolby Atmos post haste, and he also had the glimmer of a new projection system in his eye.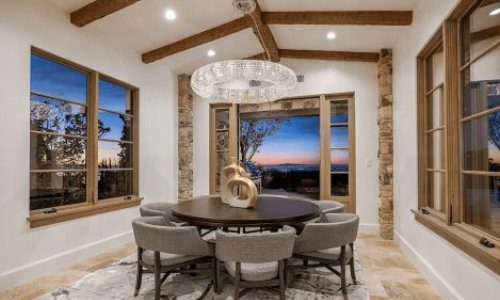 As a custom integrator, lighting is in demand. Effective communication, education and showcasing the value proposition of LED light fixtures in conjunction with integrative control systems are the keys to overcoming challenges and closing sales in this specialized market. Join us as we discuss the future of digital lighting and control with David Warfel from Light Can Help You and Patrick Laidlaw and Mark Moody from AiSPIRE.
Register Now! 
At the time the homeowner didn't realize it, but it was decided during the course of the project that a new Torus Power Wall Mount WM100 BAL TVSS power isolation transformer would also help bring out the best in the other new, high-end components.
And that's how this luxury cinema became newsworthy once again, with clean power, upgraded surround sound, and a future-proof 4K-capable projection screen.
"First Dolby Atmos Retrofit"
While this was the very first Dolby Atmos theater the Erskine Group retrofitted, the company had been testing various Atmos configurations over the previous year so that when it came time to implement the format into clients' homes, they'd know exactly what to do.
"One of the issues we discovered very quickly was that if you have a room with standard ceiling height—9 to 10 feet or less—and you have two or more rows of seating, you're going to have uneven coverage issues," says Erskine.
"The person seated nearest the ceiling position will only hear that speaker because the ceiling is too close and the audience member is too far away from the other effects."
According to Erskine, in theaters with low ceilings and few in-ceiling speakers all the effects and magic of the Dolby Atmos experience disappear.
Unfortunately, this home theater has particularly wide rows and only 10-foot ceilings. To ensure consistent, cohesive coverage in every seat, Erskine used nine in-ceiling speakers instead of the Dolby-recommended two or four, divided into three rows. Whereas Dolby suggests a 5.1.4, 7.1.4, or 9.1.4 system (with the last digit being the number of ceiling speakers), Erskine chose a whopping 7.4.9 system.
Read Next: 10 Can't-Miss Audio Companies to Visit at CEDIA Expo 2019
In addition to the nine in-ceiling models, there are seven speakers at ear level and four Procella subwoofers for a grand total of 20 speakers. The Triad in-ceiling speakers were customized so that they could be angled to specific seating locations for optimal sound.
"You don't need a center row of in-ceiling speakers in commercial Dolby applications, because the ceilings are so much higher than those in homes. At the movie theater, you can put speakers in two rows and get full, even coverage because the high ceilings provide equal loudness over a wider area. It's like a 'flashlight' effect," says Erskine.
Once the logistics of the speaker layout in the room were tackled, the Erskine Group moved on to begin figuring out exactly how much construction effort it would take to install all the additional speakers.
Luckily, the way he had designed the room originally was so dead-simple that to get new speakers in the ceiling, the team only had to remove part of the lighting system and move a bit of cable.
Erskine and his team then spent two days recalibrating the room from its original pre-Atmos specification using pro gear from QSC for direct control over every speaker in the room. They first brought every seat to spec, and then tweaked the sound based on reasonable customer preferences.
Torus Power Transformer Upgrade Resolves "Ghosts" in the System
As with any high-tech home system, power issues needed to be addressed in the upgrade. For most of Erskine's installations, he runs 240V into the room where the equipment is located, installing a step-down transformer that takes 240 volts down to 120.
"This does a fabulous job lowering the noise floor in the electronics and removing transients and other bad stuff. Putting everything on the same power source eliminates buzzes, hums, and other problems."
"Torus Power allowed us to resolve a power issue that had been plaguing the homeowner, my team, and the electrician and his team."
— Dennis Erskine, The Erskine Group
For the first go-round, however, the homeowner decided he didn't want to tackle power. As a result, he lived with some power issues that affected the system's performance.
When you're installing best-in-class components to achieve the highest audio and video quality possible, you look for every possible way to reduce the noise floor and produce cleaner images, too. Simply put: You have to consider the power.
"Many people don't believe power is important, so they run into problems," Erskine says. "When they look back at the amount of money spent trying to resolve those problems, more often than not it would have been more economical to put in an isolation transformer in the first place."
For this upgrade, Erskine installed a new Torus Power Wall Mount WM100 BAL TVSS power isolation transformer that serves as the step-down transformer. Now everything in the theater uses the same isolated, clean power.
"Torus Power allowed us to resolve a power issue that had been plaguing the homeowner, my team, and the electrician and his team."
Waiting for 4K
While it made sense to upgrade the theater to a 20-speaker Dolby Atmos Sound System and provide the clean power necessary to fulfill the system's potential, the projection system was another story. The customer's desire to upgrade to 4K projection was a bit premature, according to Erskine.
"Right now, we have a Runco projector in a hush box over the bar in the back," he says. "We recommended that the client wait to upgrade because projectors that are using laser as a light source are coming down to more competitive prices, and we are starting to see high dynamic range capability. At the moment, the selection of high-bandwidth, HDR 4K projectors is limited."
Additionally, Erskine suggested waiting for HDMI 2.0 and HDCP 2.2 to be supported in every link in the system chain, from the source to the processor to the switching to the projector. Otherwise, the only choices are quarter-million-dollar commercial grade 4K projectors.
When it's time to upgrade to a 4K projector, one thing the homeowners won't necessarily have to worry about is replacing the screen. That's because the screen is a 12-foot wide Stewart Filmscreen StudioTek 130 Microperf screen, a great choice for 4K+ projection in a room where sound and image performance are both top priorities.
Audio from the Triad speakers and Procella subwoofers placed behind the screen comes through unfettered and the image quality with the Runco projector is pristine. Should the Barbers want to upgrade to an even more stellar image, when they upgrade to a 4K laser HDR projector, they might consider a 1.0 gain screen like Stewart Filmscreen's StudioTek 100.
"Bringing the Magic Home"
While they wait for 4K projectors to come down in price and be fully supported at every point in the system, these homeowners have an amazing system that looks incredible and sounds even better with high quality components from Triad, Procella, Stewart Filmscreen, and Dolby Atmos, with a Torus Power toroidal isolation transformer supplying clean power to the whole system.
"I have heard some Dolby Atmos demos in which, frankly, I wasn't sure I was hearing any difference. I have also heard others—such as this one—that are absolutely stunning," says Erskine.
"Dolby Atmos, when properly installed, is a fabulous enhancement to bringing the magic home, and the Barber family theater certainly delivers."
If you enjoyed this article and want to receive more valuable industry content like this, click here to sign up for our digital newsletters!