At the CEDIA Expo, NETGEAR, Inc., a global provider of networking products will be launching two new access points: the WAX628 and WAX638E.
Exhibiting in booth #7008 at CEDIA Expo 2022 in Dallas, the well-known networking company says the two new access points are tailored specifically for the residential custom integration market. Sold exclusively through authorized integrators and custom installers, Netgear says these access points are bundled with four years of its NETGEAR Insight and ProSupport services.
NETGEAR explains that high quality wired and wireless networking products form the backbone of a smart home. Building upon an existing portfolio of products designed with residential projects and challenges in mind, NETGEAR developed the the WAX628 and WAX638E to help integrators and installers meet the networking needs of their residential clients. These new access points include white-glove design and ProSupport services, as well as NETGEAR Insight, which the company says is a cloud-based management platform that enables installers to remotely manage their customer's network from a tablet, smart phone, or laptop.
WAX628 and WAX638E Offer a Range of Benefits to Integrators
Working with NETGEAR, integrators will be able to leverage the company's more than 25 years of networking experience. NETGEAR notes integrators can get access to network planning, design and post-sales support services provided by a team of Ethernet and WiFi experts.
"With this new, unmatched offering, we're doubling down on our efforts to empower the custom integration market and set them up for success so they can focus on providing the best service to their clients," comments Doug Cheung, director of Product Line Management, SMB Wireless at NETGEAR.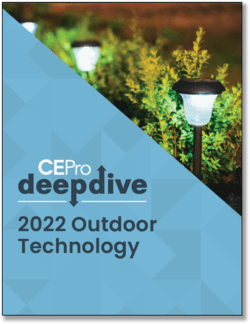 The 2023 CE Pro Outdoor Technology Deep Dive reveals unique set of impediments, including explaining pricing and interacting with outdoor-centric trades.
Get your copy now to take a "deep dive" into the trends and challenges of outdoor technology.
Download the report now!
The new WAX628 and WAX638E offer features that include:
Dual-band (WAX628) and Tri-band (WAX638E) WiFi 6 and 6E access points: NETGEAR boasts the WAPs offer fast, cost-effective WiFi solutions for homeowners that deliver speeds up to 5.4Gbps for WAX628 and up to 7.8 Gbps for WAX638E.
Robust WiFi 6 and 6E security: Enterprise grade security features enable safe access and secure sub-networks with SSIDs and VLANs that all configured and managed via NETGEAR Insight.
Mesh capability: Extends the reach of the WiFi network over greater distances without the need for Ethernet wiring to areas unreachable by cables.
Backwards compatible: All previous generation WiFi endpoints can connect and take advantage of the superior coverage area.
100% more throughput: WiFi 6 Release 2 technology features the use of a 160 MHz channel to result in 100% more throughput than offered by WiFi 6 Release 1 (80 MHz).
Multi-Gigabit Speed with PoE: The WAPs include a 2.5 Gbps Ethernet port for creating a non-blocking connection to a PoE++ switch. This option allows NETGEAR switches to power the WAX628 and WAX638E.
The company emphasizes the WAX628 (available now) and the WAX638E (available soon) come bundled with four years of NETGEAR Insight for remote management and four years of ProSupport, which provides expert guidance to help with access point placement, AV and WiFi network design, and more.
During Expo, NETGEAR's booth will feature live demonstrations of NETGEAR Insight remote management solution.
NETGEAR experts will offer two Manufacturer's Training classes as described below. Registration is required to attend:
Thursday, September 29, 9:00 – 10:30 a.m., Room: C147
Designing Networks and Configuring NETGEAR Switches for AV over IP
Thursday, September 29, 1:00 – 2:30 p.m., Room: C144
NETGEAR Insight for Luxury Homes: A Service Based Partnership with Custom Installers
More news from NETGEAR: Just Add Power Adds Configurability & Interoperability Options to AMP Software