2021 Outdoor Technology Special Report
Residential real estate continues to be hot and so do outdoor technology projects. Integrators saw a big jump in projects in 2020 and expect to see continued growth in 2021.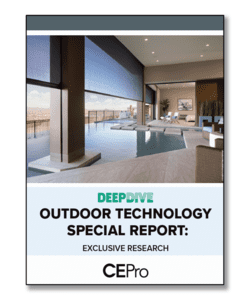 The pandemic impacted many businesses and halted a wide variety of projects. One area where it provided a boost, though, was outdoor projects. 47% of integrators report COVID-19 helped grow their outdoor tech installation business last year.
Check out the newly released "2021 Outdoor Technology Special Report" to gain insight into the 2020 numbers as well as where the market is going this year. This Deep Dive report covers:
Average prices and number of outdoor jobs
Most common projects and technologies installed
Unique challenges of outdoor projects
Customer's desired features
Get your copy today to gain insight into new business opportunities for this outdoor season.