Eero Bundles Cybersecurity, Remote Network Monitoring for Smart-Home Pros
Home-technology integrators get a "share of the economics" when they add Eero Plus cybersecurity service to Eero mesh-networking solutions.
CE Pro Editors ·
September 7, 2017
Eero may be famous for its DIY Wi-Fi mesh networking system, but the company continues to make inroads into the home-tech installation channel.
At CEDIA 2017 Eero is announcing a bundle that includes its Eero Plus cybersecurity service, powered by Zscaler, with the new remote network management platform the company announced recently.
"Today's bundle announcement is focused on providing a more complete solution for professional installers, that combines the highly requested remote network management feature with a network security offering," says Eero CEO Nick Weaver.
He says that integrators get a "share of the economics" when they spec the new service, which provides enterprise-grade anti-virus, anti-malware, and anti-phishing technology.
The new network management tool lets pros access their clients' smart homes to monitor network health and troubleshoot systems remotely.
Recently, Eero announced a PoE adapter kit for ceiling-mount installations, sold only through pro channels.
CEDIA 2017
||| audio | video | home automation | IoT | software ||| news | new products | blogs | exclusives
---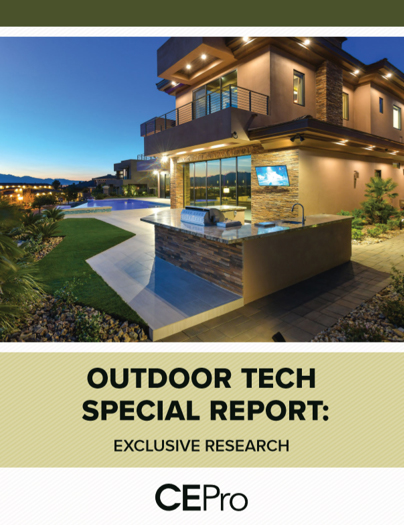 Find Out Why 63% of Integrators Expect Outdoor Business to Grow - CE Pro Download
The outdoor technology market is growing – both the demand from customers and the array of products available. According to our recent CE Pro survey, integrators are taking advantage of this opportunity to grow their businesses. Get your copy of the survey today.
---