Combining two state-of-the-art home entertainment solutions, L-Acoustics and C SEED have teamed up to announce their new Maunakea AV entertainment system.
L-Acoustics CEO Laurent Vaissie says the AV system is named after a volcano in Hawaii, and the name symbolizes the performance capabilities of the newly announced home entertainment product.
"Maunakea is named after a volcano in Hawaii. [It is] the world's tallest peak as measured from the sea floor base to summit—[it is] even taller than Mount Everest," Vaissie points out.
"In the same spirit, our latest product collaboration with C SEED affords new heights of modern elegance in luxury home entertainment systems. And just as most of Maunakea, the volcano resides beneath the ocean surface, the technology offered by L-Acoustics Creations and C SEED remains cleverly concealed, yet spectacular."
Maunakea System Features Benchmark Products and Technologies
C SEED and L-Acoustics explain the new home entertainment system comprises the audio manufacturer's Island Prestige personal auditorium solution. The Island product line was designed by Dr. Christian Heil and L-Acoustics' R&D team, and L-Acoustics says the system places users in the center of movies, videos and audio content via the system's 13 front speakers, five rear speakers and two subwoofers.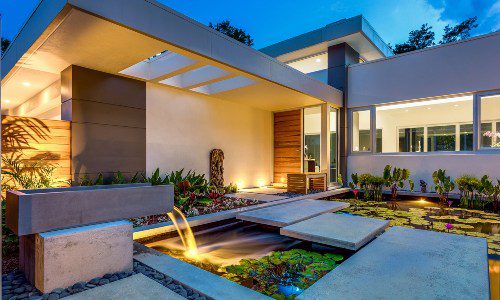 Landscape and architectural lighting create a magical and elegant ambiance for homeowners. The outdoor lighting industry has always been a phenomenal one and continues to grow in popularity. Now is the ideal time to learn more about this rapidly growing and highly profitable industry. Join our panel of esteemed lighting experts that will dive into why it's time for integrators to rethink their role in the outdoor lighting industry.
Register Now! 
Managing the playback of audio content, the Island audio systems also utilize a media processor that is able to handle a range of media that spans CDs and DVDs, to gaming and streaming content and technologies such as Dolby Atmos, and high-resolution audio.
The Maunakea system's video is handled by C SEED's M1 TV, and this 165-inch microLED display is engineered to rise up and unfold to stretch almost 14 feet across.
According to the video manufacturer, the display provides users with a 4K resolution, along with the ability to deliver up to 1,000 nits of brightness and 64 billion colors. C SEED also notes the display is capable of producing deep blacks, accurate color, and compatibility with HDR content.
"Separately, Island Prestige and M1 each represent superb and inimitable technological achievements in their respective markets. But together … there is simply no more visually and sonically incredible way to experience a film or a live-streamed concert event home," states Alexander Swatek, founder and managing partner, C SEED.
"Maunakea is the latest evolution and true zenith of home entertainment, rivaling the experience of the movie industry's top screening rooms."
The companies add the Maunakea system is not the first collaboration between L-Acoustics and C SEED. L-Acoustics worked with the company on the C SEED Hyde 125, which is a fully retractable 9.1 speaker system that's capable of producing sound pressure levels (SPLs) up to 125dB. The speaker system has been deployed, according to the companies in tandem with C SEED's outdoor TV designed by Porsche Design Studio.
"Maunakea is another leap forward in our collaboration with C SEED," comments Heil.
"This is a much needed departure from the conventional, rectangular dedicated dark cinema room. Maunakea taps into a contemporary and vital desire to transform the living space into a more human-centered, multi-purpose entertainment, wellness, and social environment. When a screen is required, it appears, as if by magic! The viewer is fully enveloped in physical comfort and stunning realism when watching a film or a favorite series. When end credits roll and guests wish to take in the view of a beautiful sunset, Island gently rotates to face any direction for a change of experience and scenery. It's unique, natural, elegant, and effortless, the very definition of a luxury lifestyle."
If you enjoyed this article and want to receive more valuable industry content like this, click here to sign up for our digital newsletters!