What Every Integrator Should Know About Lighting and Victoria's Secret
According to Matt Scott, president of OMEGA Audio Video, a good lighting setup may cause spontaneous hugs and high-fives from clients.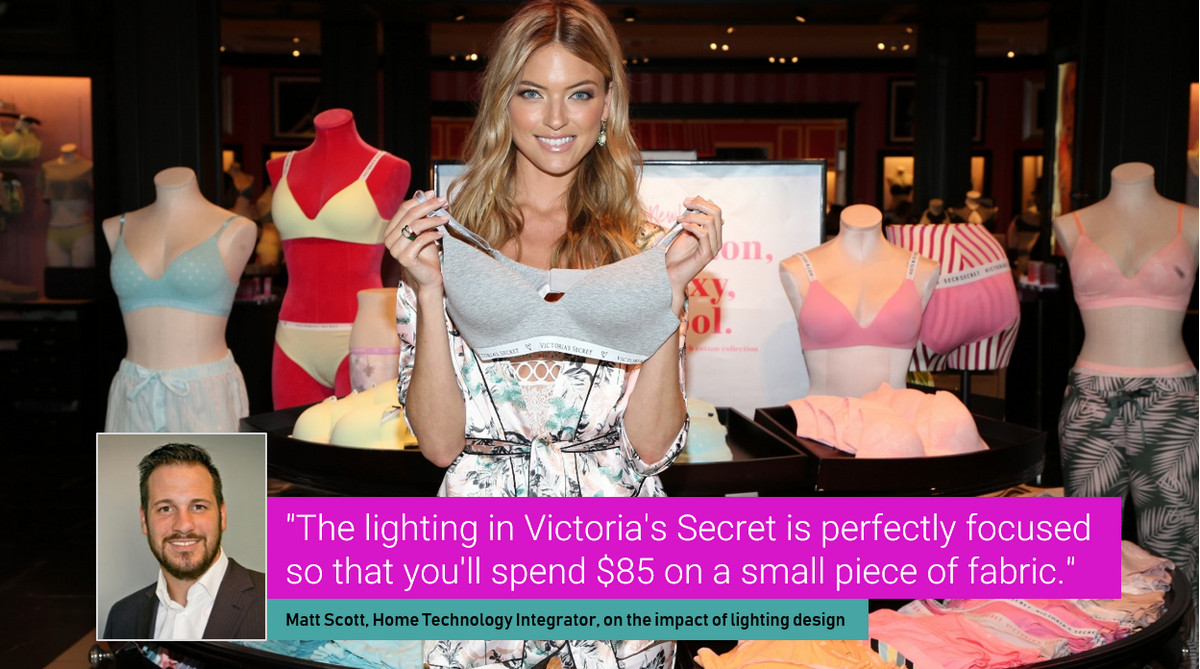 Andrew Nichols
·
July 10, 2018
CEDIA board member and smart-home pro Matt Scott loves Victoria's Secret. The owner of Omega Audio Video in Canada goes there for the "lighting."
"The lighting in Victoria's Secret is perfectly focused so that you'll spend $85 on a small piece of fabric," he says in a recent episode of the CEDIA Tech Council podcast.
The risque retailer, he adds, uses spot lighting to highlight the goods "in the best possible way, because it draws an emotion out of you and makes you pay attention to the space you are in."
Thankfully, these same tactics can be applied to home theaters and smart homes, which is why his clients sometimes erupt in spontaneous hugs and high-fives.
Lighting Up Emotions
Based on Scott's experience installing elaborate, purposefully designed lighting systems, he says lighting can do a whole lot more than brighten up a room.
"We've never pulled one out after we put it in. Ever."
— Matt Scott
OMEGA Audio Video
"Lighting is something that brings such a connection and such an emotional response from people that when they see it, when it happens, when they walk into [a] room and it lights up, they are in love," he says.
Scott says Omega includes lighting in most proposals, whether the client asks for it or not.
"We've even done a 'puppy dog close,' and literally tell them it's going in, and if you don't like it in 30 days we'll pull it out, no cost to you," he says. "We've never pulled one out after we put it in. Ever."
So how do you teach an integrator the art of lighting?
To be sure, there is some experience and skill involved, but a lot of it boils down to what integrators do best -- asking questions about lifestyle and understanding how technology can play a role in everyday living and special occasions.
"You can teach a lot," he says, "but there comes a point where some of it is artistic. Now, the nice thing is with something like lighting, in most applications, you don't have to be that artistic, you just have to pay attention."
Here's one very simple example suggested by Scott: "Oh wow, you have a couple of really nice paintings on the wall there. Maybe we'll light those."
To learn more about Scott's experiences incorporating lighting into his A/V business, listen to the full CEDIA Tech Council podcast here, with new podcasts posted weekly.
---
7 Clever Ways to Hide Home Technology - CE Pro Download
Most technology products are not that visually appealing. Black boxes and tangled wires do not add to the character of a high-end smart home project. Luckily, our integrator readers have a number of clever solutions so these components don't have to be visible in your next project.
---
About the Author
---
Andrew is a journalist and educator living in the Providence area. He was previously the Editor-in-Chief of a gaming and tech website, and the Managing Editor of his university newspaper, The Torch. He received his Bachelors in Writing and Masters in Teaching from the University of Massachusetts Dartmouth. Have a suggestion or a topic you want to read more about? Email Andrew at andrew_nichols@ehpub.com
Follow Andrew on social media:

Andrew also participates in these groups:
LinkedIn · Google+
Control & Automation
Are Integrators Ready to be 'Energy Automation Contractors'?
Mozilla's Naughty-or-Nice List Rates Connected Devices on Privacy and Data Security
SnapAV Now Sells Nest and Google Smart Home and Pro-Monitored Security Systems
Home Automation and Alarm Giant Vector Security Adds Retail Location; More Coming
ADT Optimistic About Amazon Alexa; Reports Q3 Revenues Up 6%
View more on Control & Automation
Take Our Latest Quizzes
How Well Do You Understand Ethernet Cables and Connectors?
Quiz: Is Your Company Performance Above or Below Average?
How Much Do You Know About Cell Phone Signal Boosters?
How Efficient Is Your Service Department? Take the Quiz
5G and the Need for Cellphone Signal Boosters—Do You Know Enough?