Robotic Patio Umbrellas a New Product Category for Pro Channel
ShadeCraft and Screen Innovations launch smart patio umbrellas for a new twist on outdoor installations.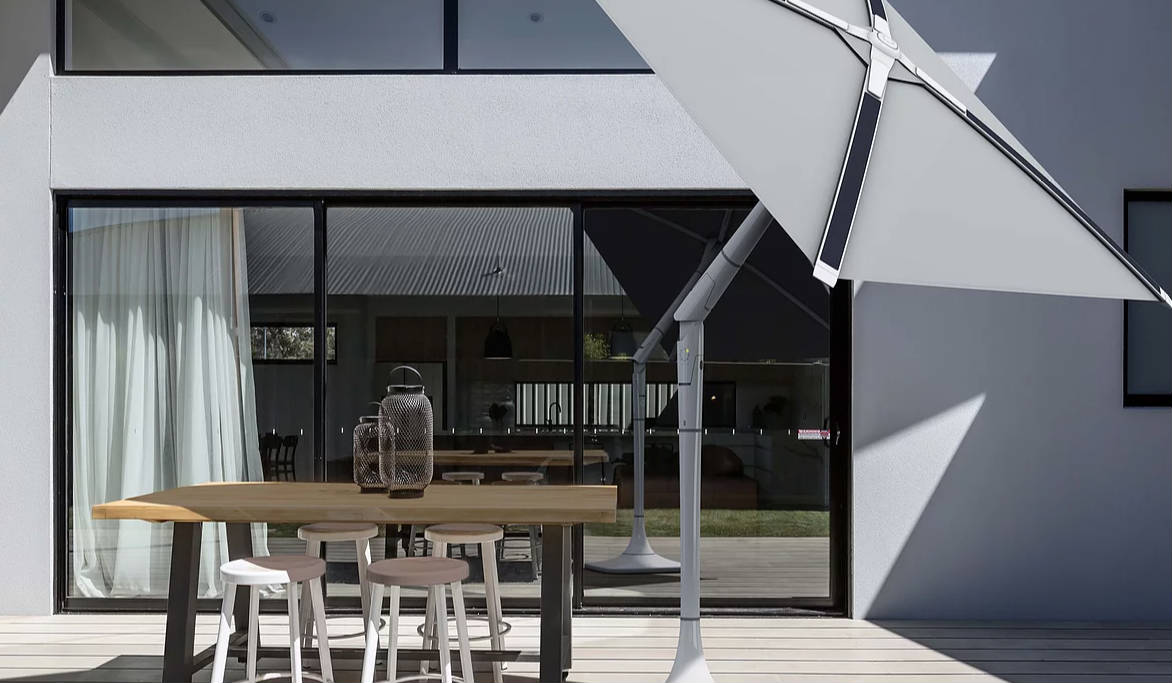 Lisa Montgomery
·
September 18, 2018
The creation of outdoor living spaces is one of the biggest trends in homeownership for 2018. People are spending big bucks to transform their backyards into legitimate living spaces, complete with fully functional kitchens, high-quality audio systems, weather-resistant displays, and automated landscape lighting.
Offering integrators another element to deliver to clients' outdoor entertainment areas is newcomer to the CEDIA space, ShadeCraft, and CEDIA Expo veteran, Screen Innovations.
Sunflower from ShadeCraft
Aptly dubbed the "Sunflower," ShadeCraft's robotic "parasol" is packed with so much tech, it actually mitigates the need to install some common outdoor amenities.
Integrated into this one umbrella, which measures 7-by-7 feet and stands about 10 feet tall, are Harman Kardon wireless voice-enabled speakers, colored LED lighting, a Wi-Fi and Bluetooth hub, USB charging station, HD surveillance camera, and a wind sensor that automatically signals a built-in motorized mechanism to close the umbrella when the conditions warrant it.
The internal motor that moves the umbrella—and the rest of the gear—is powered by an array of small solar panels attached to ribs of the umbrella. These panels also enable the umbrella to track the sun and position itself for maximum solar harvesting and shading.
One more huge selling feature: Each part of the Sunflower can be controlled via Harman Kardon's Sonique far-field voice recognition technology. There is also a companion app for control via a mobile device.
Shadecraft expects Sunflower to start shipping for around $10,000 in April and hopes to integrate it with various smart home platforms.
Sail from Screen Innovations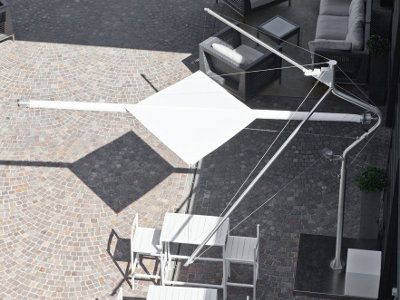 As part of its recent expansion into the shading business, Screen Innovations demonstrated at CEDIA a smart retractable patio sailcloth. Aptly called "Sail," it has been engineered to be integration friendly like Screen Innovations' other shading options. The 16-foot-long by 14-foot-wide Dacron material extends and retracts from a center "mast" via third-party control platforms, as well as from its own keypad, waterproof remote or Amazon Alexa voice commands.
Retailing for $13,900 without an optional weighted stand and $15,400 with the stand, Hue lighting can be added as an accessory.
According to a Screen Innovations spokesperson at CEDIA Expo, red and pink lighting from the Hue can help keep bugs away.
Automation is onboard, thanks to an anemometer that tells the screen to retract when it's too windy.
---
7 Clever Ways to Hide Home Technology - CE Pro Download
Most technology products are not that visually appealing. Black boxes and tangled wires do not add to the character of a high-end smart home project. Luckily, our integrator readers have a number of clever solutions so these components don't have to be visible in your next project.
---
About the Author
---
Lisa Montgomery has been a member of the CE Pro and Electronic House editorial teams for nearly 20 years; most of that time as the Editor of Electronic House. With a knack for explaining complex high-tech topics in terms that average consumers can understand, her style of writing resonates with people who are interested in adding electronic systems to their homes, but are unsure of the steps involved and the solutions available. From basic lighting control systems to full-blown automation systems, Lisa understands the home electronics market well, and is able to point consumers in the right direction on their quest for a smarter, more convenient, efficient and enjoyable home. Over the years, she has developed close relationships with key manufacturers and seasoned custom electronics professionals, giving her a keen sense of what home technologies are hot now and what is on the horizon. She shares this wisdom regularly through feature stories, product roundups, case studies technology spotlights and comprehensive guides and books. Have a suggestion or a topic you want to read more about? Email Lisa at lmontgomery@ehpub.com
Follow Lisa on social media:

Lisa also participates in these groups:
LinkedIn · Google+
Control & Automation
Gigantic Elan Project: 700 Lighting Loads, 150 Shades, 25 Cameras
Product Briefs: Z-Wave Gecko; RTI QMotion Driver; Centralite Alexa Certified; Crestron Showroom
Sonos Delays Google Assistant Introduction to 2019, Begins Private Beta
Hands-On Review: Brilliant Packs Whole-House Control Into a Super Smart Light Switch
That CEDIA Podcast with Julie Jacobson on 2018 Home Tech Happenings and 2019 Trends
View more on Control & Automation
Take Our Latest Quiz
How Well Do You Understand Ethernet Cables and Connectors?