Recently, CE Pro virtually sat down with Gordon Burwell Sr., Co-founder of Burwell & Sons Loudspeakers, to talk about why the company decided to enter the speaker market, classic vs. modern design, and much more.
What was your motivation to enter the highly competitive speaker market?
I wouldn't call naivete a motivation, but it's what enabled us to fearlessly enter a market we knew little about. Our motivation was as music lovers and horn speaker enthusiasts, which we believe go hand in hand. Our limited view of the market indicated that horn speakers were becoming a thing of the past and for all the wrong reasons. We casually, maybe foolishly, considered that we might have to change that trend.
As electricians, craftsmen, builders and entrepreneurs we arrogantly believe we can build anything. As music lovers we like the idea of helping music compete with video screens for people's attention. The further we went, the more our instincts proved accurate and our plan developed.
---
Why did you choose classic over more modern designs?
---
I loved singing in big choirs and going to the symphony as a kid, but it wasn't until I started going to rock concerts in San Fran- cisco that I had to have my own stereo. I needed to recreate that experience at home. At 17, I put together my first set of Altec [Lansing] Voice of the Theaters. I still have them and I've never been disappointed.
When I sit down for a serious listening session, I don't want to be constrained. We didn't set out to avoid sleek modern designs, we set out to create an experience. A classic horn speaker utilizes a 15-inch woofer with a big horn and that creates a certain set of parameters. We set out to scale down the size without sacrificing the big sound. Of our favorite homes we've done, the focus tends towards an understated elegance, not square feet. We tried to capture that concept with the modest size and how the drivers are discreetly tucked away. We think there is a timeless beauty in this classic design.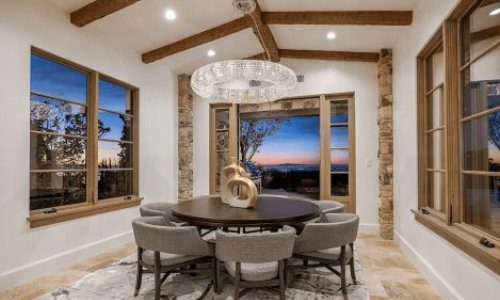 As a custom integrator, lighting is in demand. Effective communication, education and showcasing the value proposition of LED light fixtures in conjunction with integrative control systems are the keys to overcoming challenges and closing sales in this specialized market. Join us as we discuss the future of digital lighting and control with David Warfel from Light Can Help You and Patrick Laidlaw and Mark Moody from AiSPIRE.
Register Now! 
---
Do modern technologies help improve on those designs?
---
Our Homage Series is decidedly low tech. The loudspeakers actually use vintage components, some as old as 50, 60 or 70 years old. These drivers are highly sought after among audio enthusiasts because of their performance and build quality. Modern production techniques require quantities that would far exceed the available supply of these drivers.
The improvements in performance we achieve come primarily from the stout build quality of our cabinetry, and the use of wood horns versus metal or plastic horns. The simplicity and performance is why you'll be able to hand them over to your grandchildren, and they'll hand them over to theirs. Three indestructible drivers, a small handful of coils and capacitors, and two knobs.
We'll be introducing other models soon that will incorporate modern technologies. We are excited about our powered horn speakers with built-in active crossovers and DSP we're developing.
---
How would you characterize your speakers, and are they best used with tubes?
---
Our speakers are very efficient, and measure in the high 90s [SPLs] depending how we tune the ports. We describe the sound as lifelike. Regardless of what you play or how hard you push them, you're rewarded with a crystal-clear rendition of your chosen recording.
There are purists who would insist on tube gear to drive our speakers. We like to think our speakers will make anyone's amplifiers sound amazing. It really is a personal preference. We love our Cary Audio 805 Anniversary Edition monoblocks, but we are currently enjoying every watt of solid-state power from a Parasound amp in our listening room. As far as what we play, we love vinyl but our digital files are where we find most of our listening pleasure.
---
How long does it typically take to manufacture your cabinets?
---
It takes about six to eight weeks to build a set. We are vague with our time estimates because different finishes and materials present different challenges. We generally try to have sets available for immediate sale, but we're happy to work with clients on specific finishes.
If you enjoyed this article and want to receive more valuable industry content like this, click here to sign up for our digital newsletters!