With millions of people working from home, employees are now looking to mimic their office experience in their homes. Reed Grothe, executive vice president of business development, Alarm.com, says ClearOne Aura's Versa 50 has helped him transition to WFH (work from home) without compromising the quality of his conferencing experience.
Grothe admits that he does not know much about the unified conferencing (UC) market, but he asked a number of friends to recommend a solution for his WFH activities.
"I'm not an expert on the latest video conferencing technologies, so I sought advice from my acquaintances who are experts, and ClearOne's reputation, quality and robust feature sets made it a clear frontrunner," recalls Grothe.
"Now, after only a short time using the Versa 50 solution, just about every aspect of my daily video conferences has improved dramatically. Whether it's remote control of the camera's electronic pan, tilt and zoom functions, outstanding image quality, and excellent lighting management or crystal-clear speakerphone audio, the strengths of these devices make my cofernce calls clear, easier and more professional, just as if I were at our corporate headquarters."
Versa 50 Includes 4K Camera and Speakerphone
First launched back in December 2020, ClearOne says the Aura line of products offers uses a choice of good, better, best solutions.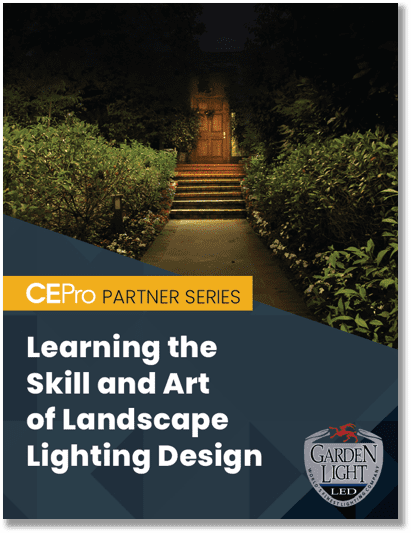 Experts recommend landscape lighting design as an entry point for integrators into the revenue opportunity of home lighting. Check out our new resource for tips and best practices. Download "
Learning the Skill and Art of Landscape Lighting Design
" today!.
Looking specifically at the Versa 50 system, this bundle incorporates a ClearOne UNITE 50 4K camera, along with a CHAT 150 speakerphone.
According to ClearOne, the UNITE 50 delivers a 120-degree field of view (FOV), as well as a 3x zoom capability to enable users to hold meetings in a range of room sizes. The camera also provides electronic pan, tilt and zoom (ePTZ) functions through a PC app, and these functions can also be controlled with the system's supplied remote.
The CHAT 150 speaker incorporates the company's HDConference audio capture and playback technologies. These technologies provide ClearOne's Distributed Eco Cancellation, noise cancellation and automatic level controls.
Rounding the system out is the Versa Hub that streamlines system connections through the use of a single USB cable that connects to users' computers.
"Honestly, this is going to be my default computer and AV interface for all future communications," comments Grothe.
"As travel resumes, I plan to bring the system with me to provide an exceptional experience no matter where I am, so the small physical size of both the camera and speakerphone are another major benefit. Now when I'm on-site at a customer facility that lacks high-quality video conferencing equipment, I can provide that service and not miss a beat."