Smart-Home Pros Love Ring Doorbells, but Doorbird Surges - CE Pro 100 Brand Analysis
2018 Brand Analysis for front-door security shows more CE Pro 100 dealers offer Ring and Doorbird video doorbells than any other brand; Yale tops the list for smart locks and Control4 takes the access controls category.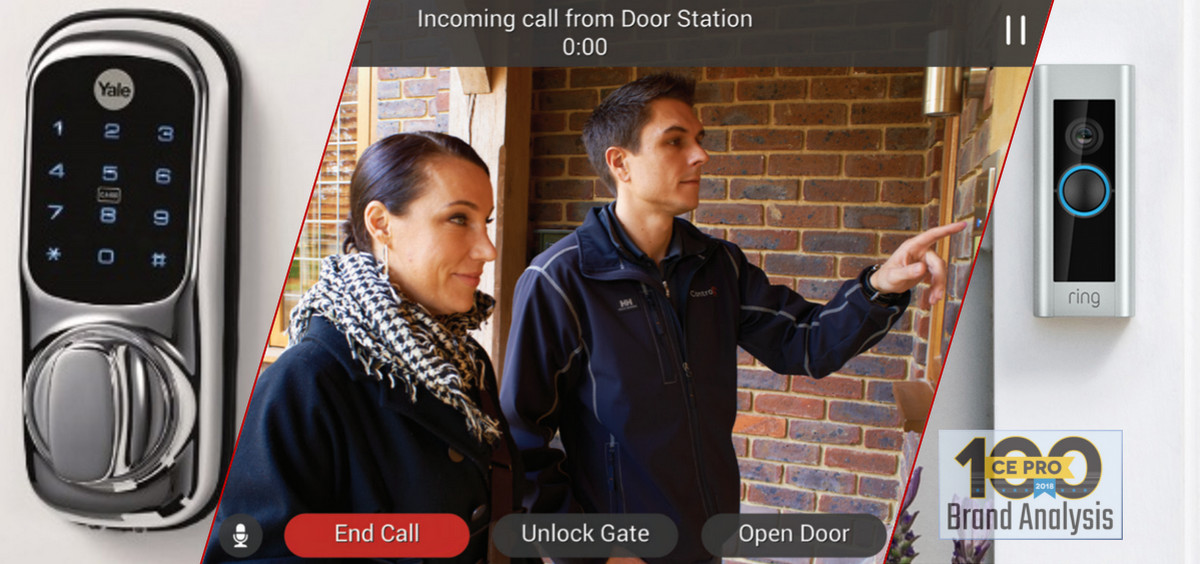 CE Pro Editors ·
June 7, 2018
Front-door security swelled over the past year, as the largest smart-home pros picked up more brands of video doorbells and smart locks. The category itself got a big mass-market boost from giants like Amazon and Walmart, which introduced systems for unattended access for in-home deliveries.
In the video-doorbell category, more CE Pro 100 dealers offered Ring in the past year, even though the products do not integrate well with traditional home-automation systems. A more integration-friendly brand, Doorbird, surged over the year, gaining about 30 new dealers among North America's largest smart-home pros.
Next year, look for Google to make its first appearance in the front-door security categories, as the company just began shipping the new Nest Hello smart doorbell and Nest x Yale lock, both of which employ the Thread networking standard and Nest's own Weave home-automation protocol.
Long before any of these popular consumer brands hit the market, companies like Channel Vision and Holovision dominated the channel in the video-entry category. Their market share among the largest installation companies continues to dwindle, although 20% of CE Pro 100 dealers did name Holovision as an "access control" vendor in the 2018 CE Pro 100 Brand Analysis (below).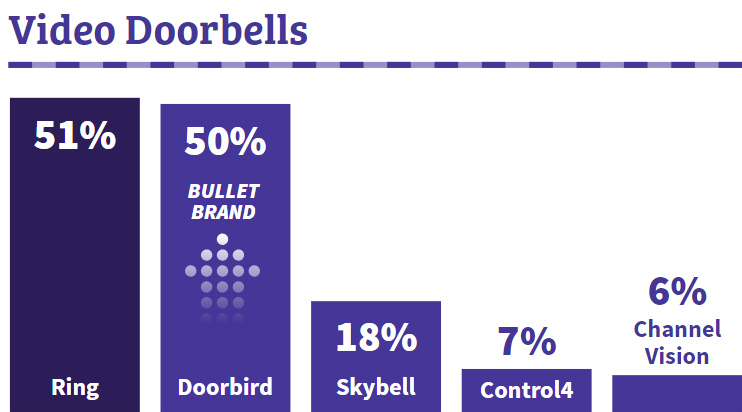 Top 5:
Ring: 51
Doorbird: 50
Skybell: 18
Control4: 7
Channel Vision: 6
Other Brands:
August: 4
Savant: 3
Holovision: 2
2N: 2
ButterflyMX: 1
Vivint: 1
Custom: 1
Lilin: 1
Siedle: 1
Swann: 1
Nest: 1
Previous Year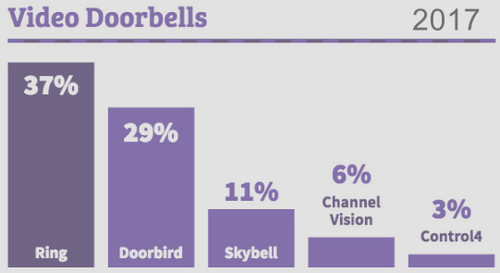 Check out this years top custom electronic brands across 58 product categories.
The top four smart-lock companies in the 2018 CE Pro 100 Brand Analysis -- Yale, Kwikset, Schlage (Allegion), and August --kept their positions from the prior year, and each of the brands collected a significant number of new dealers. Assa Abloy, the parent company of #1 lock brand Yale, is becoming a powerhouse in the smart-home channel, acquiring #4 brand August in 2017. Last year, August introduced a "Pro" version of its retrofit door locked featuring by Bluetooth and Z-Wave communications.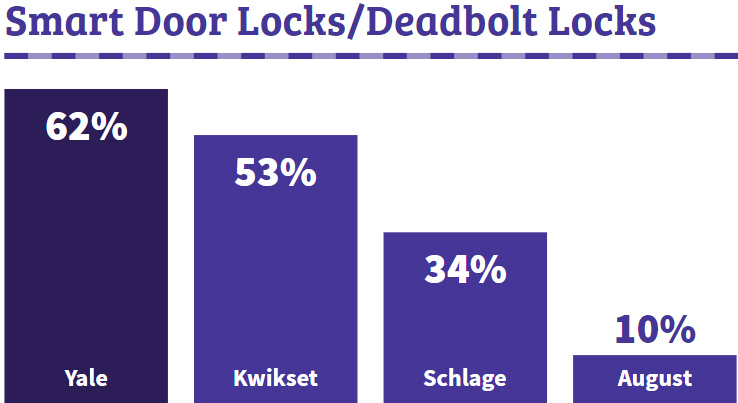 % of CE Pro 100 integrators offering each brand
Top 5:
Yale: 62
Kwikset: 53
Schlage: 34
August: 10
Ercole: 1
Other Brands:
Latch: 1
Baldwin/Control4: 1
Nest: 1
Weiser: 1
Vivint: 1
Previous Year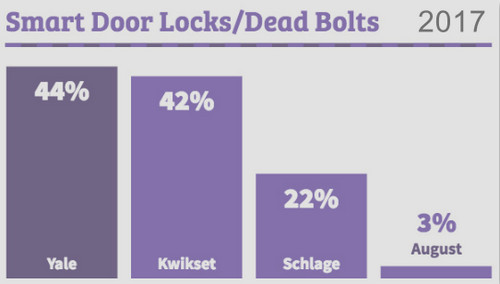 ---
"Access Control" can be a confusing category, especially since the relatively new categories of video doorbells and smart locks have skyrocketed over the past few years. As such, CE Pro 100 dealers name a hodge-podge of products from a variety of categories as their preferred "access control" brands. Home-automation companies (Control4, Savant, Crestron) , smart-lock vendors (Yale, Kwikset), traditional alarm manufacturers (Honeywell, Interlogix) and what the industry considers "traditional" access control vendors (Holovision, Siedle), all have a place in the "access control" category.
All of the major home-automation companies have improved their integrations with front-door communications and camera systems. Control4 continues to improve upon the video-intercom software it launched in 2015.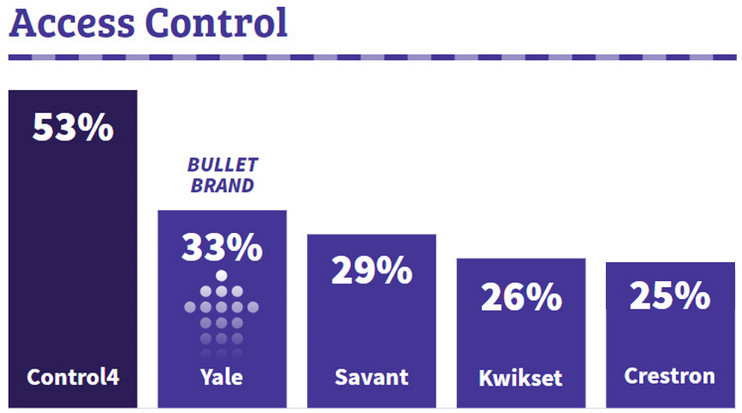 Top 5:
Control4: 53
Yale: 33
Savant: 29
Kwikset: 26
Crestron: 25
Other Brands:
Crestron: 25
Holovision: 20
Honeywell: 16
Siedle: 14
Interlogix: 13
URC: 13
Card Access: 12
Aiphone: 10
Elan: 9
Viking: 9
Leviton: 8
Nortek: 8
RTI: 8
DSC: 7
HID: 7
Bosch: 7
Baldwin: 7
LiftMaster: 7
AMX: 6
Linear: 6
Schlage: 6
Door King: 6
Securitron: 5
Channel Vision: 5
Alarm Controls: 4
HES: 4
Paxton Access: 4
Emerge: 3
IEI: 3
Keyscan: 3
Elk: 3
Custom: 3
Kantech: 3
Keri Systems: 2
Rosslare: 2
Assa Abloy: 2
SDC: 2
ProdataKey: 2
Brivo: 2
NKS: 2
Sielox: 2
CDVI: 1
Doorbird: 1
Audio Access: 1
InVixium: 1
Latch: 1
Butterfly MX: 1
Isonas: 1
DMP: 1
Dwelling Live: 1
Software House: 1
DSX: 1
Previous Year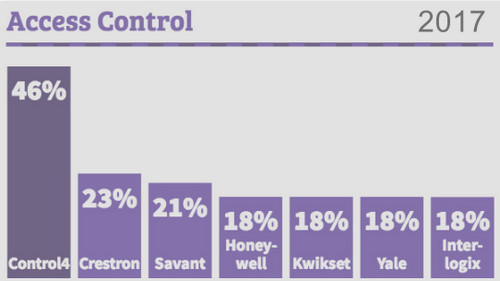 CE Pro 100 Lists & Analysis
CE Pro's annual Brand Analysis study surveys the top 100 highest-revenue residential integration firms, otherwise known as the CE Pro 100, to determine their preferred brands in the categories of audio, video, home automation, networking, lighting control, security and more.
Key Links
---
Save $100 When You Enter the CEPro BEST Product Awards Before May 24
Every year our editors recognize the most advanced products in the professional installation market. Wouldn't you like to tell your customers that your products are among this exclusive group? Enter the CEPro BEST Product Awards and give your sales team something to shout about. Early bird pricing ends May 24.
---
Control & Automation
Savant Shows HomeKit-Compatible Smart Circuit Breakers, Circadian Lighting
Product Briefs: Doorbird, Snom; Guardian Protection Services Changes Name; AudioResearch
Sonnen ecoLinx to Anchor New Illinois Sustainable Community
Control4 Unveils New Smart Home OS 3 Platform
Crestron Partners with Domotz for Remote Management
View more on Control & Automation
Take Our Latest Quiz
How Well Do You Understand Ethernet Cables and Connectors?
Bose