10 'Go To' Tools Every Technician Needs (and Why)
Whether it's a multifunction tool or one for an individual special need, there are certain often-overlooked 'A-level' tools for measurement and termination that every datacomm technician must have.
Jason Knott
·
January 22, 2013
Most guys (and some gals) have an ongoing love affair with their tools. Having the right tool for the right job can evoke a Tim Allen-like grunt of pleasure.
But for integrators and their technicians, tools are even more special. They represent their livelihood. So for a low-voltage/datacomm contractor by any name—voice/data/video (VDV) installer, A/V specialist, security dealer, etc.—there is a short list of tools for both measuring signal strength and terminating twisted-pair and solid-core cable that they cannot live without.
According to Dave Mueller, VDV senior product manager at Klein Tools, the biggest question facing integrators is whether to carry individual tools for each task or look for multi-function tools that can do several things. He has pinpointed the:
Most valuable low-voltage stripping/cutting/terminating/crimping tools
Most valuable low voltage measurement tools
Most valuable tools for retrofits/existing homes
Most valuable tools for new construction
Most unique tool
Most overlooked tool
---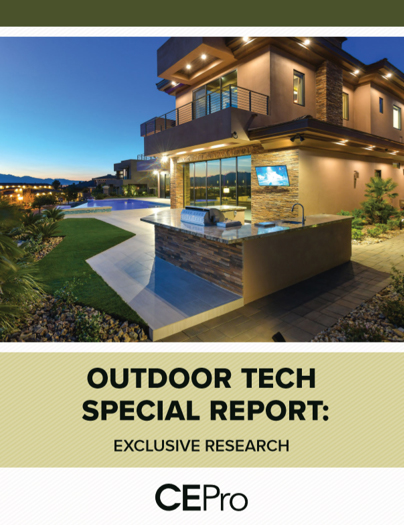 Find Out Why 63% of Integrators Expect Outdoor Business to Grow - CE Pro Download
The outdoor technology market is growing – both the demand from customers and the array of products available. According to our recent CE Pro survey, integrators are taking advantage of this opportunity to grow their businesses. Get your copy of the survey today.
---
About the Author
---
Jason Knott is Chief Content Officer for Emerald Expositions Connected Brands. Jason has covered low-voltage electronics as an editor since 1990, serving as editor and publisher of Security Sales & Integration. He joined CE Pro in 2000 and serves as Editor-in-Chief of that brand. He served as chairman of the Security Industry Association's Education Committee from 2000-2004 and sat on the board of that association from 1998-2002. He is also a former board member of the Alarm Industry Research and Educational Foundation. He has been a member of the CEDIA Business Working Group since 2010. Jason graduated from the University of Southern California. Have a suggestion or a topic you want to read more about? Email Jason at jason.knott@emeraldexpo.com
Follow Jason on social media:

Jason also participates in these groups:
LinkedIn · Google+
Networking & Cables
Product Briefs: AudioResearch, Kwikset; Play-Fi, AirPlay2; Lenbrook Joins D-Tools i3
Boccaccio: Don't Leave Test Results of Eye of the Beholder
Control4, SnapAV CEO Interviews: Analyzing the Home Automation Merger
Last Day to Enter Listings for 2019 CE Pro Distribution Guide
Bosch Drill/Drivers Supported With Companion App
View more on Networking & Cables
Take Our Latest Quiz
How Well Do You Understand Ethernet Cables and Connectors?
Bose