One of the hesitations some integrators point to regarding getting into lighting is their lack of knowledge when buying lighting fixtures. Unfortunately, that same deficiency usually also applies to the builder, architect and designer, which means the ultimate loser is the customer who is getting poor lighting in their home.
To resolve that dilemma, it is vital that integrators understand the basic tenets to help guide them when buying downlight fixture selection. This including trims, housings, and aperture sizes. Then, designs can incorporate various other types of light sources to complement the downlights.
"The No. 1 criteria for choosing a lighting fixture is not the type of fixture or its abilities to offer full-spectrum lighting, but where the fixture is going," says Mark Langston, principal at Light Can Help You, one of the premier lighting design firms in the U.S. "It's all about asking yourself, 'What am I lighting and where does that fixture go?'"
During a presentation at Lightapalooza 2023, Langston noted that it is not appropriate to put expensive, intelligent lighting in the wrong locations in a home.
"That is just expensive, bad lighting," he quips, advising integrators create a standard lighting solution in their business for selecting fixtures. One simple way to do that is to use adjustable fixtures that have interchangeable lenses, trims, and optics that can produce a range of color temperatures, including warm dim and tunable white.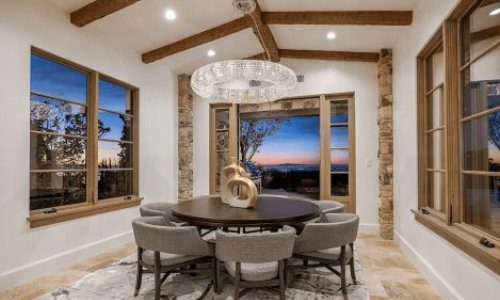 As a custom integrator, lighting is in demand. Effective communication, education and showcasing the value proposition of LED light fixtures in conjunction with integrative control systems are the keys to overcoming challenges and closing sales in this specialized market. Join us as we discuss the future of digital lighting and control with David Warfel from Light Can Help You and Patrick Laidlaw and Mark Moody from AiSPIRE.
Register Now! 
What to Look for When Buying Lighting Fixtures
Here are a few criteria that need to be considered when buying lighting fixtures:
Downlight Trims: The biggest decision regarding trims is whether to use round or square. It will depend on the architecture of the home, according to Langston. Square is generally considered to be more contemporary in style. Also, using round downlights in a coffered ceiling would be mismatched, he notes.
Langston recommends standardizing on a round white trim with a silver reflector, which lowers the brightness of the lamp. He says most interior designers will want a white reflector for the look when the light is off, but Langston says a white reflector can be very bright when it is on.
Housings: The housing is vital to what you want to accomplish with the light. There are various regulations that must be taken into consideration, such as California's Title 24 or the Chicago plenum rating. The beauty of LED is that they are much smaller than incandescent housings.
Langston advises dealers choose an IC-rated (insulation contact) light as their standard housing because there is a great likelihood that the lamps will be touching insulation.
Aperture Sizes: LEDs enable small apertures, but is that always better? Small aperture downlights are ideal for applications such as shallow ceilings or instances in which you are trying to keep the brightness down.
As a general rule, the bigger the room and the higher the ceiling will call for a larger aperture. Large 10-inch downlights look fine in a high-ceiling environment, but in a lower ceiling "they would look ridiculous," comments Langston, who notes it is OK to mix aperture sizes in a room for various applications.
Also, the lumens will look different based on the aperture size. For example, 500 lumens emanating from a 6-inch aperture fixture will look relatively dark, according to Langston; however, that same 500 lumens from a 2-inch aperture will appear much brighter. Also, the type of reflector can affect the perceived brightness.
"Don't just assume 'more lumens for a smaller aperture.' There is a lot of math and personal preference that goes into it," he says.
Some good general rules are for a:
6-inch light, use maximum 3,000 lumens
2-inch light, use maximum 500 lumens
So, pulling all the criteria together, Langston recommends integrators establish as their baseline when buying lighting fixtures for residential applications:
3-inch aperture
1,000-lumen output
IC-rated housing
round trim
Going Beyond Downlights
"Using only downlights in an entire home would be like building an entire home using nothing but two-by-fours. It would be interesting, but not practical," explains Langston, adding that unfortunately many architectural lighting plans have not changed in over 30 years because they tend to focus on nothing but in-ceiling downlights.
"One of the beauties of LED is that we have miniaturized the light source, so we can hide it. So why do architects continue to treat light as if it is still an incandescent light bulb? It makes no sense whatsoever, and it is embarrassing," he laments.
"Interior designers hate in-ceiling downlights. Whenever you see a great photo shoot in an architectural magazine, the downlights have been Photoshopped out of the ceiling," he adds.
That is among the reasons why integrators need to use many types of fixtures in their designs, including on-wall cylinders that emit light in multiple directions, linear tape lights, step lights, surface-mount disc lights, wall sconces, specialty track lighting fixtures, and decorative fixtures.
"Most customers have not seen linear tape lights. We have to show them the options and opportunities to be able to do things differently," Langston says. "And when the integrator does that, he or she is showing their value. The electrician is not doing that."
If you enjoyed this article and want to receive more valuable industry content like this, click here to sign up for our digital newsletters!