New $5,995 Cary Audio SLI-100 Integrated Amp Delivers 100 Watts Per Channel
Operating in a Class AB1 mode, the new $5,995 Cary Audio SLI-100 Integrated Amplifier is designed to provide high levels of transparency to resolve fine musical detail.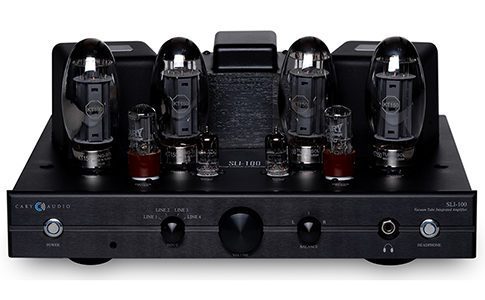 Augmenting its range of tube amplifiers, the new Cary Audio the $5,995 SLI-100 Integrated Amplifier delivers high-power capabilities from a quad array of KT150 output tubes running in a push/pull configuration.
Cary Audio says that its latest amp runs in a Class AB1 mode using a negative fixed bias supply to help the amp produce 100 watts per channel.
According to the company, the amp features its latest engineering concepts, along with the best possible parts, "proper circuit topologies" and specially designed output transformers, which are the most important component within an amplifier.
The N.C.-based company explains the SLI-100's negative feedback is derived from the amp's 8-ohm tap on the output transformer secondary, and the preamplifier and power sections highlight its new circuit designs.
"This feedback circuitry is used to reduce the noise floor and improve the speaker damping characteristics," states Cary Audio.
"Only 4dB of feedback is utilized. The phase inverter is a self-balancing split load configuration utilizing the 6SN7 octal base dual triode. The preamplifier circuit is a Series Regulated Push-Pull [SRPP] Class A triode voltage amplification stage direct coupled to the phase inverter. The power supply in the SLI-100 features a 200 percent duty cycle EI laminate power transformer."
Cary Audio SLI-100 Integrated Amplifier Specifications
Taking a closer look at the Cary Audio SLI-100 Integrated Amplifier the product incorporates these features:
Rated power is 100 watts per channel
SLI-100 offers a choice of 4- and 8-ohm output taps
RCA single-ended connections, including a pair of subwoofer outputs
The SLI-100 offers four pairs of RCA inputs
The amp uses a pair of 6922 input buffer preamp tubes, along with two 6SN7 pre-driver/phase inverter tubes, and four KT150 output tubes
1/4-inch headphone output
Rated frequency response is 19Hz to 23kHz
Cary Audio states the amp requires three minutes of warmup time
The amp features a black powder coated matte finished chassis with a choice of black or silver faceplates and knobs
The SLI-100 Integrated Amplifier weighs 42 pounds
Related: Cary Audio Reference Series Amp Produces Over 50W of Power