Thank You for the Honor, CEDIA
Founding editor Julie Jacobson shares CEDIA Fellow's honor with CE Pro team.
Julie Jacobson
·
July 28, 2017
I am honored to join the esteemed ranks of CEDIA Fellows for 2017. Thank you, CEDIA board for the recognition, and congratulations to my fellow Fellows this year – David Graham of Grahams Hi-Fi in London, and Australia-based Len Wallis of Len Wallis Audio.
It's been a privilege to serve the industry and our trade organization for so long, and a complete joy to participate in the CEDIA Technology Council currently.
One reason I'm able to do these things is because of my awesome colleagues at EH Publishing, including Jason Knott and the entire CE Pro team. I often get an undo share of the glory because I happen to have the luxury of doing (mostly) what I want, which makes me pretty visible – for better or for worse.
The rest of the gang toils on many thankless tasks that make us such a force in the industry. While my face and my words are sprawled across the Internet, my colleagues are generating revenue-making products … and revenue. They're setting schedules, nagging me to meet those schedules, working with advertisers, managing CE Pro 100 lists and other major research projects, spreading themselves among many publications and business units, dealing with politics at HQ … and still cranking out a whole lot of great content.
They're also the ones apologizing for "that thing that Julie wrote."
So you see, the things I personally do that make me appear worthy of being a CEDIA Fellow … are the things the whole CE Pro team does together.
Thank you all for the privilege of being part of this fantastic industry!
---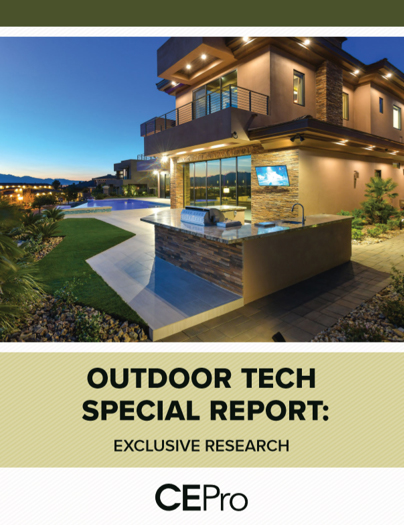 Find Out Why 63% of Integrators Expect Outdoor Business to Grow - CE Pro Download
The outdoor technology market is growing – both the demand from customers and the array of products available. According to our recent CE Pro survey, integrators are taking advantage of this opportunity to grow their businesses. Get your copy of the survey today.
---
About the Author
---
Julie Jacobson is founding editor of CE Pro, the leading media brand for the home-technology channel. She has covered the smart-home industry since 1994, long before there was much of an Internet, let alone an Internet of things. Currently she studies, speaks, writes and rabble-rouses in the areas of home automation, security, networked A/V, wellness-related technology, biophilic design, and the business of home technology. Julie majored in Economics at the University of Michigan, spent a year abroad at Cambridge University, and earned an MBA from the University of Texas at Austin. She is a recipient of the annual CTA TechHome Leadership Award, and a CEDIA Fellows honoree. A washed-up Ultimate Frisbee player, Julie currently resides in San Antonio, Texas and sometimes St. Paul, Minn. Follow on Twitter: @juliejacobson Email Julie at julie.jacobson@emeraldexpo.com
Follow Julie on social media:
Twitter · LinkedIn · Google+
Julie also participates in these groups:
LinkedIn · Google+
Events
CEDIA Global HQ Opens: Take a Video Tour
'Disruptive' Keynote at CEDIA Expo 2019: Adios Tech-Talking Futurists
CEDIA Expo 2019 Registration Now Open
Sony's Dazzling Booth at CEDIA Helps Earn Quest for Quality Award
ISC West 2019: Security Show Made Me Go Hmmm
View more on Events
Take Our Latest Quiz
How Well Do You Understand Ethernet Cables and Connectors?
Bose