Hands On: BenQ HT9060 4K LED Projector is Ideal for Multipurpose Rooms
The new $8,999 BenQ HT9060 is the company's latest flagship 4K HDR projector. The HT9060 delivers bright, crisp images with vivid colors.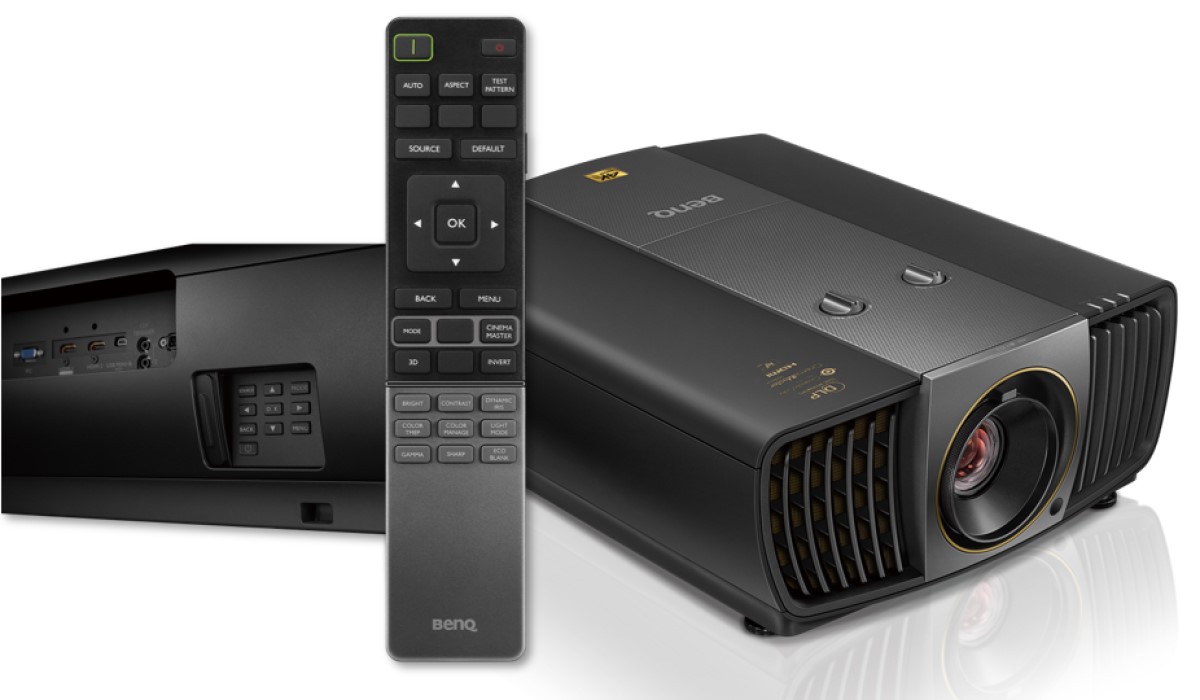 Robert Archer
·
March 20, 2019
For years BenQ has produced some of the best values in the home projector category. A few years ago, the company expanded its product line to include higher performing product solutions when it released its HT9050 LED projector.
Having had the chance to review the HT9050 with a Dragonfly screen, I liked the image it produced and its higher brightness levels and better grayscale when compared to a couple of pixel-shifting 4K products from competitors.
Now, about 18 months later, the company has updated its flagship product with the release of the new HT9060 projector.
Competitively priced as a step-up solution in a category that's become crowded with entry-level 4K UHD products, the $8,999 HT9060 provides features that separate it from the entry level, including a Philips-based LED light engine and expanded color gamut capabilities.
BenQ HT9060 Features & Setup
The HT9060 is a UHD (3840 x2160) 4K projector that is rated to produce up to 2,200 lumens of brightness, and contrast ratios as high as 50,000:1.
The projector is able to produce the Rec. 709 HD color gamut and produces 98 percent of the much wider commercial cinema DCI-P3 color standard.
Specifications:
UHD DLP-based projector that produces 8.3 million pixels

Compatible with HDR content through its HDR10 and HLG support
Features BenQ's CinematicColor technology to reproduce the Rec. 709 color standard
Using CinematicColor technology with Philips' ColorSpark technology to reproduce the cinema DCI-P3 color standard, which is wider than Rec. 709
14-element, six-group lens that includes a 1.5x zoom
MSRP is $8,999
At the heart of the projector is the 0.67 DMD DLP chip from Texas Instruments (TI), along with a 14-element glass lens and Philips HLD LED-based light engine.
The solid-state light engine should not be overlooked. It has low-maintenance requirements and has the ability to deliver consistent light output for as much as 20,000 hours depending on usage.
Integrator-friendly options include manual vertical and horizontal lens shift, zoom, 12-volt triggers, IR control, RS-232, LAN, and a pair of HDMI inputs (one is HDMI 2.0, the other is HDMI 1.4).
The HT9060 is similarly sized as many of the projectors on the market today and it pulls from the box quickly.
Placing the HT9060 on my projector shelf, I plugged the HDMI cable running from my receiver to the HT9060's HDMI 2.0 input (HDMI 1). I also plugged in the power and popped two AAA batteries into the projector's remote.
Turning the projector on, I was greeted by a screen that asked me the orientation of the setup. After choosing front I aligned the image with my 100-inch Stewart Filmscreen Phantom HALR screen, which was approximately 11.5-feet away.
The alignment was done using the manual vertical and horizontal shift controls that are located in a hidden compartment on the top of the projector.
Fine tuning the basic image settings, I used the manual outer ring controls that surround the HT9060's lens to dial in the size and focus of the projector.
Related: BenQ DLP Projectors Deliver UltraHD 4K Images for Under $10,000
Next up, I grabbed the projector's remote, pressed the menu button and entered the picture mode. Leaving the preset factory settings alone for the most part, I selected the normal color mode under the advanced settings and turned off image processing options such as noise reduction.
As I continued to move through the menu's basic functions, I set the lamp to Smart Eco mode since I thought projector was more than bright enough for my room and screen with the lights fully on.
I tried each of the HDR options and settled on the auto mode before I started to evaluate the HT9060 and before a more in-depth calibration.
Feeling satisfied with the basic setup, I settled into watching some TV and video content.
Performance: Bright Pictures, Some Artifacts
Solid-state light engines, like the one that powers the HT9060, are known for delivering more dynamic contrast, more vibrant color, and a generally brighter picture than lamp-based products. The HT9060 bears out that reputation, delivering a crisp picture that demonstrates just how well projectors can work in a variety of room environments.
Watching local Boston sports like Bruins hockey and Patriots football on Super Bowl Sunday was a completely enjoyable experience. Similarly, streaming content from Netflix and HBO Now was easy and enjoyable. The colors were vibrant, contrast levels were dynamic with nice levels of peak white that weren't overdriven, and blacks were solid.
As I suspected, some adjustments were needed, but they weren't anything major.
With an eye towards gamma levels, grayscale, color accuracy and uniformity, I flipped on my 4K Apple TV, which was passing on 4K with HDR 4:2:2 content, and previewed "Bohemian Rhapsody," "A Star is Born" and "The Grinch."
I also viewed TV content from my DVR that includes programs such as "Arrow" and "Manifest" and found a nice level of image clarity with high levels of shadow detail, complementing the HT9060's overall image brightness and color accuracy well.
The value of the lens system in the HT9060 should not be understated. It helps produce highly detailed images with more clarity than similarly priced projectors.
The only distractions from otherwise beautiful pictures were slight artifacts detectable on some elements such as chyrons (scrolling media), as well as blocking artifacts from compressed content like the media from my DVR.
The BenQ HT9060 delivers on the idea that homeowners can have a sophisticated image in a multipurpose environment without having to spend enormous amounts of money.
I did tweak the processing options, which generally minimized the artifacts, but at the same time softened the image, so I ultimately turned the processing off. I also thought in some instances there may be some judder associated with video conversion that contributed to the artifacts.
When testing the HT9060 with still images, I found it produced realistic flesh tones and high levels of detail.
Final Testing on Upscaled Blu-ray
For the ultimate HT9060 experience, I watched the UltraHD disc versions of "Justice League," "Jurassic Park: Fallen Kingdom," and the 2009 "Star Trek" reboot on Blu-ray disc upscaled to 4K.
The movies featured fantastic images that really showcase the strengths of the HT9060 -- vibrant, clear images, high level of image dynamics and broad color capabilities. On this content, the artifacts I mentioned above were not apparent and I think they relate to specific content such as highly compressed video.
To me, the HT9060 is the ideal modern projector. Perfect for today's multipurpose rooms and ideal for everyday video, the product delivers bright, crisp, colorful images regardless of whether there is ambient light in the room.
I've never liked the idea of dedicated theaters because it's not realistic for most people, but having a quality projector and screen in a room that supports a number of activities -- whether the lights are on or off -- broadens the appeal of a category typically relegated to infrequently used home theaters.
The BenQ HT9060 delivers on the idea that homeowners can have a sophisticated image in a multipurpose environment without having to spend enormous amounts of money. The HT9060 could easily live in just about any environment and deliver high levels of fun through its bright, dynamic and detailed 4K images.
CE Pro Verdict

Pros:

Sets up easily
Produces bright, vivid images, accurate colors
Philips HLD LED light engine eliminates the need to replace bulbs. The estimated life expectancy for the light engine is 20,000 hours of use

Cons:

Regardless of whether the projector's imaging processing is on or off, motion artifacts were apparent
Internal processing did soften the image
---
We're Looking for Your BEST Projects
Don't miss your chance to enter to win a 2019 BEST Projects Award. We'll be announcing winners at a special Gala event at CEDIA EXPO. We can't wait to see what you've been up to this year! Enter your projects now.
---
About the Author
---
Bob is an audio enthusiast who has written about consumer electronics for various publications within Massachusetts before joining the staff of CE Pro in 2000. Bob is THX Level I certified, and he's also taken classes from the Imaging Science Foundation (ISF) and Home Acoustics Alliance (HAA). Bob also serves as the technology editor for CE Pro's sister publication Commercial Integrator. In addition, he's studied guitar and music theory at Sarrin Music Studios in Wakefield, Mass., and he also studies Kyokushin karate at 5 Dragons in Haverhill, Mass. Have a suggestion or a topic you want to read more about? Email Robert at robert.archer@emeraldexpo.com
Follow Robert on social media:
Twitter
Robert also participates in these groups:
LinkedIn · Google+