How do you follow an iconic figure? It's a question that is asked of athletes and coaches, news anchors, actors and actresses who replace popular characters, etc.
Here in the custom electronics industry, there are some names that have forged success and innovation that undoubtedly there's pressure on the person who steps in next when the time comes.
Origin Acoustics this year has been transitioning its CEO reins from founder Jeremy Burkhardt to former VP Nick Berry, who says that the company "really hasn't missed a beat."
"It's been a fairly easy transition taking over the CEO role here at Origin Acoustics," says Berry. "I've been with Origin since its inception, and so kind of being groomed to take over this role. Jeremy's kind of in the background but he's here at the show to interact with … and so this really is the beginning of a new Origin, with this beautiful [Vegas] facility, beautiful place to train."
If CEDIA Expo 2018 is any indication, Origin Acoustics is indeed enjoying some smooth sailing and entering uncharted waters to arm dealers with a wider range of solutions.
At the San Diego Convention Center visitors to Origin's booth (3042) will find new outdoor options that include a sat/sub combination bollard speaker, marine-grade Explorer speakers, landscape subwoofers and rock speakers, plus Marquee Theater reference home theater speakers, more indoor subs of various shapes and sizes, custom-length soundbars, Valet amplifier and Echo Dot wall mount.
Outside Is In These Days
The bollard speakers deliver uniform sound coverage "wherever you are in the yard," says Origin's Dave Donald, adding that the aesthetic that combines a burial subwoofer and slick vertical enclosure for the satellite "is something I think is the future of landscape and design for outdoor environments."
The speaker's round or square structure extends about 18 inches from the ground.
"This really is the beginning of a new Origin."
— Nick Berry, Origin Acoustics
The mid/ high-frequency driver fired to an acoustic lens that be manipulated to throw 180- or full 360-degree dispersion. The bollard speakers (pictured) will also include 70-volt taps at 30 and 50 watts, and an MSRP of $1,750 apiece.
Origin's Explorer series offers marine-grade durability to a range of two- and three-way architectural speaker models and in-wall subwoofer.
The grille, mounting hardware, internal components and other construction components are all coated to perform reliably to salty-air marine environments, Donald notes.
He added that Origin also eschewed making rock-shaped speakers for a long time but recently rolled out 6- and 8-inch driver models plus an 8-inch subwoofer, for which Berry consulted on the aesthetic elements, "if you can make an 'attractive' rock," Donald jokes.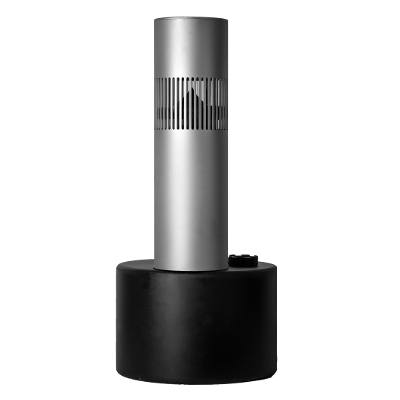 Outdoor audio is certainly not a joking matter, though, to Origin dealers. Donald says that through what he sees from Origin's design services, by which the company will provide project specs for dealers, he's astounded by the number of five- and even six-figure outdoor systems that have been installed lately, and "then four or five more systems down the same street because that customer has a dinner party and people there hear how amazing this thing can sound."
The company's signature theater speakers include high-performance LCRs ($4,000, shown below), smaller surround speakers ($3,000) and in-ceiling models ($2,000), plus subwoofer options.
For the interior, and more specifically the home theater or media room, Origin is getting ready to ship its Marquee Theater lineup.
The AV550 Valet home theater amplifier adds Echo Dot connectivity and compact design that allows for behind-the-display concealment of the 50-watt x 5 channel amp.
Speaking of Echo Dot, Origin dealers can also take a gander at the wall mount that enables unobtrusive Alexa controls, and a way, Donald says, they can retrofit a Cat-5 keypad into a simple voice-controllable, multisource distributed audio system.
New Facilities Give Dealers Destinations
Along with all of the product line launches and expansions, it's no wonder Origin has increased its operational capacities this year.
Berry and Donald pointed out that the Riverside, Calif.-based company has made a showroom-focused home in Las Vegas and opened a 70,000-square-foot facility near Greensboro, N.C., as well.
Origin also shares a facility with Screen Innovations in Texas, and an international office in Denmark (Donald says the company's thin-fit product sells really well overseas).
The 42,000-square-foot Las Vegas showroom and training facility has hosted about 500 dealers who were scheduled to visit, but Donald adds that the natural tourist and tradeshow population has also led to probably 100 drop-ins from out-of-town dealers there for other reasons.
If you enjoyed this article and want to receive more valuable industry content like this, click here to sign up for our digital newsletters!