Calving and Camping: Reviewers Share 15 Real-Life Applications for Wire-free Arlo Go Cam
Arlo Go customers use the wire-free, battery-powered cameras to monitor calving, inverter battery levels, construction sites, weather and other conditions that require remote surveillance where Wi-Fi won't go.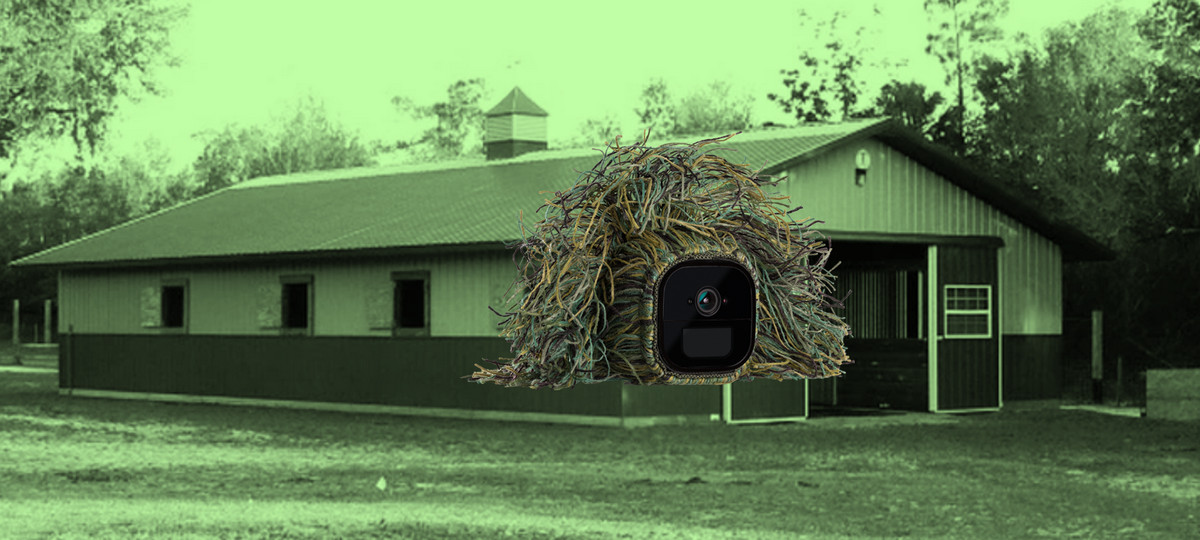 Julie Jacobson
·
November 7, 2018
How could your customers use an Arlo Go wire-free cellular camera? Let us count the ways. Below are 15 applications culled from online user reviews from the mobile cameras, which are offered to dealers (with recurring monthly revenue) by Telguard, a leading provider of alarm communicators and SHaaS (smart home as a service).
Many DIYers love Arlo, but the majority of the world hasn't heard of it, and even those familiar with the cameras might not know about the relatively new cellular version. As we wrote earlier: Security dealers and home-technology integrators are uniquely positioned to probe their clients' lifestyles and recommend this product for a wide range of applications.
For more information about the camera, as well as the RMR opportunities through Telguard, check out CE Pro's hands-on review of the product and cellular service.
Here are just a few applications described by users (edited for grammar):
Bought it for my husband so he could use it during calving.
We were looking for a camera that could work in a rural setting to keep an eye on our Mom during specific times of the day.
We are utilizing these cameras to monitor activity at a dozen trash dumpster locations in different communities.
I bought two cameras due to a break-in at my office. They never came back but now I have peace of mind. However, we own a town home that was broke into a week ago so I bought 3 more. I got a notification just a few nights ago that the person broke back in and we had enough time to call the police …. Arrest was made and we now are firm believers on the Arlo Go cams!!!
I didn't have internet connection at my garage and Arlo Go solved the problem.

"We were looking for a camera that could work in a rural setting to keep an eye on our Mom during specific times of the day."

— Arlo Go reviewer

I have two of these cameras that I use to monitor my birds' comings and goings from their aviaries set up around the property. I love that I can see what's happening real time on a cellular signal since our Wi-Fi is way too spotty and at too great a distance to be reliable.
This Arlo Go camera was actually recommended to me from a Comcast employee after we discovered that it would be impossible to run a hard-line camera system to our neighborhood entranceways. We have 3 different entrances that are spread out over a mile apart.
Real-time viewing of inclement weather has surpassed the cost of the camera by saving money on labor & fuel. I currently own 4 Arlo Gos and will be purchasing more in the future.
This camera is perfect for our jobsite. We always know when someone arrives to the job ite and can keep tabs on security for the jobsite as well.
We are using these at construction sites to monitor activity or lack thereof.
Nice to keep an eye on our boat in its slip.
I monitor a closed building from the inside, so any motion is an emergency to me.
I use the Arlo Go to monitor our coach [bus] that is in covered storage. I can keep an eye on the temperature and my batteries on my inverter panel.
I received my Arlo Go recently and took it on two trips. One to the east coast where we took the Arlo Go to our hotel, and one trip camping. It was great having a little extra piece of mind knowing that I could always see my hotel room to keep an eye on things. Camping was a lot of fun as we could see all the critters at night outside of our tent! Was it a monster?! Nope, just a coon trying to steal my food.
We use this camera on our booths and trailers for peace of mind when we go to shows and events. It's also been used to protect our tools in the homes that we are working on that don't have Wi-Fi available.
BREAKING NEWS: Telular, Telguard Acquired by Instruments Giant Ametek
---
We're Looking for Your BEST Projects
Don't miss your chance to enter to win a 2019 BEST Projects Award. We'll be announcing winners at a special Gala event at CEDIA EXPO. We can't wait to see what you've been up to this year! Enter your projects now.
---
About the Author
---
Julie Jacobson is founding editor of CE Pro, the leading media brand for the home-technology channel. She has covered the smart-home industry since 1994, long before there was much of an Internet, let alone an Internet of things. Currently she studies, speaks, writes and rabble-rouses in the areas of home automation, security, networked A/V, wellness-related technology, biophilic design, and the business of home technology. Julie majored in Economics at the University of Michigan, spent a year abroad at Cambridge University, and earned an MBA from the University of Texas at Austin. She is a recipient of the annual CTA TechHome Leadership Award, and a CEDIA Fellows honoree. A washed-up Ultimate Frisbee player, Julie currently resides in San Antonio, Texas and sometimes St. Paul, Minn. Follow on Twitter: @juliejacobson Email Julie at julie.jacobson@emeraldexpo.com
Follow Julie on social media:
Twitter · LinkedIn · Google+
Julie also participates in these groups:
LinkedIn · Google+
Control & Automation
Biophilia: Nature Sounds vs. White Noise for Productivity and Wellness
Dish Rolls Out New Direct-to-Consumer Smart Home Service
New GE-Brand Z-Wave Smart Light Switches Available in Five Styles
Interlogix and Inflotrolix Team Up to Offer New Water Leak Detection System
Making Landscape Lighting a Profitable Revenue Source
View more on Control & Automation
Take Our Latest Quiz
How Well Do You Understand Ethernet Cables and Connectors?
Bose