You would be hard pressed to find any residential custom integration company today that does not do a modicum of commercial business. Pre-pandemic the percentage of revenue derived from commercial work had risen to an astonishing peak of 41.7% for the typical resimercial technology installation firm in 2019. Of course, COVID-19 put the kibosh on that diversity as the commercial market almost completely shut down.
In 2020, the percentage of income from commercial projects plunged to just 17%. In 2021, there was a slight uptick to 20.5% of revenue as bars, restaurants and corporate offices reopened, but who knows how long it will take to return to pre-COVID levels.
Meanwhile, the same pressures limiting the growth in the residential space are just as prevalent in commercial projects. Lack of equipment due to the supply chain, shortage of labor and inflation are all depressors on growth.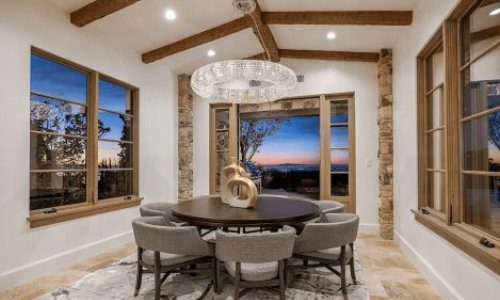 As a custom integrator, lighting is in demand. Effective communication, education and showcasing the value proposition of LED light fixtures in conjunction with integrative control systems are the keys to overcoming challenges and closing sales in this specialized market. Join us as we discuss the future of digital lighting and control with David Warfel from Light Can Help You and Patrick Laidlaw and Mark Moody from AiSPIRE.
Register Now! 
The median number of commercial projects completed in 2021 by integrators was 10 (compared to 37 residential projects). For 2022, dealers are predicting they will complete just 7.5 commercial installations.
According to the 2022 CE Pro Resimercial Deep Dive Study conducted in June of this year, dealers report their commercial business was basically flat for the past 12 months, with an overall median decrease of 0.4%, or a drop of less than one-half of 1%. And for the rest of 2022 and into the first half of 2023, the news is not much better.
Dealers are predicting only a 1% increase in their commercial revenues compared with last year.
That low growth outlook is sobering, especially since CE pros tend to always be overly optimistic.
Even the heart of the housing crisis during which the average integration company lost more than 50% of its revenues, dealers were predicting double-digit growth rates. So to see the industry anticipating such a tiny increase in commercial business is a clear sign of pessimism.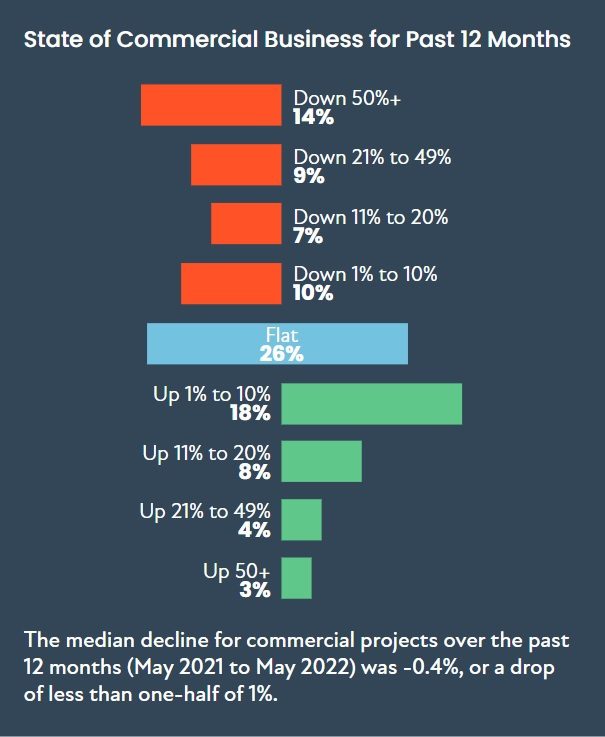 Given that COVID restrictions are virtually nil at this point, the low growth prediction is likely due to fears of an impending recession, along with the other pressing issues previously noted.
However, the data could also be a sign that dealers plan to focus on their core business, which is the residential space, given the uncertain economic times. Despite the not-so-rosy outlook, 97.7% of residential integrators report they did at least one commercial project over the past 12 months.
The most popular commercial vertical markets continue to be the "usual suspects" of corporate board rooms, bars/clubs/restaurants, retail and education.
Meanwhile, in terms of equipment categories, lighting fixtures sits atop the list of the most-anticipated growth categories for commercial work for the rest of this year, with 21% of dealers citing it as their top area of growth.
The lighting fixture category has exploded on the residential side of the business and clearly dealers see an opportunity to become commercial lighting specialists also.
Lighting, Cybersecurity Are Hottest Resimercial Categories
Interestingly, the equipment category that dealers predict will have the second-highest growth rate is commercial cybersecurity, with 20.2% of integrators citing it as their No. 1 area of growth.
While networks have become a staple, it is worth taking notice that dealers expect cybersecurity to be a key element of their commercial growth since the category has yet to garner similar momentum on the residential side, even though consumer studies from Parks Associates and others show that wariness of hacking and privacy are among the biggest concerns from potential buyers of smart home gear.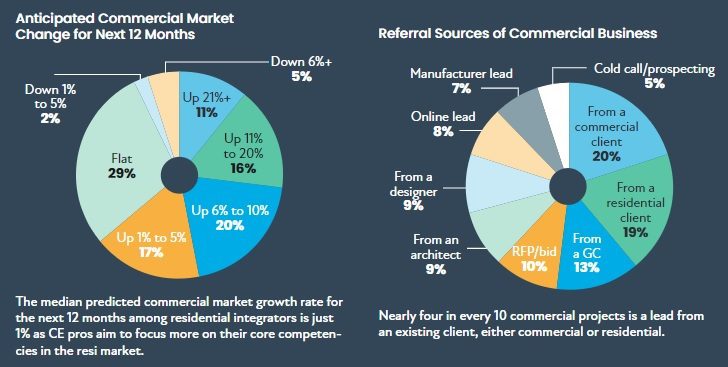 Video surveillance/access control/intrusion security systems are also listed by dealers as a prime commercial category for the rest of 2022 and into 2023. In all, one out of every five integration companies list security as their top-priority commercial market opportunity.
Enterprise networks, AV teleconferencing, digital signage, and room acoustics are other commercial equipment categories that dealers expect to be healthy.
While some integration companies made a deliberate migration to add more commercial work when the Great Recession hit in 2008 and the housing market collapsed, others do not necessarily seek out commercial work but rather let it come to them.
The commercial equipment category predicted to have the second-highest growth rate for 2022 and into 2023 is cybersecurity.
Indeed, according to the study, referrals are by far the most common source of commercial projects with nearly four in 10 (39%) coming from a referral.
Breaking that down, 20% of commercial jobs are referrals from another commercial client, while 19% come from residential customers referring dealers to a commercial job. Only 10% of commercial projects taken on by CE pros involve a competitive bid process.
In fact, when asked what is their biggest challenge in the commercial market, competitive bids is listed as the No. 1 inhibitor. Dealers don't want to get engaged in "low bidder wins" types of jobs. Other challenges cited include maintaining cashflow and working non-traditional hours such as nights and weekends, which is sometimes required for commercial jobs so as to not disrupt client business.
Revenue, RMR Outlook for Commercial Tech Jobs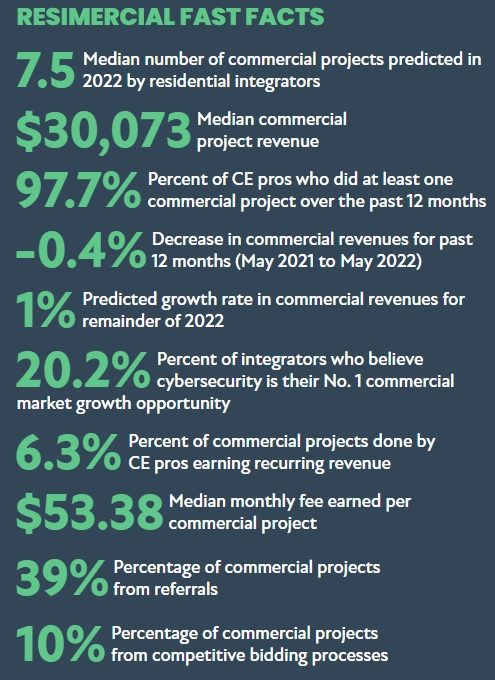 In terms of revenues, the median price for a commercial installation in 2021 was $30,073 according to the CE Pro State of the Industry Study.
At a median of 7.5 projects, that equates to $225,547 in revenues on average per integrator for 2022 if the price point stays the same. The Resimercial Deep Dive Survey did not gauge 2022 average prices.
Staying on the topic of revenue, integrators are recognizing the potential for earning recurring monthly revenue (RMR) from commercial clients.
In all, nearly three out of every four dealers (72.4%) report earning some type of RMR from a commercial client.
However, even though most dealers are earning some RMR from commercial clients, the percentage of projects with RMR is very low, just 6.3% of installations. And the amount of RMR per commercial project is low — just $53.38 per month.
One area of the commercial market that appears to be very similar to the residential market is the primary points of contact for the integrator.
In 31% of commercial projects, CE pros are dealing directly with the owner of the property. Facilities managers, general contractors, and IT directors are next on the list in descending order.
Lastly, the CE Pro Resimercial Deep Dive Survey asked dealers what their favorite aspect of commercial work is.
Not surprisingly, the higher revenue potential is among the top responses, along with the avoidance of having to deal with a potentially persnickety residential head of household or interior designer.
Read Next: Why Resimercial, Commercial Integrators Should Offer Managed Services to Clients
In commercial work, the straightforward business relationship with the commercial end user appears to be coveted.
Ease of installation is also a key attraction, with corporate wiring often able to run in drop ceilings.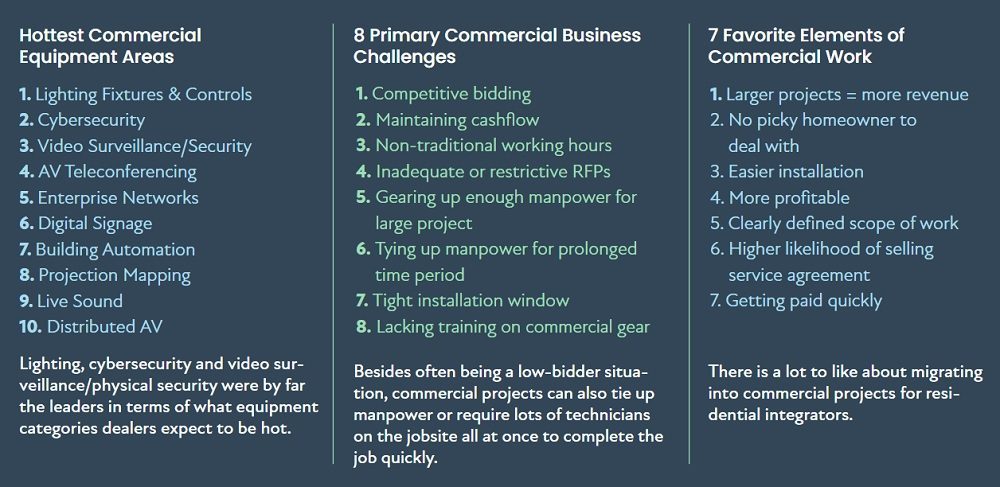 If you enjoyed this article and want to receive more valuable industry content like this, click here to sign up for our digital newsletters!