Smart chips are everywhere these days — from cars to toothbrushes. But as any custom electronics dealer knows, they're especially important to home and pro AV technology. A shortage of electronic chips has impacted the CE market since the outbreak of the pandemic, a trend which is likely to continue through 2023.
How to explain this to customers, and how AV manufacturers are dealing with the shortage of the very thing that makes their technology work, were top-of-mind questions when we recently spoke with one of the custom integration industry's most recognizable manufacturing companies.
Dan Brady, COO of Crestron, and Brad Hintze, Executive Vice President of Marketing at Crestron, explained just how difficult it is to be a product manufacturer in a time when manufacturers have to fight for access to critical components.
They also provided some important context as to how integrators should navigate the shortage going forward.
What is a Smart Chip and How are They Made?
Dan Brady, COO of Crestron: There are literally thousands of types of chips, starting with very simple things like chip capacitors and chip resistors, all the way up to the most advanced iterations from companies like Intel. But most chips start with silicon wafer fabrication, and there's really only three big foundries in the world for that — and all three of these foundries are at 100% capacity, or even at 200%, given the worldwide demand for chips.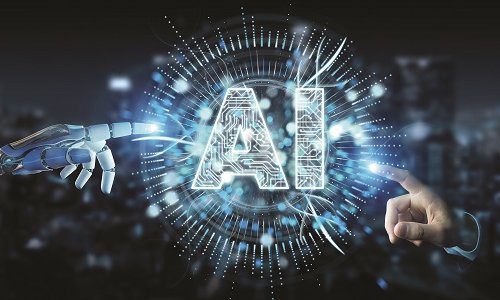 In an era where crime continues to evolve, relying solely on AI-based solutions proves insufficient in preventing sophisticated threats and false alarms. The webinar will emphasize the paramount importance of human judgment and intuition in tandem with AI technology to create a truly complete security solution. Our session will explore how Deep Sentinel's revolutionary approach combines the best of both worlds—advanced artificial intelligence and the presence of highly trained human guards. Together, these elements create an unparalleled level of protection for residential and commercial properties alike. Join our panel of esteemed lighting experts that will dive into why it's time for integrators to rethink their role in the outdoor lighting industry.
Register Now! 
But it's even more complicated than that, because these foundries use minerals from all over the world to create the chips, and some of those areas — such as Russia and Ukraine — are currently in turmoil.
Wafer fabrication involves a very complex etching process, with either laser etching or chemical etching, where that manufacturer's circuit is literally etched into a wafer, and then that wafer is cut into thousands of little pieces. Then, those pieces are sent to another company, a packaging company. Those packaging companies are also way over capacity.
These constructed parts are sent to testing, which is typically done in yet another facility; only then to be sent to still another facility for sorting.
Smart Chip Shortage Explained Simply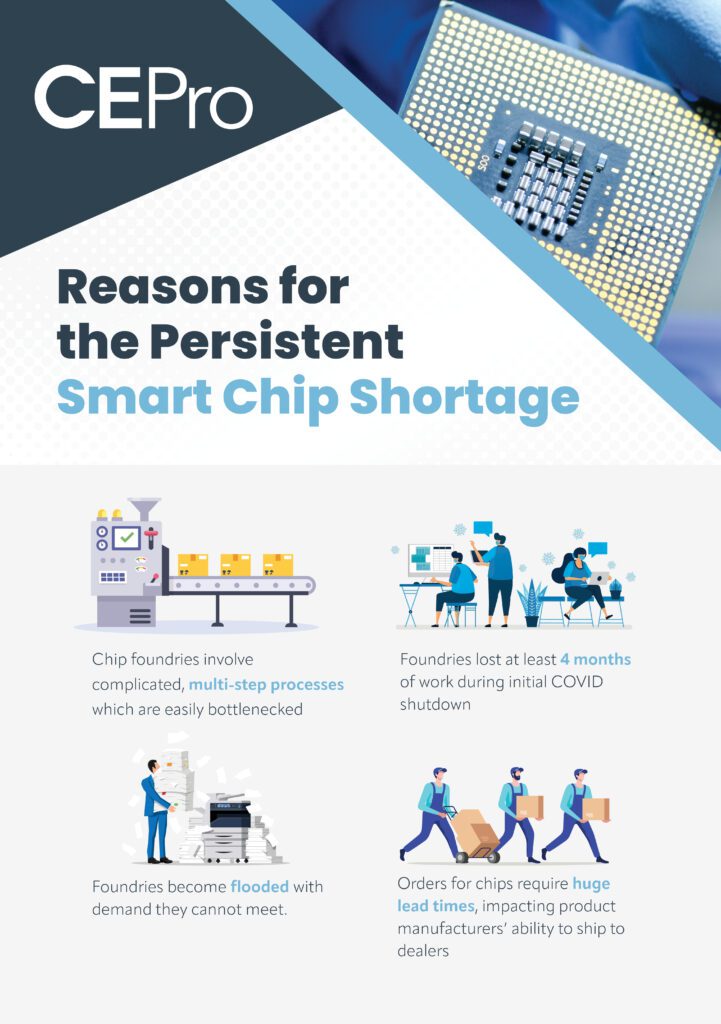 It isn't difficult to see that the very process of manufacturing smart chips is complicated enough to be prone to bottlenecks and domino-effect delays. But there are more reasons for the present shortage and its lingering effects.
Dan Brady continues: All of these foundries, packaging, and testing facilities were already approaching their capacity limits before the onset of COVID. But once the pandemic broke, each of the facilities had to send their workers home for at least four months, and that created this huge bubble in the pipeline — all while demand skyrocketed.
The issue continues to linger based off of that initial gap between increased demand and the capacity to meet it. There are efforts to build more foundries, but that's a process which can take years to complete.
Meanwhile, the lead times for manufacturers to actually get ahold of the chips we need have expanded out to a year or even 18 months.
In many cases, we're seeing two, three, or even five times the demand on our popular products here at Crestron, which has created an issue for us as I'm sure it has for our competition.
The Impact on Custom Electronics Manufacturing
Brad Hintze, Executive Vice President of Marketing, Crestron: While our dealers are very savvy and technologically adept, they have built their business models around the notion of orders, and 'can get my products within a week?' — so they didn't have the inventory supplies to accommodate this kind of uncertainty.
They had then projected that into their relationships with their customers, who weren't placing orders more than 30 days ahead of time. So it's been a rude awakening for the entire industry.
Dan Brady: One of the biggest frustrations not only from dealers, but end users, is: 'how can you call me a week before I'm supposed to get my product and tell me it's going to be delayed another month?'
It's because my supplier calls me the day of, and we say, 'Wait a minute, these parts should have been here already. Where are they?' They're stuck at a port in Shanghai, because of this lockdown.
It's very quick for us to build a product once we have the parts. But if I don't get that part, I don't schedule production today on Wednesday, and I can't ship the product on Friday, like I committed. So it appears as if we are not able to plan; but when you literally have tens of thousands of part numbers the way Crestron does, — and one of them is delayed — I can't build anything, every single part is critical. And if one single part, no matter how expensive or cheap, doesn't show up on my receiving dock, I can't complete that product.
So to me, it's all about education, and taking the time to get customers to understand that when I asked them for as many orders as far out as possible, it's not a sales pitch, it's planning.
Chip Shortage Update: Expect Delays Through 2023
Dan and Brad both believe the delays associated with the nanochip shortage will continue into 2023. As such, they have some advice for integration pros.
Brad: Manage your cash flow, manage your customer expectations, and stay in close communication. Choose a manufacturer that's a partner with you, that's willing to be as open and transparent as possible, because that's how our business is going to navigate through this scenario.
Look at the way you bill your end customers. We've all gotten into the mode where a lot of dealers were invoicing once the project was complete, but we're going to be in this situation where you're going to do partial deliveries for a while. So make sure that you've set up your own billing and invoicing to accommodate so you have that continued cash flow.
Demand is only going to increase, so dealers should continue to look for ways to build their business to meet that demand and to serve customers and help them to embrace and adjust to this own to this new hybrid work model.
If you enjoyed this article and want to receive more valuable industry content like this, click here to sign up for our digital newsletters!