We Have 7 Reasons for You Not to Miss CEDIA Expo!
CEDIA Expo brings together more than 20,000 home tech pros and 500+ exhibitors to the leading event in smart and home technology. We've got 21,947,389 reasons for you to visit CEDIA Expo! Knowing you won't read a list that long, we've come up with our top 7.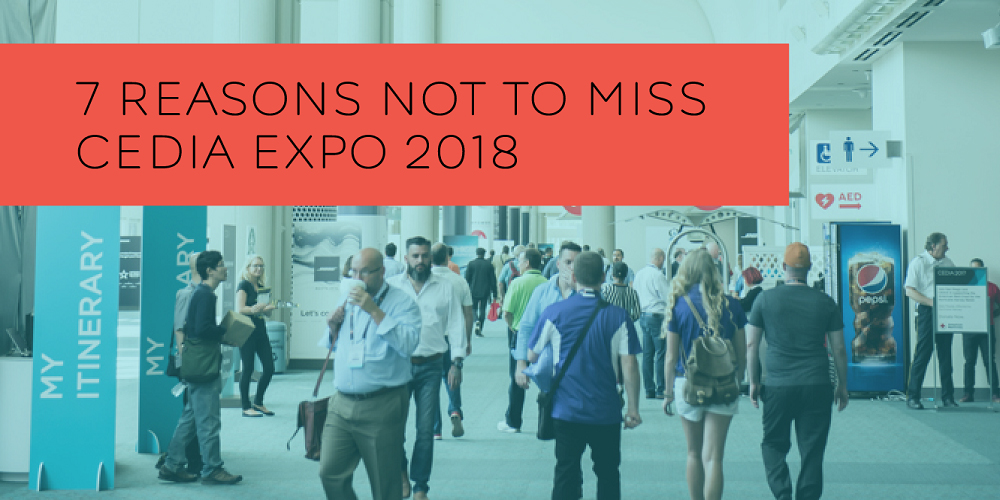 August 13, 2018
500+ brands will be on display at CEDIA Expo, 40+ of which are new including Panasonic, Streamlabs, Logitech and more. Visit Innovation Alley to find the newest products and services hitting the market. Meet with companies never before at CEDIA Expo. View the floor plan for full details.
2. 20+ On-Floor Education Sessions
Join us in the CEDIA Booth and on the Smart Stage for CEDIA Talks and TechTalks. TechTalks is a series of inspiring and educational talks from technology experts sharing insights into what the future holds for the custom integration industry. CE Pro has partnered with CEDIA Expo to bring TechTalks to life. Join CEDIA for CEDIA Talks in booth 1527 to hear from top industry minds on critical topics affecting the home tech industry today and what to expect tomorrow. Only 20 minutes long, CEDIA Talks will offer crucial insights on emerging trends, new technologies, and strengthening business practices.
3. All-Expense Paid Trip to Denver
All pre-registered attendees are automatically entered into an all-expense paid CEDIA Expo 2019 in Denver! Winners announced on the Smart Stage each day at 4:00pm.
Join us on the Smart Stage Thursday and Friday from 1:30pm – 3pm to learn about the newest products and services on the market. 11 selected brands will be given 3 minutes to pitch their product or service, followed by an interactive 3-minute Q&A with presenters in this "speed-dating" program.
5. 35 All-New Training Sessions
CEDIA offers 110 Educational Sessions at CEDIA Expo 2018, 35 of which are NEW! CEDIA sessions are designed to help you learn, grow and master the home technology field.
Endorsed by the National Kitchen and Bath Association (NKBA), the Design Connection Pavilion is an area on the show floor designed to showcase kitchen and bath brands using connected technology in their products. In an effort to continue the collaboration between designers and integrators, CEDIA Expo will host the first-ever Design Connection Tour, sponsored by Control4. Curated by top integrators, the tour will walk select interior designers, builders, and architects through CEDIA Expo. The Design Connection Tour will begin at the Design Connection Pavilion.
Bourbon & Brownies will be held Thursday September 6th from 5:30pm - 7:00pm at CEDIA Expo. This is your opportunity to network with integrators while seeing the latest in design for the intelligently connected built environment. Click here if you are interested in attending!
7. Networking
CEPro compiled a list of receptions for CEDIA Expo! Join us for the CEDIA Awards at Petco Park Wednesday night after the keynote!
Register with promo code EXIV840604 and receive a free expo only hall badge.
---
7 Clever Ways to Hide Home Technology - CE Pro Download
Most technology products are not that visually appealing. Black boxes and tangled wires do not add to the character of a high-end smart home project. Luckily, our integrator readers have a number of clever solutions so these components don't have to be visible in your next project.
---
Events
The New AV-as-a-Service (AVaaS) Paradigm: You Might be Selling it, Without Even Knowing it
Last Chance: Enter the 2019 Mark of Excellence Awards by November 16
CES 2019 Preview: 9 Smart Home, IoT, Security and Wellness Co's. You Never Heard of
Ultimate CES 2019 Preview - Live Webinar Dec. 19
Bleak Economy Ahead: Azione Pushes Lighting, Workforce Development, Website Mastery
View more on Events
Take Our Latest Quizzes
How Well Do You Understand Ethernet Cables and Connectors?
Quiz: Is Your Company Performance Above or Below Average?
How Much Do You Know About Cell Phone Signal Boosters?
How Efficient Is Your Service Department? Take the Quiz
5G and the Need for Cellphone Signal Boosters—Do You Know Enough?