Napco Reports Q1 Net Sales Increase of 10 Percent
In addition to a strong net sales increase, recurring service revenue for the quarter increased 46 percent to $3.8 million, compared to $2.6 million for the same quarter last year.
CE Pro Editors ·
November 6, 2018
Napco Security Technologies (Nasdaq: NSSC), makers of the smart home automation brand iBridge Connected Home, recently reported a profit for its first quarter that rose from the same period in 2017.
The company reported net sales for the quarter increased 10 percent to a first-quarter record $23.4 million, compared to $21.2 million for the same quarter last year.
In a press release, Napco chairman and president Richard Soloway states the company's Q1 performance provided a strong start to its fiscal 2019 year as it continued on a pace of 17 consecutive quarters of increased sales growth.
Related: Napco Reports Q3 Net Sales Increase of 7 Percent
"The investments we have made in the research & development and marketing of unique security, fire, communication, access control/locking and IoT product solutions, have provided the fuel for substantial, consistent growth in sales and profitability for Napco," Soloway says.
Q1 financial highlights included:
Recurring service revenue for the quarter increased 46 percent to $3.8 million, compared to $2.6 million for the same quarter last year. Recurring service revenue now has a prospective annual run rate of $15.6 million based on September 2018 recurring revenues.
Net income for the quarter increased 69 percent first-quarter record of $1.5 million from $890,000 a year ago. Diluted earnings per share (EPS) increased 60 percent to 8 cents, compared to 5 cents for the same period a year ago.
Adjusted EBITDA increased 47 percent to $2.1 million or 11 cents per diluted share from $1.4 million or 8 cents diluted share a year ago.
Among its latest product releases, the company launched the iBridge Video Doorbell during Q1, which allows users to know who is at the door and speak to them in real-time, remotely, from any smartphone or smart device.
As of Sept. 30, the company had $7.5 million in cash and cash equivalents, compared to $5.3 million as of June 30. Napco reported working capital (defined as current assets less current liabilities) of $43.7 million as of Sept. 30, compared with $44.3 million at June 30.
To learn more about the security industry, check out our sister publication Security Sales & Integration.
---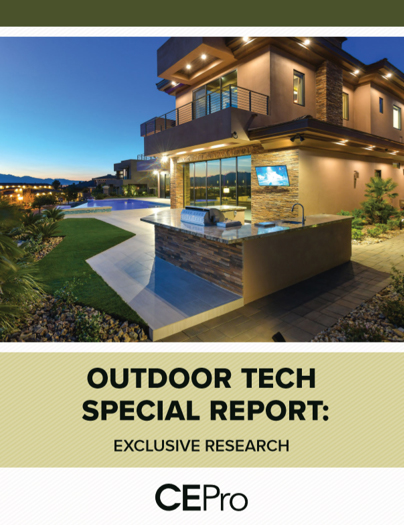 Find Out Why 63% of Integrators Expect Outdoor Business to Grow - CE Pro Download
The outdoor technology market is growing – both the demand from customers and the array of products available. According to our recent CE Pro survey, integrators are taking advantage of this opportunity to grow their businesses. Get your copy of the survey today.
---