That Giant Sucking Sound is Your Profit, Sinking One Balun at a Time: CEDIA Expo Tech Talk
CEDIA Expo 2018 Tech Talk: It took 1.5 years for this CE Pro 100 integrator to select a vendor and implement an end-to-end software platform to run his business. It was grueling. It was expensive. But it was well worth it.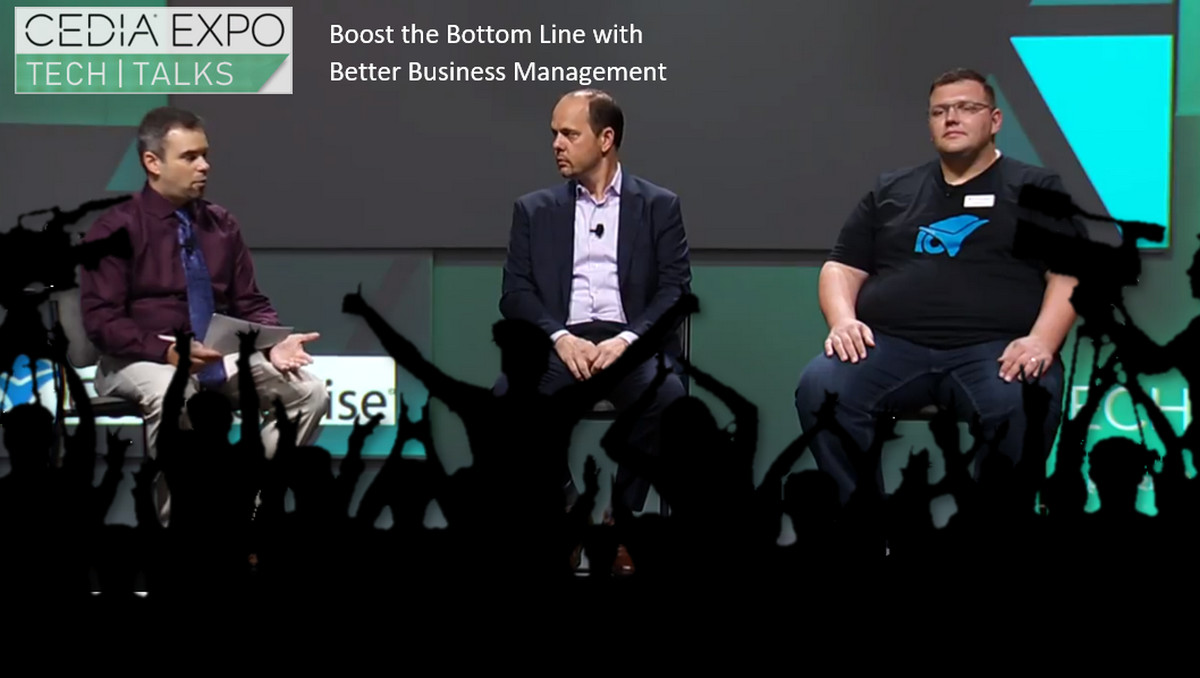 More about ConnectWise
ConnectWise transforms how technology solution providers successfully build, manage, and grow their businesses. Our award-winning set of software solutions provide a fully...

ConnectWise Company Info
Julie Jacobson
·
October 9, 2018
AAMI is probably like most home-technology integrators – managing business just fine when the company had a single location and a handful of employees … and four or five different software packages for project management and operations.
Once the 25-year-old security, A/V and home-automation company started growing, however, AAMI realized its mostly-manual way of doing business wasn't going to cut it.
As a small company, "you're able to control inventory, you're able to control process," said AAMI owner John Toscano during a Tech Talk at CEDIA Expo 2018.
As a company that now has five Florida locations and 280 employees, however, a "system" built on multiple software platforms was bound to leak profits along the way from proposal to project completion to final collection, not to mention future sales opportunities.
When Toscano decided AAMI was ready to invest in an end-to-end platform for business management, he spent six months exploring several options, ultimately settling on ConnectWise. It would take yet another year to implement the software company-wide.
As it turns out, selecting the platform vendor, although a grueling process, was actually the easy part. Implementation was the time-consuming and painful part … and also the most self-illuminating, gratifying and ultimately profitable part of the process.
Toscano shares his experience selecting a software provider, and the intense year-long process of implementing the software starting at about 9:46 in the TechTalk video. Don't miss it.
During the talk, Toscano and co-panelist David Pirtle from ConnectWise shared some important insights on transitioning to an end-to-end platform. Here are some key takeaways:
No Such Thing as a 'Small Thing'
Losing track of the odd part doesn't affect just the one job in in question. When these things happen from job-to-job and department-to-department – and no one is tracking them – then the same mistakes continue to occur.
When your integration company is growing, even if it's still "manageable" and profitable, you start "losing things" in the process – seemingly small things that snowball, Toscano says.
"I mean, if someone didn't read an email or communicate to the warehouse … if sales didn't document things perfectly … it wound up that one person would have to pick up on the errors and run around and see each person and gather them to have a team meeting for things that really should have been simplistic."
Profit Seepage, One Balun at a Time
Tech Talk moderator Arlen Schweiger of CE Pro asked the panelists about "little things that may add up" when a company doesn't have an airtight process to stem the "little" profitability leaks.
Here is the most interesting and telling part of the Tech Talk (starting at 14:33), and I challenge any integrator to listen to the segment without cringing in one of those "OMG-that-is-so-me" moments.
Pirtle cites "not billing for those extra cables that you had to use on the job," to which Toscano pleads guilty.
The corporate mandate to execute beautiful jobs and create customers for life is so engrained in AAMI culture – as with many integration firms – that even bean counters like Toscano will "reach into our truck and grab the extra cable or extra balun, throw the part in, and not look at the cost that we just added in, and then we don't resolve that with our sales team."
Losing track of the odd part doesn't affect just the one job in in question. When these things happen from job-to-job and department-to-department – and no one is tracking them – then the same mistakes continue to occur even when the "evidence" should be so clear.
Ideally, the team should go back and reconcile any profit leaks so the next job will factor in those under-estimated costs in both product and labor.
The Cost of Truck-Roll Avoidance
One particularly insightful moment in the Tech Talk was Toscano's suggestion that the celebrated truck-roll-avoidance principle could be counterproductive (Heresy!).
"Hey you know what? Maybe in the front end I need to spend an extra hour here to gain five hours – or a real profit – on the back end."
— John Toscano, AAMI
He says the company was always pretty good at tracking and analyzing labor during a project, but not so much after job completion (start at about 17:50).
It might seem efficient to minimize on-site support by sales and service personnel, in favor of remote support by the tech- and customer-support team.
For its part, AAMI looked at how much time it takes to hold the client's hand until they're comfortable with the system, versus the burden of remote support over time.
"The more you're looking at your bottom line," says Toscano, "you start saying, 'Hey you know what? Maybe in the front end I need to spend an extra hour here to gain five hours – or a real profit – on the back end."
Or perhaps all the analytics on customer support could inform a company to "get some RMR" on certain services, he adds.
When the Numbers Say: Give Up on that Prospect
Toscano's gut told him that "our sales team was spending way too much time procuring a job, they didn't know when it was time to move on."
The ConnectWise data proved it (discussion begins at 19:18). Their "Sell" tool tells AAMI how much time clients spend reviewing proposals, vis-à-vis the job wins and losses.
The verdict: "We were spending too much time doing follow-up that we could automate," Toscano says. "We could make the initial voice phone call, but then our system can do the follow-up emails."
While the system stays in communication, asking prospects if they have any questions, and prompting them to speak directly with their sales rep if warranted, the real live AAMI salespeople can spend their time on more productive endeavors.
Talk it Out
There's no better bonding experience than tossing back a few pints with your peers over a titillating discussion about business process software. Seriously, integrators can really improve their business operations when they share experiences with peers who use the same software platforms.
Pirtle says integrators benefit greatly -- and so does ConnectWise -- when dealers collaborate at the vendor's events.
"It's a super open sharing group," he says, "They really don't hesitate to share their success and their failures, and try to help other business owners navigate those waters."

---
Secure Your Free Pass to CEDIA EXPO 2019
Register before Sept. 2 to gain free access to the opening keynote, product training & education series as well as the show floor including Innovation Alley and much more. Don't miss your chance. Sign up today.
---
About the Author
---
Julie Jacobson is founding editor of CE Pro, the leading media brand for the home-technology channel. She has covered the smart-home industry since 1994, long before there was much of an Internet, let alone an Internet of things. Currently she studies, speaks, writes and rabble-rouses in the areas of home automation, security, networked A/V, wellness-related technology, biophilic design, and the business of home technology. Julie majored in Economics at the University of Michigan, spent a year abroad at Cambridge University, and earned an MBA from the University of Texas at Austin. She is a recipient of the annual CTA TechHome Leadership Award, and a CEDIA Fellows honoree. A washed-up Ultimate Frisbee player, Julie currently resides in San Antonio, Texas and sometimes St. Paul, Minn. Follow on Twitter: @juliejacobson Email Julie at julie.jacobson@emeraldexpo.com
Follow Julie on social media:
Twitter · LinkedIn · Google+
Julie also participates in these groups:
LinkedIn · Google+